I've tested hundreds of fire-starting tools over the years and found that the Black Beard Pirates Plunder Kit to be the best Survival fire starting kit.
These items are also the best I have found for building your own Survival fire starting kit.
I've been an avid survivalist for nearly a decade. After my time in the military, I've spent several days a month in the wilderness, testing my skills against the elements. Fire has always played a key role in that.
As you might imagine, I've tried hundreds of fire-starting tools and tinder over the last decade. I know what works and what doesn't.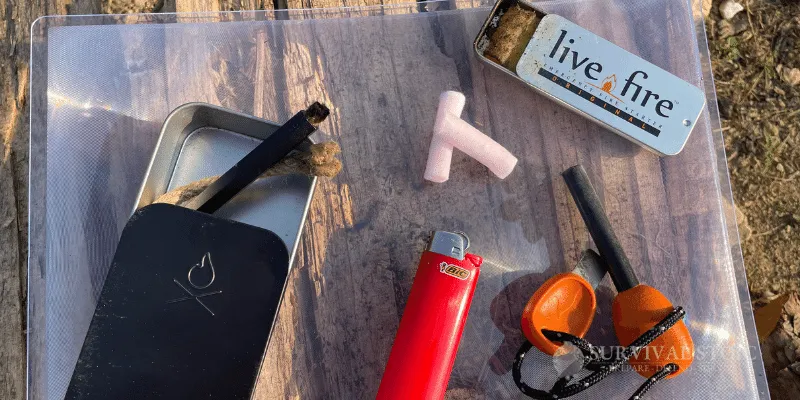 Making your own survival fire starting kit for camping or bushcraft is typically preferable. By purchasing everything on the list above, you'll have a versatile, lightweight kit with two types of tinder – allowing you to make a fire just about anywhere. Store everything except the Fresnel lens in a small tin.
If you're looking for a pre-made survival fire starting kit, I recommend the Blackbeard Pirates Plunder Kit. It has everything you need including plenty of waterproof tinder and two ways to ignite it.
That said, fire-making is very personal. Many people have their own preferences and skills. Therefore, I also offered some alternatives below for those wanting to customize their kit.
---
Quick Comparison of My Favorite Fire Starting Kits
---
Best Survival Fire Starting Kits
Purchasing a pre-made kit is a good option for someone that wants a kit ready-to-go. I can see how many people prefer the convenience of a pre-made kit. Many even include instructions for using all the gear included.
However, I've found that fire gear in a complete kit tends to not include everything that I like to have on hand. You can save a bit of money buying a pre-made kit and then adding other items to complete it.
With that said, here are a few survival fire starting fire kits that I do think are decent:
Blackbeard Pirate's Plunder Fire Starting Kit: Best Overall
Includes: Ferrocerium Rod, 4x Fire Starting Ropes, Arc Lighter, Organizing Pouch with Patch
The Blackbeard Pirate's Plunder survival fire starting kit sounds like it might be some sort of a gimmick at first.
It is not.
This kit is simple, easy to use, and will allow you to quickly start a fire anywhere.
The Ferro rod is a beefy 1/2″ in diameter. I like that it has a length of paracord that keeps the striker attached. In my experience it is much better to have a hole through the rod for attaching the striker than a glued on handle. The handles always seem to come off.
The rope like fire starting sticks are waterproof and windproof, and easily ignite with a ferro rod or a lighter. You simply cut off part of the stick, rub it in your hands to break up the fibers, and ignite it.
I found that just a small amount of the stick would burn for a few minutes. The flame was surprisingly large and hot, and was plenty to get a good fire going. Blackbeard says that one stick will burn for 4 hours!
The included Arc lighter is waterproof and windproof. While a bic lighter is typically my go to, this lighter certainly works better in extreme conditions. The only disadvantage is you have to keep it charged up.
Recommended for:
The Blackbeard Pirate's Plunder fire starting kit is my favorite kit if I need to start a fire in a hurry. It will start a fire in all conditions reliably and is easy to use.
Video of the Blackbeard Fire Starters that are included with this kit.
---
TACAMO Emergency Fire Making Kit: Best Overall Bushcraft Fire Kit
Includes: Ferrocerium Rod, 2x Magnifying Glasses, Charcloth, CharCloth Making Tin, Ferro-Rod Striker, Choktaw Rope, Fatwood Chips, Fatwood Sticks
I looked at a lot of different bushcraft fire kits. However, the Tacamo Emergency Fire Making Kit is one of the very few that I like. It has all the essentials I'd recommend when constructing a fire starting kit, including a ferro rod, magnifying glass, and tinder.
The tin even doubles as a maker for more charcloth. Everything is easily packaged in a waterproof canvas pouch, which I found plenty small enough to pack into my ruck. Plus, the pouch has plenty of room for me to throw in a few extras.
Speaking of extras, I'd only add a BIC lighter to this kit. The 5X folding magnifying glass and 10X Fresnel wallet lens were perfect for sunny days when I needed a focused beam to ignite tinder. As a backup, the ferro rod and carbon steel work well when the sun isn't out.
However, sometimes a lighter is just the way to go.
What impressed me the most was the abundance and quality of the tinder included in the TACAMO kit. It featured 4+ fatwood blocks, two waxed jute rope sticks, a bag of waxed wood chips, a folded char cloth, and a char cloth tin. These diverse options ensured I always had something that worked.
I also think the diverse tender selection would be great for a beginner, as it allows you to get a feel for what you like (and don't like).
Recommended for:
If you want a complete kit that includes (just about) everything I'd recommend having in a fire kit, get the Tacamo Emergency Fire Making Kit.
---
Steve Kaeser Fatwood Firestarter Kit: Best Budget Fire Kit
Includes: Tin Can, Ferro Rod, Striker, 36-in of Jute, Fat Sticks, Tinder
The Steve Kaeser Fatwood Firestarter Kit is much smaller and cheaper than the Tacamo kit above. It works well if you want something to carry around in your pocket. However, it isn't necessarily a complete kit.
This kit simply includes a ferro rod, striker, jute, fat sticks, and small timber shavings. Finding fatwood can be challenging for someone who frequents areas with limited access to pine trees. This kit solved that problem by including an ample supply of fatwood along with pre-made shavings.
Using these items, the average bushcrafter can easily craft a fire. However, the ferro rod and striker are the only primary tools in this kit, and the fatwood is the only tinder. Therefore, this kit isn't the most versatile.
The tin is extremely small, but you could also use it to make charcloth. The tin is also held shut with a ranger band, which can serve as an emergency fire-starting material if you run out of fatwood.
I do like the jute rope that's soaked in soy wax, which makes it much easier to light.
While this kit does work well (especially for the price), the items are all lower-quality than I would like. The ferro rod is a bit hit-or-miss when generating sparks, for instance.
Recommended for:
The Steve Kaeser Fatwood Firestarter Kit works well if you want something cheaper and smaller.
---
Kaeser Wilderness Pocket Fire Starting Tin
Includes: Tin, Ferro Rod, Striker, Tinder, Fat Sticks, Knife, Handsaw, Twine
The Kaeser Wilderness Pocket Fire Starting Tin is another pre-made survival fire starting kit I recommend. I was impressed by the contents and functionality of this kit. It includes everything you need to start a fire in a small tin, as well as a handsaw so that you can collect firewood.
A small knife is included in this kit. While it isn't razor-sharp out of the box, it does its job well. Its main purpose is to strike the ferro rod, but you could also use it as a traditional flint and steel (after removing some of the paint).
The fatwood in the kit was fresh and emitted a wonderful smell, instantly transporting me to the backwoods. The kit's wood pieces, measuring 4″ in length, provided ample material for starting fires. I found that using the fatwood as dust rather than using an entire stick worked well for me.
The kit also provides a frayed rope as an extra piece of tinder. It isn't heavily coated in wax, so it burns up quickly.
With that said, the saw included in the kit is low-quality and not worth much. It was a last-minute addition that wasn't well thought out. A more significant concern was the construction of the tin itself. It had a seam on the bottom that leaked, making it unsuitable for boiling water or protecting the contents from water damage.
Wet tinder doesn't work. I recommend getting a different storage container to keep the kit dry. (The seam also makes using the tin to make charcloth impossible.)
Recommended for:
I recommend the Kaeser Wilderness Pocket Fire Starting Tin as a mid-range kit. It includes a bit more than my budget pick above, but not quite as much as the Tacamo kit.
---
Best Bushcraft Fire Kit Gear
Sometimes, making your own fire starting kit is preferable to purchasing a pre-made kit. You can customize your kit from the ground up when making your own. Plus, you can also ensure that everything in the kit is high-quality.
In my experience, building your own bushcraft fire kit isn't any more expensive than purchasing a pre-made one.
There are four items every fire sstarting kit should have. Simply purchase each item, and you'll be set:
Ferro Rod
Lighter
Fresnel Lens
Tinder x2
Below, I'll point out my favorite items in each category.
---
Light My Fire Ferro Rod: Best Overall Ferro Rod
The Light My Fire Ferro Rod is easily the best ferro rod available (and it isn't that expensive, either). It's simply made differently than other ferro rods. Most available on the market today come from China and contain tons of cerium, which makes them soft.
On the other hand, this ferro rod is much harder, providing a large shower of sparks. You just need to make sure the scraper is sharp.
Because this rod is harder, it also lasts much longer. It can be used for up to 12,000 strikes (which is forever). You can expect to pass this ferro rod down to your children.
I also like that this rod includes a handle, providing a place to firmly grip the rod even when wearing gloves.
In the end, I have hardly anything negative to say about this rod – and that doesn't happen very much.
Recommended for:
For anyone getting a ferro rod, get the Light My Fire Ferro Rod. There are very few reasons to pass up on it consider how affordable it is.
---
EricX Ferrocerium Rod: Budget Ferro Rod
What struck me first about the EricX Ferrocerium Rod is its impressive size. These rods are 6″ long with a diameter of 1/2″, making them far longer than any other ferro rod I've ever seen (and I've seen a lot).
I do like the larger size for several reasons. It makes it easy to add a duct tape handle to the end. Plus, the rod is so large that it's easier to hold than most. However, it is also just big. If you count ounces or have limited room, these rods just aren't for you.
These rods are cheaper, which is one reason I recommend them. You're getting what you pay for, though. They are made in China and much softer than the Light My Fire Ferro Rod.
However, they do partially make up for this with their size. They're so big that their softness doesn't matter much. I have found that they're more prone to snapping in half, though. While this doesn't make them unusable, it is a pain.
Recommended for:
The EricX Ferrocerium Rods aren't the absolute best, but they are inexpensive and work fine. I recommend them for those trying to save money on their bushcraft fire kit.
---
Orange BIC Lighter: Best Bushcraft Lighter
In most cases, when you're purchasing bushcraft gear, you're going to have a hard time making a decision. There will be tons of competing information out there. You may wonder whether to get a "good enough" one that's cheap or splurge on the most expensive gear.
This isn't one of those cases.
If you're looking for a bushcraft lighter, get an orange BIC lighter. They're extremely reliable, have a slim profile, and have solid pushbutton ignition. Plus, they're extremely cheap. You can't really ask for much more.
Why orange? So you can see it in the dark. Any bright color, like hot pink or lime green, would work too. However, an orange lighter just seems more professional than a hot pink one.
These lighters aren't refillable. However, practically all refillable lighters are prone to leaking and evaporation, which I why I don't recommend them.
BIC lighters work as long as it stays over 32 °F. Once it gets colder than that, you'll have to use something else. However, this is a problem with most lighters – not just BIC.
So, pick up a BIC lighter at your local Walgreens or the nearby gas station. Better yet, purchase this 12 big pack so you never run out.
Recommended for:
An orange BIC lighter is simply the best option for practically all bushcrafters.
---
CZ Garden Supply Large Fresnel Lens: Best Overall Fresnel Lens
Even though I live in Appalachia, where it rains almost daily, I consider a Fresnel lens a must-have. It's the only non-consumable way to start a fire. If it's sunny, I use it and don't need to waste my other gear.
When it comes to Fresnel lenses, bigger is better. That's why I like the CZ Garden Supply Large Fresnel Lens. It's 8.3″ by 11.75″, so it's about as big as they come.
I had the chance to put the CZ Garden Supply Large Fresnel Lens to the test for fire-starting purposes, and it delivered outstanding results. With just a few seconds of exposure to sunlight, I could start a fire even on white surfaces.
The focusing capability of this lens is impressive.
I must emphasize using this cautiously, though. It is extremely bright and can start fires very easily. Treat it like you would a match, and don't leave it lying around.
Many people see the huge, glass-looking pan and get worried about it breaking. However, this Fresnel lens is made from PVC and is virtually indestructible. Thanks to its flexible and lightweight design, it won't break if dropped.
Recommended for:
I think every bushcrafter should have the CZ Garden Supply Large Fresnel Lens in their EDC bag. It's super simple to use and one of the fastest methods of starting a fire with the sun I've ever used (as long as it is sunny).
---
CZ Garden Pocket Size Fresnel Lens: Best Portable Fresnel Lens
Not everyone wants to carry around a huge Fresnel lens. I recommend the CZ Garden Pocket Size Fresnel Lens if you're trying to pack lighter. It's the exact same thing as my favorite Fresnel lens but smaller.
Because it is smaller, it's a bit harder to use and typically takes about a minute to make an ember (though it does depend on the sunlight). Many people will find this lens harder to use than the bigger one.
However, it is more portable, so it's mostly a matter of what's more important to you.
That said, I did create a successful fire with this lens. Once the lens was dialed in, I could focus it on my target area and maintain steady control. Dry and fluffy tinder easily caught fire. This lens would work equally as well with a charcloth.
Recommended for:
Get the CZ Garden Pocket Size Fresnel Lens if you don't want to carry around a large Fresnel lens. It works as well as my favorite one above, but it's more portable.
---
überleben Tindår Wick & Bellow: Best Tinder Tube
I know not everyone likes tinder tubes, but I have found them very useful in starting several fires. The überleben Tindår Wick & Bellow is infused with paraffin wax, allowing it to burn for a long time. The whole wick will burn for an hour (though, of course, you should light your fire and then smother it with the tube).
While testing the überleben Tindår Wick, I found it highly reliable and efficient. Thanks to the wick's match-like functionality, the ability to position the flame where I wanted it in the tinder bundle was a game-changer. The aluminum sleeve proved handy for quickly extinguishing the flame when I was done with it.
Just be sure to "fluff" out the end of the wick a bit. Otherwise, it is harder to light.
This wick is extremely waterproof. I've tested it in damp environments, and it has never failed me. For this reason, I consider it far better than other forms of tinder.
Plus, this wick is so small, it takes up practically no space. While it is a bit expensive, few other wicks on the market are as effective as this one. You get what you pay for.
Recommended for:
If you like the match-like versatility of a wick, I recommend the überleben Tindår Wick & Bellow. It's great for beginners because it is so easy to use.
---
Betterwood Fatwood: Best Fatwood
Fatwood is a well-loved tinder in the bushcraft community. You can harvest it yourself from pine trees, but I always recommend having a store-bought backup in case you can't find any.
I've tried many fatwood products, but Betterwood Fatwood works best. It has plenty of resin in it, making it easier to light. Plus, you get a boatload of them. One 10-pound box easily lasts me a year.
These sticks are pretty large, though they are completely natural, so the size does vary. They're around 8″ long and 3/4″ in diameter. I found that a single stick is often sufficient to start a fire, though the box recommends two.
I love fatwood because it works well in damp conditions. In Appalachia, that's basically the only condition we have. This particular brand is no different, working well in wet conditions. These sticks start fast and burn hot, allowing me to ignite a fire even in challenging situations.
Don't bother purchasing small tins of "survival" fatwood. Just purchase this huge box instead.
Recommended for:
Fatwood is an often-recommended tinder, and Betterwood Fatwood is the best store-bought brand you can get. Having a couple of sticks as a backup is highly recommended, though harvest some in the woods as often as possible.
---
Blackbeard Fire Plugs: Best Tinder Plugs
While I don't see them recommended as often, tinder plugs are also great to carry as a backup. Of all the tinder plugs I've tried, the Blackbeard Fire Plugs are the best.
I like to use the tinder plugs as the center of a bird nest. If one of these little plugs is set in the middle, it's plenty to get the rest of the birdnest going. You can successfully make a fire with a ferro rod or a lighter. They also work well with a Fresnel Lens (see my pic in the below buying guide.)
These plugs are compressed cotton. They're conveniently pressed down into a small size to take up little room. To use them, you can fluff them out and pull them apart. They're extremely easy to use.
They work best with a ferro rod if you really break the fibers apart. It does take some time, so keep this in mind. If you are in a hurry, use a lighter and you don't have to break them up as much.
Once lit, these plugs burn for about five minutes, which should be plenty of time to get your fire going.
However, as they basically just coated cotton, these plugs are not super waterproof. If they are wet, they will work but it takes a little more effort. It is best to keep them in a waterproof container and be cautious in damp conditions.
Recommended for:
The Blackbeard Fire Plugs are a great backup tinder to carry in case you can't find anything dry. While using natural materials is always a bushcrafter's goal, you don't want to head into the woods without some backup options.
---
Live Fire Emergency Fire Starter
The Live Fire Emergency Fire Starter is a convenient and portable fire starter that is somewhat unique.
I received this in a survival gear subscription box and thought it was just another piece of tinder. However, once I used it I found that it has some great advantages over other products.
It has a flammable cotton-like material inside of a tin with a sliding lid. I was able to start it with a ferro rod, but it did take some time. I found that I had to use my knife to scrape and break up the end of the material to make it work.
My initial experience with it was a little disappointing since it was hard to light. But after really breaking up the material into fine fibers inside the tin, I found that it was easy to ignite.
What really makes this product unique is that you can slide the lid to increase or decrease the size of the flame. Once your campfire is going, simply close the lid to extinguish it.
This is great since I can use it to get my natural tinder going and save the rest for my next fire. Once it is used up, you could use the tin to make char cloth too.
Recommended for:
The Live Fire Emergency Fire Starter is a great fire starter for when you can't find any dry natural tinder. It's small and light, and can easily be stored in your emergency fire starting kit.
---
Best Survival Fire Starting Kit Buyer's Guide
Fire is one of the key aspects of survivability. When learning survival and bushcraft skills, making a fire should be one of the first you jump into.
Not only is fire necessary for maintaining our core body temperature and one the priorities of survival, it is nice to have a fire to sit around while bushcraft camping or just enjoying time outdoors.
Creating a fire solely from natural components, such as making a bow drill, is possible. However, these require lots of practice and take a while to master. Therefore, it's often best to practice other forms of fire-making, too.
You should never head into the woods without backup fire-making capabilities. Doing so can be very dangerous. Always think of where the next fire is coming from and use your most scarce resource first.
Having a survival fire starting kit is essential. But what exactly makes a good fire starting kit? We'll get into that and more below.
Essential Components of a Survival Fire Starting Kit
Four main components should be in any fire starting kit:
Ferro Rod
Fresnel Lens
Lighter
Tinder
Let's look at each item in turn.
Ferro Rod
A ferrocerium rod is a solid rod made from several combustible ingredients. These ingredients require a very low temperature to combust, allowing you to create sparks using only friction.
However, to create these sparks, you need a 90° edge that is harder than the rod. This harder edge will scrap the rod and create an abundance of sparks (or it should, anyway).
Generally, the longer the rod, the better. Longer rods have more material that will be removed with each strike, causing more sparks.
You can get a ferro rod with a handle or make one with duct tape.
Overall, ferro rods have very few downsides. However, they can oxidize if you do not use them for a while. You can apply a light coat of spray paint or wax to prevent this or scrape off the oxidized portion. I use the same wax I use to waterproof my bushcraft hat for example.
You can also create "ripples" on the rod if you do not apply even pressure. These prevent sparks from being created. Usually, it's just easier to buy a new rod if this happens. However, you can also scrape the rod down until it is flat.
You should practice using a rod before you hit the woods. It's a skill that must be learned. You should only strike the rod three times max to ignite the timber. If it takes longer, something is wrong with the tinder or conditions.
As we saw in our analysis on the gear the winners of Alone selected, they all chose to take a ferro rod as one of their 10 items. This shows how easy to use and important a ferro rod is for starting a fire.
Lighter
Lighters are one of the easiest ways to create a fire in a pinch. You want a lighter that is reliable, long-lasting (between uses), and easy to use.
I do not recommend a lighter that requires adding fuel. These often have more moving parts involved, which leads to breaking. They're too complicated for use in the field. Plus, they tend to leak.
Get at least three lighters. Keep one in your bag, one in your pocket, and keep the extra for whatever other bag you carry around.
It should take five seconds for a lighter to ignite your tinder. If it doesn't, something is wrong with the tinder, and you'll need to reassess.
Lighters do not work if they get wet. You'll have to wait for it to dry. You can leave the lighter alone until this happens, or you can open it up and dry it off faster. They also won't work if it gets under 32°. To warm one up simply put in under your arm or in your pocket.
An Arc lighter has an advantage here in that it will work when wet and cold, but they have to be recharged. Having both a Bic and Arc lighter in your kit will ensure one will always be available.
Fresnel Lens
A Fresnel lens is also called a sunglass. It is basically a magnifying glass that is made to concentrate the sun's beam to start a fire. In my opinion, this is really one of the best fire-starting methods, despite it getting much less discussion than others.
If it is sunny, you can use a Fresnel lens endlessly. It doesn't run out.
A lens should have at least 5x magnification. You cannot use a magnifying glass with several lenses on top of each other. It must be only one lens. The larger the surface area, the easier to make a fire. Therefore, I highly recommend getting a larger one. It is lightweight and takes up little room.
Tinder
You should learn use natural tinder from your surroundings. However, there are many cases where this may prove challenging. Even if you plan to live off the land, you should have extra tinder in your pack for emergencies.
There are several commercial tinder options you can purchase. Tinder plugs are tiny pieces of very flammable material. Usually, they're made of cotton. They're often treated with something to make them even more flammable. You can use these when you have nothing dry or flammable to start your fire.
These aren't made to burn for very long, though. You'll need to have other tinder readily available to start the fire.
I rather like tinder tubes. Simply put, these are long wicks of thread treated with wax to make them burn slowly – somewhat like a candle wick. They have a tube around the outside that can control the burn rate and extinguish the fire when you're done.
Starting a fire with them is easy because they can be manipulated after being lit. The "tube" doesn't get hot, even with the flame right next to it.
You can also purchase natural tinder, such as fatwood. These mirror what you would find in the woods but work well as a backup when you can't find tinder.
Fire starting ropes like the Blackbeard fire starters are also a great option since you can just cut off what you need. Since these are waterproof you don't have to worry about getting them started in the rain.
Charcloth
Charcloth is a plant base material, usually 100% cotton, that is charred. When made properly, it basically looks like charred cloth. Other plant based fibers like soft punk wood can also be used. Both have a low ignition temperature and can be lit from a small spark.
When you build a fire, it is always critical to consider how you will start your next fire. Charcloth can be made in the fire you currently have and then ignited later with just a spark from your bushcraft knife and a hard rock.
Making charcloth does take some practice, so it is best to make it before you really need it. Make some at camp or at home and keep it in your bushcraft fire kit for later.
To learn how to make char cloth, see our full guide on How to Make Char Cloth.
---
Factors to Consider When Choosing a Survival Fire Starting Kit
Durability & Reliability
Fire is a key element of survival. You absolutely must have reliable fire-making gear. When venturing into the great outdoors, one thing is certain – your fire starting kit must be as tough as the wilderness.
I've spent countless nights in the wilderness, so I know how essential a working fire kit is to survival and comfort. Your fire kit must contain very durable and resilient items, or it may fail when you need it the most.
Imagine being deep in the woods, battling harsh weather conditions, and your fire starter suddenly fails. It's a scenario that no adventurer wants to face. That's why you must invest in high-quality tools made from robust materials – even if they are more expensive.
Are those tinder tabs actually cotton? Or a cheaper alternative? Does the ferro rod contain enough ferrocerium? Is the striker hard enough to throw sparks?
I remember a particularly rainy camping trip where my flimsy lighter got soaked, leaving me struggling to start a fire. Ever since that experience, I've prioritized fire starters with reliable mechanisms (and it's always best to have two ways to start a fire).
You should invest in long-lived devices. You want a fire starter that can withstand frequent use without compromising its usefulness. For instance, a well-crafted ferro rod should provide thousands of strikes. On the other hand, a cheap one from China is more likely to develop ripples and stop working.
Remember, a reliable fire starter is not just a one-time solution; it should be a long-term companion on your adventures.
You also want fire starters that can stand up to nature and harsh weather. Choose windproof and waterproof options (think ferro rod vs. matches). You don't want a bit of wind or rain to destroy your ability to make a fire.
I've been caught in heavy rainstorms, battling gusts of wind, and having a fire kit that remained resilient against these elements was a game-changer. It ensured I could start a fire when I needed it most.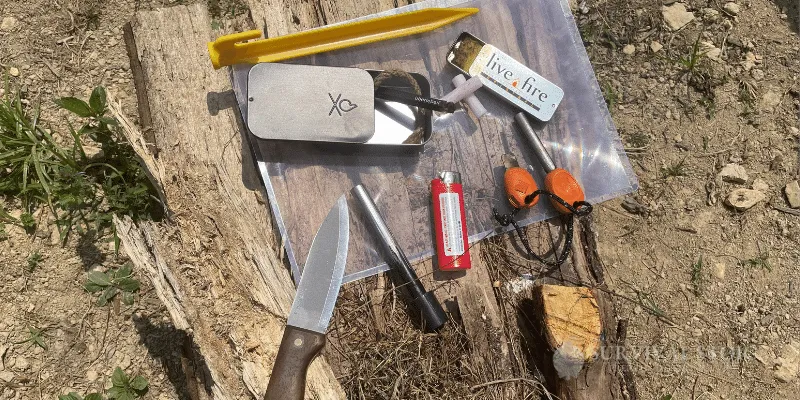 Portability
Bushcrafters don't need to worry as much about weight as ultralight backpackers. However, it's still important not to overburden your pack with heavy gear. I've rucked miles in the mountains of Appalachia. Trust me; you don't want a pack that's heavier than it needs to be.
If you have the choice between two similarly functional items that weigh differently, choose the lighter one. A compact fire kit can make the world of difference when trying to make room for all sorts of survival gear.
Your fire kit should also be easy to store. Otherwise, it may be challenging to find what you need when you really need it. Remember, you could be trying to make a fire in low-light conditions.
Keep your fire kit in one container – preferably small and waterproof. I learned this the hard way after one of my earlier trips. You don't want to spend time searching for pieces of your fire kit that are spread throughout your bag.
Versatility
Versatility is key to choosing any type of survival gear, including items for your fire starting kit. The best survival fire starting kit will provide several ways to start a fire. Different situations require different approaches, so you need to have several methods at your disposal.
You should build a kit that can create a fire under any circumstances. That's why I recommend carrying a small amount of tinder with you. You never know when you'll find yourself in an area where tinder cannot be found.
While you can get away with only one tinder option, it works best if you have several. Each type of tinder has advantages, and a diverse range ensures you can adapt to different environments and weather conditions.
For instance, fatwood may work great in some circumstances. However, it works less well when wet. On the other hand, cotton tinder plugs can work well in damp conditions.
Look for fire kit tools that function as something else. For instance, my favorite ferro rod has a built-in whistle. Because I don't need to carry a separate whistle, I save a little bit of room. Gorilla Tape is extremely easy to set on fire when torn into small strips. You can also fix stuff with it.
A bushcraft knife is easily the most versatile bushcraft tool out there. You can use it to strike a ferro rod or to create a spark from a piece of flint. You can also use it to break down wood for the fire.
Also see our article on the best Swiss Army knives. The Swiss Champ and Hiker models make great additions to a fire starting kit.
Ease of Use
A fire kit isn't helpful if you can't use it. Most fire-starting gear requires some level of skill, so you should always practice before you plan to actually use the item. However, some fire-starting gear is just harder to use than others.
For instance, softer ferro rods are more difficult to use than harder ones. They throw fewer sparks, are more likely to snap, and tend to develop ripples. Therefore, I typically recommend choosing a harder one.
Choose materials that provide the easiest fire-starting experience, especially when designing a backup kit. Many bushcrafters love bow drills. However, they are difficult to use and not a good backup for starting a fire.
If you want to use a bow drill, use one you make yourself. Don't handicap yourself by making a store-bought one your backup (especially if you don't know how to use one).
Consider color-coding your components to make them easier to find. Imagine finding yourself in a rainstorm, your hands cold and wet, in the dark. Would you be able to find your fire kit and use it?
This is why I recommend an orange BIC lighter. It's simply easier to find in the dark than a black one.
---
What Makes a Good Survival Fire Starting Kit?
A good survival fire kit is essentially the same kit if you are going into the woods to camp, bushcraft, or need one for an emergency. You can purchase a pre made kit for your bug out bag or get home bag, or make your own kit.
The important thing to remember is to always have multiple ways to start a fire. For example, if it is very wet and natural tinder is not useful, you should have three methods in your kit. This could be fire plugs, duct tape, charcloth, or an ABS plastic tent stake.
ABS plastic tent stakes make a great fire starter since the burn hot even when wet.
I also prefer to have multiple ferro rods wrapped in Gorilla 1″ duct tape. I keep one in my vehicle, one in my bushcraft gear, and one in my bug out bag. In an emergency you can tear the duct take into strips and ignite it with the ferro rod.
---
Can you use Duct Tape as Fire Tinder?
There are many articles on the internet that say duct tape is not flammable. Here is a video showing that duct tape is flammable, and how to create a duct tape "bird nest" to start a fire.
---
Which Fire Kit Should You Purchase?
I recommend most readers make their own fire kit by purchasing these items:
Pack everything but the Fresnel lens in a small tin (like an Altoids tin). If you want to put the Fresnel lens in there, too, you can purchase the wallet-sized version from the same company.
If you're looking for a kit that's already pre-made, I recommend the Blackbeard Pirates Plunder Fire Starting Kit. The included fire starting ropes are great, and will last a long time. This kit has everything you need.
Now that you have your fire starting kit, consider the other gear that you need. See our Bushcraft Guides and Gear Reviews for more ideas to make your life in the woods more comfortable and enjoyable.