Alone is one of the top survival TV shows. Participants are dropped off in a remote wilderness location with only a few items of gear. Whoever survives the longest wins.
I've been a fan of Alone since the beginning, and I've also been practicing bushcraft skills for over a dozen years. I'm in a unique position to analyze the gear chosen on Alone and compare their gear options to the real world. For this article, I compiled the alone gear list for all seasons and also discussed the gear commonly used on the show with ex-military and other bushcrafters.
Alone isn't real life. It's a game show, and we shouldn't pretend otherwise. However, seeing gear actually used in a survival situation for weeks really helps us figure out what works and what doesn't.
As the name suggests, those on Alone are really alone. They film themselves and must deal with complete isolation (except for weekly medical checks). Therefore, the game is just as much about the mental aspect of survival as the physical aspects (and that's exactly what we're about at Survival Stoic).
Because participants are only allowed very select gear, what they choose to bring matters a lot. Plus, because the game is mental and physical, what participants choose isn't always the most practical. Sometimes, choosing items for comfort is just as important as choosing items for practical purposes.
Below, I'll go over the standard gear list that all participants get. I'll also go over the individual gear list, what percentage of participants bring what items, and how winners differ from the average participant.
Hopefully, this article will provide you with some inspiration for your own bug-out bag gear or bushcraft and survival gear.
---
The Standard Gear List
During every season, individuals are given items from a standard gear list. These are given to every participant in very specific numbers and specifications. They don't count towards the unique 10 items participants can bring.
The standard equipment includes things like clothing and safety gear.
Here's a list of the standard items and their specifications:
1 pair of gaiters
1 pair of waterproof Arctic winter boots
1 fleece/wool shirt
2 pairs of thermal underwear
1 Waterproof un-insulated shell/Jacket or un-insulated, windproof anorak
2 hats (brimmed, wool, fur, arctic, or baseball)
1 pair of eyeglasses
2 pairs of underwear/briefs
1 pair of high-leg hunting boots
1 Insulated Parka-style Jacket or Anorak-style Jacket. No system-style or multi-layer jackets.
6 pairs of wool socks
1 leather belt
2 wool, fleece or cotton sweaters
1 T-shirt
4 pairs of gloves
2 pair of bushcraft pants/bibs (can unzip into shorts)
1 shemagh OR scarf
2 buffs or neck gaiter
1 personal photograph
1 toothbrush
1 pair of fully insulated or waterproof winter pants/bibs
1 hiking or bushcraft backpack
Anything with a full zipper is counted as a jacket. Shirts are allowed to have half to three-quarters of a zipper, though. They may also have a full set of buttons. A sweater is a pullover.
Safety gear is also provided, depending on the season and location. For instance, contestants were provided with bear spray and similar bear deterrents in season eight.
Advantages and Disadvantages
While the standard gear is, well, standard, different pieces of clothing have different advantages and disadvantages. To make the most of their standard gear, contestants must use their gear correctly. You don't want to be wearing gaiters when you should be in your winter boots, for instance.
The exact gear will vary from contestant to contestant, as well. Some items are provided, like the camera and safety gear. However, contestants must bring their own clothing, so they get a lot of choices.
Clothing items are vital for regulating body temperature and protecting contestants from the weather. Fleece and wool items are better for cold weather but can be harder to clean and dry. Buckskin items are durable and fire-resistant but can also be bulky and heavy.
Personally, I prefer to layer with different materials, especially when I know the weather will change as the days go on. What works one day may not work the next. With so many clothing options allowed, there are many opportunities for layering.
I also prefer some type of bushcraft hat when I am outside, regardless of the weather.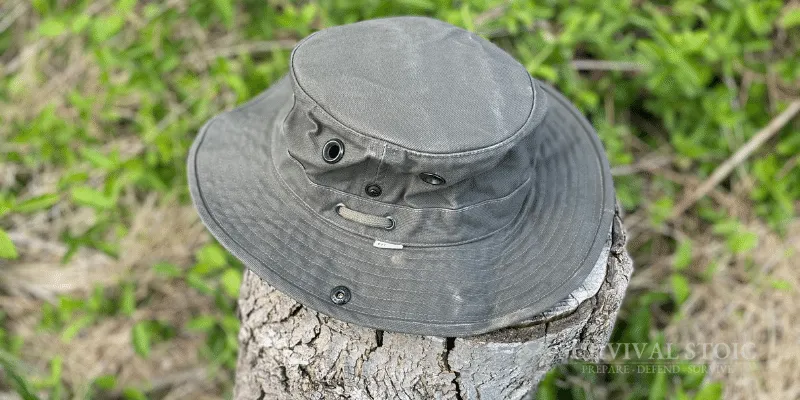 Toothbrushes and a pair of eyeglasses are allowed, too. Many contestants have used their toothbrushes for items beyond hygiene, too. For instance, the bottom part can be removed and used as a fishing lure. This is a great example of a survival item having multiple uses.
While there are some choices in these categories, a contestant's survival may be significantly affected by their individual gear choices.
---
Individual Alone Gear List
Contestants are allowed to choose ten items beyond the standard gear. They can't choose anything they want, though. Instead, they can choose from a list of items that span several categories.
Here is a list of everything that contestants are typically allowed to choose from, although it can change slightly every season:
Shelter/Hygiene
Ground cover cloth or tarp (12×12 max) – See our guide to the best bushcraft tarps for some options.
8-mm climbing rope (10 meters max)
550 Paracord (80 meters max) – an essential part of my bushcraft gear.
1 sleeping bag
3-mm cotton cord (40 meters max; must be non-waxed)
1 sleeping pad
1 bivy bag
1 bar of soap
1 hammock (See our Haven Tent Hammock Review)
1 tube of toothpaste (8 oz)
1 shaving razor
1 face flannel
Dental floss (40 mm)
1 small bio shower soap
1 towel
1 comb
1 shaving razor
Cooking & Food
1 roll of single-filament fish line up to 20 lbs weight test (300 yards) and 35 barbless hooks
1 primitive recurve bow (or longbow) and 9 arrows
1 small gill net
1 net foraging bag
2 lbs of trapping wire
1 slingshot, 30 ball bearings, and 1 replacement band
Various Emergency Rations (type and amount vary each season)
3 lbs of one solid salt block
1 large pot
1 steel frying pan (no more than 2 quarts)
1 flint or Ferro rod(or equivalent)
1 enamel bowl for eating
1 spoon
Furthermore, participants cannot take more than two food selections.
Tools/ Weapons/ Other
1 pocket knife (four-inch blade max)
1 hunting knife (six-inch blade max – see our best bushcraft knife guide)
1 survival multi-tool (or similar)
1 sharpening stone
1 roll of duct tape
1 small shovel
1 small sewing kit
1 carabiner
1 LED flashlight or headlamp (no batteries)
50 feet of hose (no more than 1 inch in diameter)
Machete
Axe (see our best bushcraft axe guide)
Adze
2-Hand draw knife
Scotch-eyed auger
Pair of ice spikes
---
Alone Australia Gear List
While very similar to the US version of the show, the Australia Alone series approved items list varies slightly. I have noticed that most contestants on the Australia show choose very similar items.
Ground cloth/ground tarp
Climbing rope
Paracord
Bank-line
Flint / ferro rod set
Sleeping bag
Bivy bag
Sleeping pad
Hammock
Pot
Steel frying pan
Medium camp bowl
Spoon
1L water bottle
Pocket knife
Outdoor knife
Leatherman multi tool or similar
Sharpening stone
Roll cloth tape
Small shovel
Small sewing kit
Carabiner
LED flashlight
Scotch eyed auger
Adze
Two-handled draw knife
Hatchet
Saw
Axe
Single filament fishing line and hooks
Net foraging bag
Brass wire
Solid block of salt
Emergency food ration
Eco-friendly biodegradable bar of soap
Eco-friendly biodegradable tube of toothpaste
Face flannel/washer
Dental floss
Biodegradable shower soap
Small towel
Comb
---
What Alone Gear Items Are the Best?
That list is very long. It's easy to get overwhelmed. Luckily, Alone has gone through nearly a dozen seasons, and we've seen how each item really works. Looking at what the winners took vs. the other contestants can help you determine what to take on your own bushcraft camping trips (or pack in your survival gear).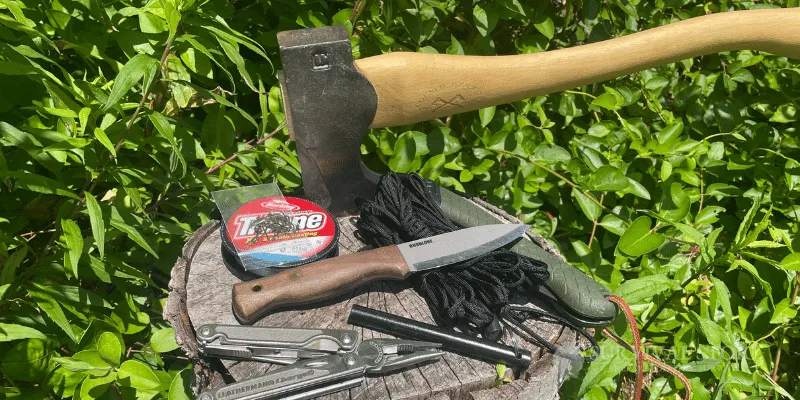 Most Popular Items
There are some items that practically everyone takes. These include:
Axe: This item is chosen by almost every participant, as it is essential for chopping wood, building shelters, hunting animals, and defending themselves from predators. I commonly use axes as hammers, too, making them even more versatile.
Sleeping Bag: While there are usually several sleeping items to choose from like wool blankets, practically everyone selects a sleeping bag. I've found sleeping bags to be one of the easiest ways to stay comfortable at night. Plus, you can use them as a blanket and ground cloth, too.
Pot: You have to have some way to move water around, and many contestants choose a pot for this purpose. Personally, I don't see how you could survive long without one.
Fishing Kit: This item is another frequent choice, as it is useful for catching fish, one of the main food sources on Alone. It can also be used for making snares, sewing items, or tying things. It's popular because it includes multiple items.
Ferro Rod: Ferro rods are one of the easiest ways to start a fire reliably. Therefore, they're a common choice.
Multi-tool: Participants tend to utilize multi-tools over knives. Most people do not take both. Multi-tools are extremely versatile, and have many tools for multiple uses. I have found they are essential for setting snares.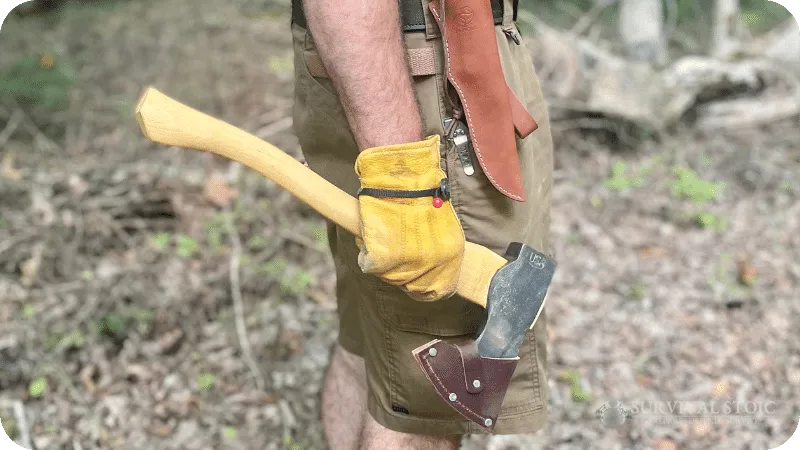 These items are considered the "core" gear list. Most participants choose these items as they're effective in many different situations. However, some participants bypass these items in favor of other options.
If participants choose all the "core" gear, they have four slots left. Personally, I would absolutely bring most of these core items.
Other Helpful Items
There are some items on the individual gear list that practically no one picks. However, others are picked at least half the time. While these items aren't the most popular, they're still worth a mention:
Bow and arrow: Many Alone contestants choose a bow and arrow, especially if they are confident using a ranged weapon. Many participants have killed game over the years, providing them with a much-needed food source.
Gill net: If participants want to focus mostly on fishing, they may bring a gill net. However, unless participants know how to use a gill net, it may not be all that helpful. Some take paracord and make a gill net once at camp from the internal strands.
Chocolate: Out of the food options, chocolate is pretty popular. It's a delicious food that's also calorie-dense. It's also high in fat, which is hard to find in the woods. (That said, upon further research, I've learned that two pounds of chocolate only contains 2100 calories, which isn't all that helpful.)
---
What Alone Gear Items Do the Winners Pick?
The winners of Alone stand out over the average Alone contestant in a few different ways. Here are the items you'll commonly find on a winner's gear list:
Sleeping bag: This item was chosen by every winner of Alone, as it is vital for keeping warm and comfortable at night. I see no reason not to use a sleeping bag.
Ferro rod: A ferro rod was chosen by every winner. Ferro rods are easy to use and work quickly even in wet weather if you have dry fire tinder. It is an essential part of a survival fire starting kit.
Saw: Every winner chose a saw of some sort. A saw is safer to use than an ax and takes less effort. There were a range of choices from folding saws, bow saws, and crosscut saws. Since the contestants did not have far to travel and were making long term survival shelters, most chose a large saw over a small folding one. We reviewed a range of them in our review of the best bushcraft saw.
Axe: Every winner also chose an axe or hatchet of some sort. An axe has proven to be one of the most important tools to have in the woods. I noticed that some chose large felling axes and others chose hatchets. This mainly depends on your length of stay and how much firewood you need to process. In our best bushcraft axe guide you can find out what to look for before picking the best axe for you.
Pot: Practically all the winners brought a pot. It is essential for purifying drinking water and cooking food. I noticed that many chose the 2 quart MSR Alpine Stowaway Pot. You can find my picks in our Best Bushcraft Gear guide.
Fishing kit: This kit is very popular with the average participant, and it seems to be popular with winners, too. Only two winners didn't take a fishing kit, though they typically selected other hunting tools instead.
Wire: All but two of the winners chose wire, which can be used for all kinds of things. However, many did not actually use the snare wire to make snares.
Knives: Most winners also chose to bring a knife, which brings their total cutting tools to three. While this may seem a bit much, it obviously works. Most chose either a multitool or a fixed blade belt knife, or even both sometimes. Considering most brought wire, a survival multitool is a logical companion since they have pliers and most Swiss Army knives do not.
If I was going to put together a winning gear list, those are the items I would include. That leaves you with two more slots to choose more personal items.
Interestingly, while bows and arrows are very popular with the average participant, only half the winners have brought one. I noticed that most tend to rely on fishing as their main source of food.
Most winners do not choose rations, either. Instead, they select items that help them get food.
---
Prohibited Alone Gear List
Some specific items are not allowed on Alone. Participants must choose from the list provided, not bring whatever they want. You'll likely notice a few items that aren't allowed on Alone but may be common in real-world survival situations.
For instance, firearms are not allowed. While we don't know exactly why this is, it's probably a mix of safety and difficulty. Hunting rifles or shotguns may make it a bit too easy to find food. I am taking a firearm in a real survival situation, though.
Alcohol and drugs are also prohibited, even if participants wanted to use them for practical purposes (like cleaning wounds). This also includes caffeine pills, which are common in bug-out bags. Safety reasons are likely to blame for this omission.
Participants aren't allowed to bring a GPS device or GPS survival watch, either. They aren't even allowed a survival compass or map. While this may seem strange, they must stay within a small area, so navigation isn't super necessary (though I have seen plenty of people get lost). Of course, I highly recommend having a compass and map if you're actually surviving in the words.
Radios aren't allowed due to the role of isolation in the show. Participants also aren't allowed Bushcraft field guides or reference books, whether fiction or non-fiction. I carry a bushcraft field guide in my bag and have found it very helpful throughout the years. While reading a book may not be entertaining on TV, it is very useful in the real world.
---
Alone Gear List Season 10
Warning: Spoiler alert for all seasons coming up!
Here is season 10 winner Alan Tenta's gear list and a video of all the contestants showing their selected 10 items (Alan is at 9:30). Alan survived 66 days in Northern Saskatchewan, Canada. Alan feels that his Multitool is his favorite item since it is so versatile, while his Bow and Arrow is the most important.
Camp Axe similar to our top bushcraft axe picks
Saw – Silky Katana Boy that was featured in our best bushcraft saw guide
Paracord
Ferro Rod
Snare Wire
Fishing Kit
Stainless Steel Pot
Leatherman Multitool
Sleeping bag – Minus 40 rated and waterproof
Longbow and Arrows (6 Broadheads and 3 Small Game Tips)
---
Alone Gear List Season 9
Here is season 9 winner Juan Pablo Quinonez's gear list and a video of all of the contestants showing their selected 10 items. Juan survived 78 days. Note that his hatchet is the not a typical design that most carry. His saw is the Bob Dustrude folding saw that is in our list as one of the best bushcraft saws.
Ferro Rod
Paracord
Multitool
Bushcraft Camping Pot
Hatchet
Fishing Kit
Folding Bow Saw
Recurve Bow and Arrows
Sleeping Bag – Combo Synthetic and Down
Snare Wire
---
Alone Gear List Season 8
Here is season 8 winner Clay Hayes's gear list and a video of him showing his gear. Clay survived 74 days. He is an avid hunter and his bow choice was based on years of experience. He commented during the season that he usually practices everyday. In the show we saw him take a deer and also practice with his bow at camp.
Clay also discussed the mental aspect of survival, and how he studies stoicism. We agree that this is a huge part of survival. To learn more on stoicism check out our guides on stoic people and stoic principles.
Sleeping Bag – Down rated to negative 40
Osage Long Bow and Arrows
Silky Folding Saw
Camp Axe
Multitool
Ferro rod and striker
2 Qt Cast Aluminum Dutch Oven
80 meters of paracord
Snare Wire
Fishing Kit
---
Alone Gear List Season 7
Here is season 7 winner Roland Welker's gear list and a video of him showing his gear. Roland survived 100 days (the longest of anyone yet) and his most unusual item is a large crosscut saw. His multitool is our top pick as the best survival multitool.
Axe
Ferro Rod
2 Qt Pot with Handle
Fixed Blade Belt Knife
Sleeping Bag – Synthetic, negative 30 rated
Leatherman Wave Multitool
Gill Net
Snare Wire
Bow and Arrows
Crosscut Saw
---
Alone Gear List Season 6
Here is season 6 winner Jordan Jonas's gear list and a video of him showing his gear. Jordan's survived 77 days and his most unique item is the frying pan. He explains how he can cook more food in it than a small pot.
Forest Hatchet
Silky Katanaboy Saw
Sleeping Bag – Down, negative 40 rated
Frying Pan
Ferro Rod
Paracord
Snare Wire
Multitool
Fishing Kit
Recurve Bow and Arrow
---
Alone Gear List Season 5
Here is season 5 winner Sam Larson's gear list and a video of him showing his gear. Sam survived 60 days and chose to bring rations instead of a fishing kit or bow and arrow.
2 Qt. Pot
Ferro Rod
Paracord
Snare Wire
Folding Bow Saw
Felling Axe
2 pounds of Flour
2 pounds of Trail Mix
Leatherman Surge Multi Tool
Sleeping Bag – negative 60 rated
---
Alone Gear List Season 4
Here is season 4 winners Ted & Jim Baird's gear list and a video of them showing their gear. Ted & Jim survived 75 days and chose a lot of items geared towards hunting or catching food.
Axe
Large Hand Saw
Cooking Pot
Multitool
Snare Wire
Gill Net
Fishing Kit
12 x 12 Tarp
Emergency Rations
Recurve Bow and Arrows
---
Alone Gear List Season 3
Here is season 3 winner Zachary Fowler's gear list and a video of him showing his gear. Zach survived 87 days and the most unique item he brought was a slingshot.
Small Shovel
Sleeping bag
Felling Axe
2 Qt Pot with Lid
Ferro Rod
Slingshot with Shot
Fishing Kit
Paracord
Crosscut Saw
Multitool
---
Alone Gear List Season 2
Here is season 2 winner David McIntyre's gear list and a video of him showing his gear. David survived 66 days and interestingly chose to bring a sleeping bag and a bivy bag.
Sleeping Bag, 0 degree rated
Bivy Bag – Gore Tex Military Issue
Bushcraft Belt Knife
Ferro Rod
Camp Axe
Folding Saw
2 Qt Pot with Lid
Fishing Kit
Gill Net
Emergency Rations – Pemmican
---
Alone Gear List Season 1
Here is season 1 winner Alan Kay's gear list and a video of him explaining what he would have changed. Alan survived 56 days and interestingly chose to bring a canteen instead of a multitool.
Kukri Knife
Sleeping bag, 40 degree rated
Ferro Rod
2 Qt Pot
Axe
Fishing Kit
Gill Net
Snare Wire
Saw
Canteen
---
Alone Australia Gear List Season 1
Here is Alone Australia season 1 winner Gina Chick's gear list and a video of her explaining the item that helped her win. Gina survived 67 days and it is interesting that she decided to bring a large coat instead of a sleeping bag. This gave her an extra slot in her 10 items to bring salt instead. As you probably noticed no other winner followed this strategy.
Bow
Pot
Ferro Rod
Salt (3lb block)
Axe
Fishing Kit
Saw
Snare Wire
Paracord
Multitool
---
Final Thoughts
Alone has some very strict gear requirements. All participants are required to bring a set of core gear and have the option to select ten items from a list of potential items. It's these ten items that make the biggest difference.
Looking at the items chosen by winners vs. other contestants can help you put together your own gear list. Luckily for you, we have guides to many of the items chosen by participants.
For instance, most winners bring an axe, knife, and saw, and we have an entire bushcraft tool and gear guide to help you choose the best options. You'll also find guides on all the other bushcraft gear you may need like tarps and shelter ideas in our Bushcraft guides.