I tested and reviewed several bushcraft backpacks and found the Osprey Kestrel 38 to be the best bushcraft backpack.
The Osprey Kestrel 38 is a modern bucket style pack that has everything I look for in a bushcraft backpack. It has enough capacity without being too big and has external pockets where I can store tools and get to them quickly.
However, it isn't necessarily the backpack I'd choose for longer trips in the woods. The best bushcraft backpack for you does depend on your situation and needs.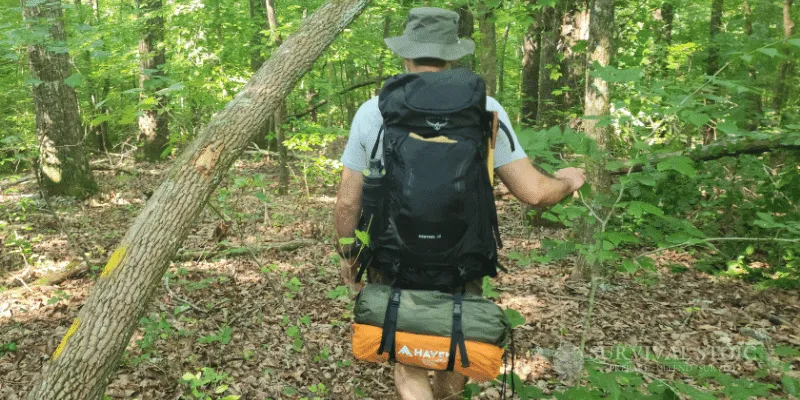 As an avid outdoorsmen and veteran, I spend a lot of time in the woods. I try to get out into nature for at least two to three days a month. During these trips, I camp primitively using very few tools.
Our team also has thousands of hours bushcrafting – not counting my previous military background. We have used a lot of backpacks. We have learned what works – and what doesn't.
I reviewed 11 of my favorite bushcraft backpacks below so that you can select the perfect one for your needs.
---
Quick Comparison of Our Favorite Bushcraft Backpacks
---
Best Bushcraft Backpacks
Osprey Kestrel 38 Backpack – Best Overall Bushcraft Backpack
The Osprey Kestrel 38 is my favorite bushcraft backpack and our top pick.
This backpack is a bucket style backpack. I like packs that open from the top. This makes it easy to load and you don't have to fight to zip them up.
A bucket style pack also makes it easy to hang my bag on a tree at camp. With a panel style pack, if you try to do this you will usually end up dumping everything out on the ground.
There is one unique detail that makes this backpack better than most others. While it is a bucket style pack, it has an access zipper on the side and on the bottom. The one on the side allows me to access items down in the pack without unloading it.
The bottom zipper has a divider just above it. This allows me to put a blanket or clothes in the bottom of the pack and access them without unloading the entire pack.
The adjustable internal suspension system on this pack feels great. I can load it up and hike on some rough terrain without issue. The ventilated back panel keeps me cool as well.
I like how there are no pockets on the inside of this pack, but plenty on the outside. I can store my bushcraft axe, saw, and Grayl water filter/nesting cup in the side pockets. The large front pocket is great for items I need to get to quickly like my gloves or poncho.
This pack also includes a build-in rain cover on the bottom in a dedicated pocket. If it rains, I can just pull it over the pack quickly and don't have to remember which pocket I stuffed it in.
The lower straps are great for attaching a bushcraft tent, tarp, or a bedroll. This way they don't take up space inside of the pack.
The size is about right for 3 to 5 day bushcraft trip. They also make larger versions of this pack in a 48 Liter, and 58 Liter versions if you feel you need something larger. I can fit a 4-quart bushcraft pot in this pack with plenty of room to spare.
I love the small pockets on the waist strap for storing my cordage and ridgeline. I can get to them quickly to hang my pack and get a tarp shelter up in minutes.
Recommended for:
The Osprey Kestrel 38 is for someone looking for the best bushcraft backpack. It is the best modern pack I have found and will work great for almost everyone. (See the Osprey Kyte 38 for the women's version.)
---
Frost River Isle Royale: Best Traditional Bushcraft Backpack
Material: Waxed canvas
Capacity: 45 liters
Weight: 7 pounds
The Frost River Isle Royale is the best traditional bushcraft backpack I have seen. It's well-regarded by practically anyone in the bushcraft community and will last a lifetime. It features exceptional craftsmanship and durable materials. It's made from canvas, leather, and solid brass hardware.
This is the kind of bag you pass down to your grandkids. It can easily last for years – even under regular outdoor use.
The Frost River Isle Royale has a timeless design that mixes modern and traditional features. Its aesthetics really make it stand out from the crowd, though it doesn't sacrifice practicality.
It has padded shoulder straps and an adjustable sternum strap to ensure a comfortable fit. It distributes the weight evenly along your back and shoulders, even during longer treks.
I like that this bag has a spacious capacity, allowing you to carry plenty of supplies and gear. However, it isn't necessarily for extended treks into the wilderness.
Recommended for:
If you're looking for the best traditional bushcraft bag available, the Frost River Isle Royale is easily the best option. However, it is a bit more expensive than most.
---
LL Bean Continental Rucksack – Best Suspension System
Material: Polyester and nylon
Capacity: 33 liters
Weight: 2 pounds, 8 ounces
I recommend the LL Bean Continental Rucksack for those that prefer bushcraft backpacks with a suspension system. It has the traditional bushcraft aesthetic and design but with a more modern suspension system. It also includes the traditional padded shoulders, sternum belt, and hip belt.
The suspension system really helps distribute the weight more evenly on your shoulders and back.
The backpack also offers a lot of adjustability. In my experience, adjustability matters a lot when you're walking longer distances. You'll never find a bag that fits well right out of the box.
I also love that the backpack promotes airflow and ventilation along the back, minimizing moisture buildup. It works wonders in hotter climates for this reason. I've also discovered that it works great for more intensive hiking.
The main difference between the LL Bean and Frost River bags is the suspension system. The LL Bean has one, while Frost River doesn't – it's more traditional. However, the FRost River pack is larger and has a more robust construction.
Therefore, while it lacks a suspension system, I still consider it a good option – but the LL Bean Continental Rucksack comes in right behind it.
Recommended for:
Some bushcrafters just prefer traditional bags with suspension systems. If you fall into this category, get the LL Bean Continental Rucksack, it is the best of both worlds.
---
Osprey Rook 65 Backpack – Best for Longer Bushcraft Trips
Material: Polyester and Nylon
Capacity: 65 liters
Weight: 3.52 pounds
The Osprey Rook 65 Backpack holds much more than other bags – 65 liters. Therefore, it works well for longer trips or times when you're backpacking and bushcrafting.
You should be able to fit plenty of gear into this bag. In fact, many bushcrafters may find it a bit too big.
It has an adjustable suspension system. This adjustability allows you to make the bag fit your body perfectly, reducing fatigue. This feature helps distribute the weight better across your shoulders and back, which is essential when you're carrying tons of weight.
I love that it includes a ventilated back panel, which helps in hotter temperatures. (I'm from the sub-baked south – it gets hot.)
Osprey is known for their durable bags, and the Rook is no different. It features durable materials that should last ages in the wilderness. It's made from a nylon blend, which is about as durable as it comes.
While you don't need tons of pockets, this Osprey bag does include many pockets, compartments, and attachment points. It's useful for those that do like pockets.
With that said, the Osprey Rook 65 is specifically designed for backpacking – so it isn't as purpose-built as the others on our list. It does have a much larger capacity, though, so it also works for extended bushcrafting trips.
Recommended for:
I recommend the Osprey Rook 65 Backpack bag for two different people – those that are on a budget and those going on longer trips. For your average bushcraft trips, the Osprey Kestrel 38 works better.
---
Kelty Redwing 44 Backpack – Best Versatile Bushcraft Backpack
Materials: Polyester and Nylon
Capacity: 44 liters
Weight: 3.75 pounds
I like the Kelty Redwing 44 because it's a mid-range backpack. It strikes a balance between being large enough for multi-day trips while still being compact enough for shorter adventures.
Like most bushcraft backpacks, it features a padded back panel, shoulder straps, and a hip belt. These added comfort features helps distribute the weight easier across your back and shoulders. In my opinion, these features are necessary for any bag.
I like that the Kelty Redwing 44 features several different pockets and attachment points. The main compartment is plenty big enough for most bushcraft uses, and there are several side pockets. There is even a dedicated hydration sleeve. Personally, I like pockets, but there are many bushcrafters that do not.
This pack includes several external storage options, such as attachment loops, daisy chains, and side compression straps. You can attach a lot more gear than on other packs, substantially increasing the capacity of this 44-liter bag.
The Kelty Redwing 44 is similar to the Osprey Rook I reviewed earlier. However, The Osprey is much bigger. The Kelty is better suited for shorter, lighter trips. It's small and more lightweight.
Recommended for:
The Kelty Redwing 44 is a nice "in-between" bag. It isn't super small, but it isn't super big, either. Therefore, you can use it for multi-day trips and shorter excursions.
---
Mystery Ranch Urban Assault 21 Backpack – Best Bushcraft Backpack for Short Trips
Materials: 500D Cordura
Capacity: 21 liters
Weight: 2.8 pounds
My favorite part of the Mystery Ranch Urban Assault 21 Backpack is it's smaller size. It's very lightweight and compact, making it perfect for shorter trips. I prefer it when I am going on a short day or two tramp.
Despite being small, this bag is very durable. It's built to withstand daily use. You can easily make it your main bushcraft bag, especially if you tend to take only shorter trips.
I love how many pockets this bag has on it. There are plenty of compartments for storing items and internal organizers to keep it all straight. It even includes a laptop sleeve (though this isn't one I use much; it is useful to store a quick change of clothes, however).
I love this backpack's shoulder straps – even the back panel is comfortable and supportive. While this bag can't carry much, it is comfortable to carry when full. The straps are pretty adjustable, too.
The Urban Assault 21 is made for an urban environment. However, I did find it worked perfectly fine in outdoor environments, too. It excels on shorter trips, which differs from most of the other bags on this list.
I also love that this bag won't obstruct any other gear or my movements. I've used some bags that are made to be carried on your chest (so that you can wear a bigger one on your back), and they simply don't work very well. They're always in the way!
Luckily, this bag doesn't fall into that category despite being an assault pack.
Recommended for:
The Mystery Ranch Urban Assault 21 Backpack works fantastic for shorter trips. If you're going out for a day at a time max, then this bag is perfect for you. It also makes a good option for your get home bag backpack.
---
Eberlestock Operator Pack – Best Heavy-Duty Bushcraft Backpack
Materials: 500D Cordura
Capacity: 77 liters
Weight: 10 pounds, 3 ounces
Living off the land for a week or more is very different than living in the woods for less than 24 hours. If you're planning on being in the woods for a long time, I highly recommend the Eberlestock Operator Pack.
This pack has a very large capacity of 55 to 85 liters, depending on the exact version you purchase. This provides ample room for gear, which is vital when you're going on longer trips.
The modular design of this pack really impressed me. It has several compartments, pockets, and attachment points. There are lots of ways you can customize it to work for you. I've changed the layout several times to make it suitable for different situations.
Because of this customization, the pack is extremely versatile. You can use it for tactical operations, hunting, backpacking, and spending weeks in the woods. You can purchase it with weapon carrying options and compatibility with different hydration systems. It's great for any long-term, outdoor living or bug out situation.
Despite it's larger size, I was surprised by how comfortable this bag is to wear. It has padded shoulder straps, supportive back panels, and an adjustable waist belt. I found it plenty comfortable for long hikes in Appalachia.
It's much bigger than the Osprey Kestrel 38, our top pick. Therefore, I recommend the Eberlestock Operator Pack one largely for longer trips or those looking for lots of customization.
Recommended for:
The Eberlestock Operator Pack is most suitable for two different situations. Firstly, it's great for longer trips or situations that require lots of hiking. Secondly, I recommend it for those that need something more versatile. Because this bag is so customizable, you can use it for practically any outdoor activity.
---
Kelty Coyote 85-Liter Backpack
Materials: Polyester and Nylon
Capacity: 85 liters
Weight: 4 pounds, 14 ounces
The Kelty Coyote 85-Liter Backpack has always exceeded my expectations. As someone who enjoys spending time in the wilderness, having a reliable and functional backpack is crucial, and the Coyote proved to be a game-changer.
I've found this bag to be extremely comfortable. It has a suspension system that's completely adjustable, which allows me to fine-tune the back to my body. When carrying a lot of weight, this matters a lot. Even with a heavier load, the thick padding and shoulder straps help keep my comfortable.
With that said, the spacious design is the real selling point. It has plenty of room for all my necessary gear and then some. However, this does make it heavier, so I prefer to only use it when I really need to. (With that said, because I usually spend at least two days in the woods, I often have to carry a bigger pack.)
I do like all the compartments and pockets, though I know several other bushcrafters that don't. It's mostly a personal preference.
The 420-denier polyester fabric proved to be rugged and abrasion-resistant. The sturdy zippers make me feel confident about using this bag in rougher conditions. It can really withstand the rigors of the mountains.
While there were a few negative reviews regarding the durability of the material and the small buckles, I personally didn't encounter any issues with these aspects. There is a bit of a learning curve with this pack. I highly recommend taking some time to get to know it before using it.
Recommended for:
The Kelty Coyote 85-liters Bushcraft Backpack is comfortable and provides plenty of space. It's a great choice for longer trips into the wilderness.
---
5.11 Rush 12 Backpack
Materials: 1050D nylon
Capacity: 24 liters
Weight: 2.8 pounds
I've spent a lot of time in the field. My trips have varied from nearly a month at a time to less than 24 hours. I've always loved 5.11 gear, and the 5.11 Rush 12 Backpack works great for the shorter trips.
As the name suggests, its very small. However, it is built to last with 1050D nylon. It's also water resistant and has a self-repairing zipper – a huge plus, in my opinion. Everyone I talked to had only good things to say about this bag's durability. It's made to stand up to rigorous outdoor activities and harsh weather conditions.
I've spend many hours bushcrafting in the mountains of Appalachia, which is basically a temperate rainforest. Therefore, a bag that's waterproof enough to withstand muggy and soaking conditions is vital.
While this bag is small, it has exceptional organization. I counted 16 individual compartments inside and outside the bag. It offers ample room for you to store your essentials, including navigational and first-aid equipment. The main storage compartment is quite large – plenty big enough to fit my tarp and even some cooking gear.
I love that there are some fleece-lined pockets for more sensitive items (like my backup prescription sunglasses). You need to pay very close attention to detail to find all of these pockets, though.
The concealed carry pocket is another standout feature of the Rush 12. Although I don't personally use it for carrying a weapon, I do like having it there just in case. (You never know, after all.)
I do have a couple of complaints, though. For instance, the compression straps work great on the top of the bag, but the whole thing would really work best if there was a second set towards the bottom. The compartments in the top exterior part of the bag feel awkwardly sized and don't offer much practicality.
It would be great to have a larger upper exterior pocket, like the one on the previous Rush 12 model, which allowed for more storage options.
Recommended for:
I recommend the 5.11 Rush 12 Backpack backpack for very short trips and those that prefer lots of pockets. It isn't very large in the least, but I do love it for shorter trips.
---
Helikon-Tex Matilda Backpack
Materials: Cordura 500D with Nylon 210D
Capacity: 35 liters
Weight: 3.67 pounds
After extensive research and reading through pages of reviews, I came across the Helikon-Tex Matilda Backpack. I'll be honest: this bag looks very weird. Don't let the appearance throw you off, though; it's a very good bushcraft backpack.
Firstly, the quality of this backpack is outstanding. It uses durable materials and reinforced stitching to ensure this bag can withstand the elements. It's one of the few bags on the market that is made for bushcraft – and it shows. The buckles and zippers (particularly the drawstring sleeves) are very reliable and function smoothly even when wet.
I love how organized this backpack allows me to be. I'm a bit obsessive with how my gear is set up, so having three large external pockets easily landed this bag in my top ten. I like having my cooking kit, cordage, cutting tools, and emergency supplies easily accessible on the front of the bag.
The larger external pouch easily accommodates a sleeping system, including two wool blankets and a tarp.
With all that said, this pack does have some limitations. Some report that the straps cannot adequately handle over 40 pounds. However, with the waist strap securely distributing the weight, I didn't find this to be a problem. I did find that this bag works best for treks under 3 miles, though.
Additionally, I found a lot of conflicting information about the waist strap adjustment. Some really complained that it was hard to adjust. However, I didn't personally have a problem with this. By following a simple technique of pulling the straps across my body in an "X" pattern, I could achieve a snug and comfortable fit.
Recommended for:
One of the main reasons I love the Helikon-Tex Matilda Backpack is because of the external pockets. However, it's a bag you're either going to love or hate. I'd recommend it for those with a military background who are used to operating with several external pockets.
---
Maxpedition Falcon II Backpack
Materials: 1050D Nylon
Capacity: 23 liters
Weight: 2.65
You'll find a lot of recommendations for the Maxpedition Falcon II Backpack out there, especially for those on a budget. While this backpack isn't my favorite, it does have several features that make it a pretty decent bushcraft backpack.
This bag is exceptionally durable. Maxpedition gear consistently stands up to the competition, and this bag is no different. It's made from 1050-Denier water and abrasion-resistant nylon. I'd expect this bag to stand up to quite a bit thanks to it's rugged construction.
I like that this bag strikes a nice balance in terms of size. It isn't too large, but it also isn't too small. It's a medium-bodied pack with quite a few interesting storage features. The main compartment is quite large, and there are several smaller pockets on the outside.
I'm a fan of lots of pockets, though I know not everyone is.
This bag is also pretty comfortable. It's designed to handle decently sized loads, so it includes padded shoulder straps, sternum support, and a waist belt. All these features help distribute the weight evenly, preventing fatigue and injury.
I appreciate the inclusion of a high-quality carrying handle, which was a feature that previous Maxpedition bags didn't have.
However, it's worth noting that this bag shouldn't be used to carry more than 30 pounds. If you're planning on hitting the trail with more gear, you'll need a bigger bag.
I did find the abundance of random, loose straps to be cumbersome. I like to keep my gear nice and neat, and this bag made that hard to do. The straps must be folded or tied to make the pack look neat at all.
Recommended for:
If you like the Maxpedition brand, then the Maxpedition Falcon II Backpack bag is probably a great option for you. However, while it is better than most on the market, it isn't one of my favorites. Most would probably do better with one of the other bags above.
---
Best Bushcraft Backpack Buying Guide
Purchasing a bushcraft backpack is probably one of the more important buying decisions you'll have to make. After all, your backpack is what holds all your stuff. If you're backpack isn't high-quality, you'll have a harder time carrying and using the rest of your gear.
While backpacks are often marketed with a slew of features, there are only a few you really need to pay attention to.
Size and Capacity
You should start by considering the size backpack you need. Bigger isn't always better, as larger bags are often much heavier. Bushcraft backpacks often range form 30 to 60 liters. However, you can find bags outside of this range.
For the most part, the capacity you need depends largely on how long you're going to stay in the field and how much you're going to live off the land. If you're only going on a day trip, you probably don't need a 30 liter bag. If you're spending weeks in the woods, you may need a very large bag.
Similarly, if you plan on staying in a tent or using a sleep system, you'll need a larger bag than someone who is building their own shelter from scratch.
You may need multiple bags for different trips. I have a bag for day trips and another for trips that last several days. I find that having a smaller assault pack or haversack can be extremely useful. I like being able to leave my main bag at my campsite and then detach a smaller bag for essentials to carry with me.
For my first bushcraft trip, I took out a very small assault pack thinking it would be sufficient. However, it wasn't, and I preceded to get completely soaked (because I hadn't brought a large tarp due to the smaller bag). Therefore, I typically use a bigger bag than I think I need.
Material and Durability
You want your bushcraft backpack to last. It's probably going to get rained on and put up against nature quite a bit, so you need something that's more durable than the average backpack.
The best bushcraft backpacks are made from waxed canvas or a heavy denier Nylon. These materials are water-resistant and able to withstand rougher outdoor conditions.
I highly recommend looking for a bag that has reinforced stitching and robust zippers. In my experience, bags tend to fail at the zipper or stitching.
Comfort and Fit
You're probably going to be carrying the backpack for an extended time. Therefore, it's important that the bag is comfortable and doesn't cause any pain. A small discomfort on a short trip can turn into a major pain during a long one, so it's important to be a bit picky here.
I recommend getting a bag with padded shoulder straps, a cushioned back panel, and a waist belt. Having lots of adjustability is vital, as it helps ensure the bag is correctly distributing the weight. Even the highest quality bag can turn into a major headache if it isn't fitted properly.
For that reason, you should take plenty of time to fit and adjust your bag before you head outside. I've spent hours adjusting, trying on, and wearing my bags around the house.
Backpacks with supportive frames or an internal suspension system can be useful for longer hikes. If you're going on a trail to get to your bushcraft location, you probably want something with a frame. However, if you're only hiking a short distance, a frame may just add extra weight.
Organization and Accessibility
When you're keeping all of your stuff in a bushcraft bag, you'll probably want to keep all that stuff organized. Otherwise, you may have a harder time finding and using your gear.
There are two main camps of thought on this. Some people believe that you don't need tons of pockets. In fact, there are many bushcrafters who find lots of pockets overwhelming. Plus, if you're living solely off the land, you may not have tons of stuff to organize, anyway.
However, I've always preferred options with lots of pockets. Having multiple compartments helps me keep everything organized. I also prefer external attachment points, which makes it easier to keep things like first-aid and water purification handy.
A top-loading compartment is preferable no matter how many pockets your backpack has. Having additional access points into the main pouch (like a zippered access at the bottom) is vital for bigger bags.
Load Carrying Features
Smaller bushcraft backpacks can get away with being very simple – and that's often why I recommend them.
However, sometimes, you just need a bigger bag. In this case, you'll want plenty of features that aid load distribution. Otherwise, you could get fatigued or even injured.
Load-lifting straps, compression straps, and a sternum strap can all make a huge difference in the field. Compression straps can keep your load from shifting and help everything stay more secure.
If you're getting a bigger bag, I recommend looking for bags with additional external attachment points, like loops and daisy chains, for attaching external gear. When you're carrying a lot, you don't want to dig through your whole bag just to get out your bushcraft saw.
I've used bags with both external and internal frames. I prefer bags that have an L-shaped internal frame. I want my bags to be able to stand straight up, and weirdly-shaped frames just don't do that. When I'm using a 40-pound bag, the last thing I want to do is wrestle it into a sitting position.
Water Resistance
Outside is wet – that's just the way it is. If you're going to be carrying a bag outside, it's important that it's water resistant. Otherwise, the bags not going to last as long, and all your stuff is going to get wet.
In my opinion, this isn't an optional feature.
With that said, most backpacks aren't completely waterproof, especially at the zippers. Moisture will soak through at the zippers before anywhere else, in my experience. However, having at least some degree of water-resistance will prevent a simple rain shower from soaking all your gear.
Look for water-resistant materials, like nylon and polyester. Bags that can be treated with wax or a similar water-resistant material are also helpful.
I've used a bag that wasn't previously waterproof, and it led to all sorts of problems. If you live in a dry setting, this may not be as big of an issue. However, in my extensive experience, water-resistance is always a positive.
If you backpack isn't water resistant, make sure it comes with a rain cover, like our top pick does.
Weight
The weight of the bag itself matters. Larger bags are often heavier simply because they have more material to them. However, this isn't always the case.
Bags with frames are often much heavier than those without frames, though there are a few suspension systems that weigh very little. Poorly-made bags will almost always weigh more than high-quality bags.
Sadly, lighter materials are often less durable. Bags that are very durable and made with light materials are often expensive. Sometimes, it makes sense to choose a heavier bag to save some money or get something that's going to last longer. It depends largely on what you're going to be doing with the bag.
If you're only hiking half-a-mile to a creek to bushcraft, then choosing something ultra-light probably isn't necessary.
Price
Bushcraft backpacks are available at all different price points. Many are under $100, while others are closer to $1000. High-end backpacks often include extra features, on top of being very durable and lightweight. Often, brands price their items higher simply because of their name.
Luckily, a bushcraft backpack can be very simple. You don't need a high-end brand, fancy fabric, or next generation features. Often, you just need a bag that isn't going to fall apart when you use it.
Don't feel like you need to spend hundreds of dollars on a backpack if you don't have hundreds of dollars. However, if you do want tons of features, lightweight fabric, and durability, you're going to have to pay for it.
I included backpacks at several different price points above, allowing you to choose the best option for your situation.
---
Video Review of the Osprey Kestrel 38 Backpack
Here is a video review of our top pick, the Osprey Kestrel 38 backpack.
---
Which Is the Best Bushcraft Backpack?
In our experience the Osprey Kestrel 38 backpack is the best bushcraft backpack available. The combination of the size, durability, price, and extra features makes it our top pick.
I love how comfortable it is even when loaded down with all of my bushcraft tools and gear. The side, front, and top pockets make it easy to grab my camp axe or saw without opening my pack.
Now that you have decided on a bushcraft backpack, check out our other bushcraft guides and gear reviews to complete your kit!