I've used dozens of tarps and found the Aqua Quest Defender Tarp to be the best bushcraft tarp for shelter when camping in the wilderness.
This tarp is easily my favorite due to its exceptional durability and water resistance. It can handle far more rain than other tarps and withstand the rigors of the woods.
However, I do live in an area that gets a lot of rain, so waterproofing is high on my list of priorities. You may have completely different priorities or live in a different climate.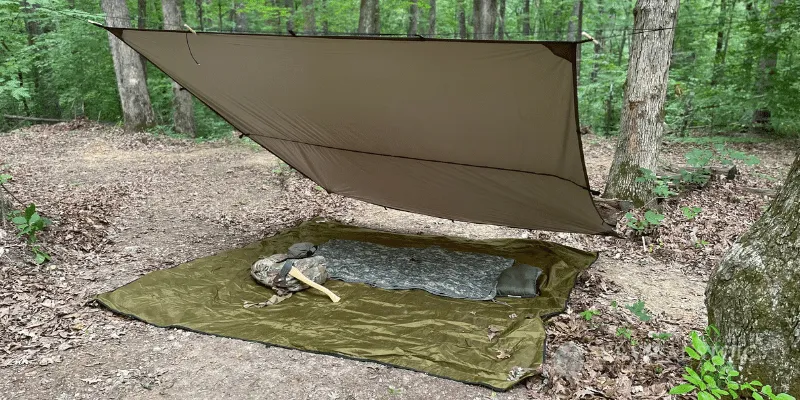 As a veteran and bushcrafter, I've used dozens of tarps over the years – and talked to other experts about countless others. I've had several tarps fail while I was using them, and others stand up to some pretty extreme weather.
So, I have experience with what makes a good tarp and what doesn't.
Selecting the best bushcraft tarp for your shelter at camp or for an emergency or survival kit can be tough with so many options. In this guide I will detail what to look for so you can pick the best for your situation.
Keep reading to find my top picks along with tips and tricks on how I quickly setup my bushcraft tarp.
---
Quick Comparison of My Favorite Bushcraft Tarps
---
Best Bushcraft Tarps
Aqua Quest Defender Tarp: Best Overall Bushcraft Tarp
Material: 70D Nylon with PU coating
Size: 10′ x 10′ (others available)
Shape: Square
Weight: 3.3 pounds
Tie-Outs: 19 loops
Based on my experience, research and testing, the Aqua Quest Defender Square Tarp is easily the best bushcraft tarp on the market. I've had the pleasure of bushcrafting in many different weather conditions and terrains. This tarp is the only one I trust to stand up to everything.
The durability of the defender tarp is top-notch. It's made to withstand the rigors of outdoor adventures in just about any climate. I've had countless tarps fail on me – but not this one.
I love that its exceptionally waterproof. While you can use a tarp for a range of purposes, if it isn't waterproof, it isn't going to be very useful. After sleeping underneath plenty of tarps that claim to be waterproof but aren't, I'm glad the Defender tarp has a dual-coated design and waterproof rating of 20,000 mm.
I live in a temperate rainforest. It gets wet. This tarp helps keep me and my gear dry.
Plus, this tarp features 19 tie-outs, so I can arrange it in a variety of ways. While I do have a few setups I go back to often, I prefer to have some versatility just in case the environment makes me improvise.
This tarp is heavier than most. However, when I'm bushcrafting, I'm not going very far. Plus, I'm not one to count ounces. Of course, if you are someone that tries to pack as light as possible, you may want to try out the Aqua Quest Safari Tarp below instead.
Recommended for:
If you're just looking for the best tarp, get the Aqua Quest Defender Tarp. Based on my experience and others I've talked to, it's easily the best option.
---
Aqua Quest Safari Square Tarp – Best Lightweight Bushcraft Tarp
Material: 70D Nylon with PU coating
Size: 9'7″ x 9'7″
Shape: Square
Weight: 1.7 pounds
Tie-Outs: 19 loops
During most of my bushcraft trips, I'm not very concerned about weight. However, if I am hiking a bit to my bushcraft area, then weight suddenly becomes a lot more important. That's where the Aqua Quest Safari Square Tarp comes in. It's much lighter than the Defender tarp I previously mentioned, but it still works great in most bushcraft situations.
It weighs just 1.7 pounds, making it one of the lightest options on the market. It's perfect for those that count their ounces and want to travel light. I appreciate how Aqua Quest has achieved an excellent strength-to-weight ratio, allowing me to carry a reliable shelter option without adding unnecessary weight to my backpack.
With any bushcraft tarp, I'm going to be extremely concerned about durability. Because this tarp was much lighter than others, I was originally concerned that it wouldn't hold up as well. However, I didn't find that to be the case.
While it isn't as durable as the Defender tarp, I did find it plenty durable for my purposes.
This tarp has a waterproof rating of 5000 mm. While that's much less than the Defender tarp, it is far more water repellant than most tents and tarps out there. It works perfectly fine in a downpour.
While the Defender Tarp offers exceptional durability and a higher waterproof rating, the Safari Tarp excels in terms of weight. Which one you choose is dependent on your needs and priorities.
Recommended for:
Lightweight tarps often sacrifice durability, but not the Aqua Quest Safari Tarp. If you're backpacking or counting ounces, get this one.
---
Redcamp 10 x 10 Tarp: Best Budget Bushcraft Tarp
Material: 210T Poly Ripstop Fabric with PU coating
Size: 118″' x 118″
Shape: Rectangular
Weight: 1.8 pounds
Tie-Outs: 9 Loops
For those on a strict budget, the Redcamp 10 x 10 Tarp is a great option. I'd also consider it a suitable backup or as an inexpensive survival tarp. Despite being inexpensive, this tarp exceeded my expectations. It's cheap without being cheap.
This tarp is decently waterproof. It's made from 210T polyester ripstop with a PU2000mm waterproof coating, making it plenty waterproof for my uses. While it technically isn't as waterproof as some other options, it's plenty to stop a downpour (and, usually, that's all you need).
Speaking of weight, the Redcamp Tarp is a true lightweight champion. Weighing only 1.8 pounds, it won't add unnecessary bulk to your backpack. It's perfect for thru-hikers and those who count ounces (which I do not).
In contrast, the Defender weighs 3.3 pounds, making it much heavier.
This tarp does come with bundled stakes and paracord. However, these feel a bit cheap and pale in comparison to more expensive options. Luckily, good paracord isn't that expensive, so I'd recommend picking some up for critical applications like ridgelines.
Recommended for:
If you're on a strict budget, the Redcamp 10 x 10 Tarp is a solid option. It's priced lower without being cheaply made.
---
DD Tarp 3 x 3 – Most Flexible Bushcraft Tarp
Material: Polyester with PU coating
Size: 10′ x 10′
Shape: Square
Weight: 28 ounces
Tie-Outs: 19 reinforced loops
The DD Tarp 3 x 3 is another popular tarp that I quite like. It has 19 tie-out points along the edges and ridgeline, allowing me to set it up in practically any fashion. It's flexible for different situations, making it one of the best all-around bushcraft tarps.
I love that it only weighs 28 ounces. While I'm not one to care about every single ounce, it's plenty light enough when I'm backpacking or hiking longer distances. It's impressively lightweight and easy to carry, so I see no problems with using it for multi-day expeditions.
The included pegs, guy ropes, and stuff sack complete the kit. While these aren't the absolutely best quality, it is nice that they're included.
While this tarp is sold as extremely durable, many people I talked to mentioned signs of wear pretty quickly. While I don't have an experience with this myself, this tarp does seem a bit less durable than other options. If you're looking for a survival tarp or something more long-term, you should keep this in mind.
With that said, I did find this tarp to be a trustworthy companion when bushcrafting, despite the questionable durability.
Recommended for:
The DD tarp 3 x 3 is in the middle of the pack in terms of durability and price. If you don't want to spend $100 on a tarp but don't want the cheapest option either, you should look at the DD tarp.
---
Aqua Quest Guide Rectangular Tarp
Material: 40D Nylon with PU and Silicone
Size: 10′ x 7′
Shape: Rectangular
Weight: 0.9 pounds
Tie-Outs: 13 reinforced loops
If you haven't noticed, I'm really impressed with Aqua Quest tarps. The Aqua Quest Guide Rectangular Tarp is no different. It's rectangular – which is different from many of the bushcraft tarps on this list.
It offers 13 tie-outs and 64 ft² of coverage. While this is smaller than many, it's perfect for the lone bushcrafter. I find the smaller-sized tarps easier to carry and put up, so I prefer the smaller variants for quick trips. It even includes a stuff sack, so it's easy to transport.
Like most Aqua Quest products, this tarp is exceptionally waterproof with a 5000 mm rating. The dual coating allows it to exceed other tarps and tents. When I'm particularly worried about getting wet (which is a lot, to be honest), this tarp is a solid option. It can keep you dry in even the most aggressive downpours.
I also like that this tarp is ultralightweight. It weighs only 0.9 pounds excluding the pegs and guy lines – that's much lighter than my top pick and all other tarps I've mentioned. It adds minimum weight to my pack, which, again, makes it perfect for shorter trips (when I often use my smaller bushcraft backpack).
This tarp is made from 40D ripstop nylon fabric. In my experience, ripstop is an absolute must-have. The tough webbing tie-outs and reinforced precision stitching also make it far more durable than most options on the market.
While this tarp may not be the cheapest option on the market, you're getting what you pay for. It's exceptionally durable, waterproof, and lightweight.
Recommended for:
I recommend the Aqua Quest Guide Rectangular Tarp for two types of bushcrafters: those looking for the absolutely lightest option and for those that tend to go on shorter trips. It also makes a perfect backup option or survival tarp for one person. It'd fit nicely into a bug-out bag.
---
Free Solider Tarp
Material: 210T Polyester with PU coating
Size: 9.85′ x 10.5′
Shape: Rectangular
Weight: 2.6 pounds
Tie-Outs: 19 Loops/5 metal grommets
The Free Soldier Tarp may not be as popular as the Aqua Quest tarps, but it is high-quality and one of the less expensive options on this list. I like it because it's generously sized, not terribly heavy, and versatile.
It only weighs 42 ounces. While that may make it too heavy for those that count ounces, it's perfect for most bushcraft purposes. In my experience, heavier often means more durable. I'd rather have a durable tarp when bushcrafting than an ultralightweight one.
I love the use of 210T ripstop polyester fabric. I've used a lot of tarps, and those made with ripstop fabric usually perform exceptionally. The 2500 PU waterproof rating may not be the best on the market, but it's still a reliable choice. It'd keep you dry in a downpour, though I wouldn't use it for a water collector or something of that sort.
With 19 guy points and 5 strengthened grommet points, you can tie this tarp up in nearly any fashion. I like the flexibility, as I'm a bit stubborn when I set up my tarp shelter. All the tie-outs also make it suitable for other uses besides just shelter.
I appreciated the included 4 nylon guy lines with tensioners, stakes, and a stuff sack, which made setup and takedown hassle-free.
I quickly discovered that this isn't the lightest or most compact tarp. However, it's heavy-duty and reliable, which I tend to prioritize more.
Recommended for:
I recommend the Free Soldier Tarp as a budget option for those who don't count ounces. It isn't the lightest tarp, but you're getting a lot of durability for the price.
---
OneTigris Bulwark Camping Tarp
Material: 210T Polyester fabric with PU coating
Size: 9.5′ x 12.7′
Shape: Rectangular
Weight: 2.4 pounds
Tie-Outs: 19 (both loops and grommets)
I've always liked OneTigris. While the company does make their items in China, their products are surprisingly high-quality. The OneTigris Bulwark Camping Tarp also fits this description.
It's made with 210T polyester taffeta with a dual waterproof coating and heat-taped seams. While it isn't made from ripstop, I did find it to be pretty durable. It also provides a robust shield against the elements.
I like that this tarp has 19 reinforced webbing loops, including 3 loops on the ridgeline. I've used tarps that hardly have any loops, and they're a pain to setup as a rule. Luckily, this tarp doesn't fit into that category.
This tarp also comes with a comprehensive set of accessories. However, I think these additions are mostly for advertising purposes, as they were pretty low-quality in the end. While the waterproof stuff sack provides convenient storage, I must note that the bag is a bit tight, requiring careful folding and rolling to fit the tarp properly.
If you go with this tarp, I'd plan on purchasing your own accessories.
This tarp is larger than most, measuring 12.8ft by 9.5ft. It can easily accommodate two people (or one person and a pair of children). If you camp with your family, this tarp is a solid option.
Sadly, I did find that condensation built up in this tarp more often than not. Of course, it's very humid where I live, so that isn't necessarily saying much.
Recommended for:
This OneTigris Bulwark Camping Tarp is a decent option for those that need a larger tarp. Plus, the number of tie-outs exceeds most other options on the market, making it suitable for more specialized uses.
---
Kelty Noah's Tarp Sun Shelter Rainfly
Material: Polyester & Nylon blend with PU coating
Size: 12′ x 12′ (others available)
Shape: Square
Weight: 2.4 pounds
Tie-Outs: 16 (loops and grommets)
I live in Appalachia. However, I understand that not everyone does. If you're in the middle of the desert, you don't need a huge, waterproof tarp. In these cases, I highly recommend the Kelty Noah's Tarp Sun Shelter Rainfly.
This tarp is known for it's robust construction. it's made out of 68D polyester and fully taped seams. I'm pretty confident that this tarp could protect me from sunny, windy weather. However, it isn't very waterproof. Therefore, I wouldn't use it for my typically in-the-woods tarp tent construction.
In heavy rain, mist will come through the tarp. Depending on how it's set up, it may even drip.
I like that this tarp has a range of configuration options. It has many reinforced guyout points and attached corner guy lines. However, you'll probably need additional tarp poles or extra guy lines to get a taut pitch.
It's perfect for minimalist campers like myself who prefer hammock camping or sleeping under the stars. The tarp offers ample coverage, and the 12-foot version easily spans a picnic table area with room to spare. I particularly appreciate the pockets for the included guy lines, which adds to the convenience of setup.
Recommended for:
The Kelty Noah's Tarp works well for warmer climates when sun (not rain) is the main concern. It works well as a sunshade and for light showers, but that's about it.
---
Unigear Hammock Tarp
Material: 210D Polyester with PU coating
Size: 10′ x 10′ (others available)
Shape: Square
Weight: 1.65 pounds
Tie-Outs: 8 metal grommets
The biggest standout feature of the Unigear Hammock Tarp is its ability to keep me dry. It's made from 210D ripstop Oxford fabric – one of my favorite materials for a tarp. The 3000mm waterproof coating provides excellent protection from rain. I expect this tarp to keep any bushcrafter dry for a long time.
I also love the reinforced fix points, which help ensure durability. These points are plenty reinforced, in my opinion, so I wouldn't worry about ripping or leaking – even in more extreme conditions.
This tarp comes with almost everything you need to set it up, including six stakes and six ropes. However, I would recommend something stronger for the ridgeline. In my experience, the provided ropes won't be strong enough for most situations. It benefits from additional tie-off points.
While some higher-end brands may provide additional features or lighter materials, the Unigear Hammock Tarp provides an excellent balance between affordability and functionality.
Recommended for:
The Unigear Hammock Tarp is an alternative budget option for those that are looking for a balance between affordability and function. It provides comparable durability and waterproofing features to higher-end brands at a more budget-friendly price point.
---
Best Bushcraft Tarp Guide
Many people will tell you that all tarps as the same. However, this isn't true in the least. There are tons of differences between tarps, including the waterproof rating, material, and attachment points.
I've spent hundreds of hours using and testing bushcraft tarps. Here's some of the most important things I consider.
Material
One of the most important considerations is the material of a tarp. After all, the material affects practically every aspect of the tarp. Tarps actually have two materials: the base fabric and the coating (if any).
Fabric
Most tarps are made from nylon, polyester, or a special branded fabric. You may also see the term silnylon, which is nylon "impregnated" with silicone – hence the name. Silpoly is similar, but its made from silicone and polyester.
Dyneema Composite Fabric is a popular branded option that's made from fibers that are laid at 90-degree angles and then laminated with Mylar. It's fancy stuff that works very well (but it's also expensive and sensitive to abrasion – not what you want to deal with in a bushcraft setting).
Polyester isn't as popular as nylon. However, it's still a good fabric, and I see no problems with it in a bushcraft situation. Nylon is always my safe go-to, though. While it does technically absorb water, most nylon tarps are coated.
Here's a handy table for comparing nylon vs. polyester bushcraft tarps.
As you can see, there is no perfect tarp. Nylon is better at some things, while polyester is better at some things. Which option you like more depends at least partially on your preferences. For instance, someone who only walks a few hundred yards to their bushcraft area won't care much about weight.
On the other hand, if you're thru-hiking, weight is far more important.
No matter what type of fabric you get, choose one over 30D.
Some regular campers are concerned with the affects synthetic fibers have on the environment. While some alternatives are becoming more and more popular, I don't have any personal experience with these.
Coating
Now that I've discussed the base fabric, we also need to talk about the coating. Every tarp worth anything will have a coating. (If a tarp doesn't have a coating, you should run away very fast.) The most common coatings are polyurethane (PU), silicone, and thermoplastic polyurethane (TPU).
I prefer PU or TPU tarps. In my opinion, they just seem to last longer, which is especially important for bushcraft, in my opinion. I've had several tarps leak and fail over the years, which led to a very miserable time. Therefore, I tend to prioritize durability above other factors.
Silicone makes a tarp slippery, and I find this hard to work with. TPU and PU coatings are far easier to work with, in my experience.
Once again, here's a handy chart to help you compare all the options:
Size
You can purchase very small tarps and very large tarps. Some people have a hard time visualizing different sizes and often end up purchasing the incorrect one. The diagram below will help you get a better idea of just how big certain sizes are.
Most people need a tarp between 8′ x 10′ and 10′ x 12′. This tarp is large enough for one person and a decent amount of gear (though I've also used it for two people, though it was a bit squished).
I prefer having at least a 10′ x 10′ tarp for two people. Three or more people need at least 10′ x 12′ or larger. There are some very large tarps out there, but I find it easier just to carry multiple 10′ x 10′ tarps instead of one large one.
Shape
You can purchase all sorts of differently shaped tarps. Fancy hexagons and diamonds may seem like the new best thing. However, in my experience, these odd shapes just don't work as well as a rectangular or square tarp. (If they did, all tarps would be that shape.)
I did talk to a few other experts who swear by these irregular cuts. However, these people are few and far between.
Loops vs. Grommets
Loops are easily better than grommets. It isn't even close. Grommets are made by poking holes into the tarp, which makes the whole fabric less durable. These are spots of weakness that tend to leak and tear. Plus, it's practically impossible to replace a torn grommet in the field (or anywhere else, for that matter).
Once a grommet tears, the whole tarp is done. Trust me – I've tried to replace one.
On the other hand, cloth loops make far more sense. They're sewn onto the tarp, but they don't directly interfere with the fabric's structure. They're much more durable in my experience. Plus, you can absolutely replace them in the field, if needed.
Some tarps have grommets and loops. However, I prefer those with only loops.
Extras
You'll often see tarps sold with extras, like stakes and guy lines. Whiles this may seem like a complete package, these extras aren't usually that high-quality. They're an after thought.
I've always purchased my own stakes and cordage, even when the tarp came with some. Therefore, I would recommend just planning on purchasing your own as well.
See our full guide on tent stakes for all situations.
---
How to Setup a Bushcraft Tarp
While some like to experiment with all kinds of different configurations (see the video below), being able to setup a tarp quickly is my preference.
To do this, I made a ridgeline that I can setup rapidly. I have to give credit to Felix Immler for the inspiration of this idea. With this ridgeline and guy lines, I do not have to tie any knots, and everything can be tensioned easily. It is all premade and setup ahead of time.
Bushcraft Tarp Ridgeline and Guy Lines
My Ridgeline is made up of about 25 feet of Paracord. I also made my own toggles from black Delrin rod. You could also use wood like Felix does, but the Delrin is much more durable long term.
On one end I tie a Bowline loop. I then thread two toggles on the line and tie a stop knot on the opposite end (just a simple overhand knot.)
Then, I use #36 bank line and make three six inch loops on the line. On two of the loops, I thread another Delrin toggle. I then tie the bank line into loops by tying a fisherman's knot on the ends, and then attach the bank line to the ridgeline with a prusik knot.
To see what bank line and paracord I use, check out our guide on the Best Bushcraft Gear.
After I make my ridgeline, I also make a few guy lines for flying the corners of the tarp to tent stakes or other trees. These are simply a length of paracord with the same Bowline knot on one end, a Delrin toggle, and a stop knot on the other end.
Pitching a Bushcraft Tarp – Tips and Tricks
First I take the end of the ridgeline with the loop and wrap it around a tree. I thread the first toggle through it to secure it.
Next, I take the other end and wrap it around the second tree. I slide the last bank line prusik and the last toggle down to the second tree.
I then place the last toggle through the bank line loop. I pinch the paracord around the toggle and then place it into the loop. The bank line places tension on the ridgeline so that I can tighten it.
Next, I slide the two bank line prusik loops with the toggles to each end of the ridgeline. These will connect to my bushcraft tarp.
After placing the toggles through the bushcraft tarp loops, simply slide the prusik knot down the ridgeline to tension it.
After tensioning the tarp on the ridgeline, I then attach the free ends of the tarp to another tree or a tent stake. First, I run the line through the loop on the tarp and around the tree or tent stake. I then run the toggle through the loop on the end of the line.
To tension these, I hold the toggle and pull the free end of the line. To loosen them, I simply pull the toggle.
I repeat the process on all four corners when making an A-frame shelter, or the two corners for a lean-to shelter.
Taking the bushcraft tarp down is just as quick, simply take the free ends down first and then the ridgeline.
If you are interested in more details on this setup, feel free to reach out on our contact page and let me know!
---
Video Review of the Best Bushcraft Tarp
Here is a great video review of our top pick, the Aqua Quest Defender tarp.
---
Final Thoughts
The Aqua Quest Defender tarp is easily the most durable and waterproof option on the market. Because both of these features are at the top of my priority list, this tarp is my favorite.
Based on my experience, it works well in practically every bushcraft situation. Plus, it's widely available, so I feel confident recommending it. It is also a great survival tarp for a survival kit, vehicle get home bag, or as a go bag essential for an emergency shelter.
As we saw on past episodes of Alone, many selected a tarp as one of their 10 survival items to live long term in the woods. A good tarp is very valuable and can help you quickly build a shelter.
Now that you have your tarp selected, check out our other Bushcraft guides and gear reviews, including which stakes and cordage to use.