Welcome to our comprehensive concealed carry guide. This guide is designed to provide a complete resource for everyone interested in concealed carry, whether you are a beginner or a seasoned expert.
Our aim is to make this guide the most extensive and inclusive resource you will find, covering everything from mindset techniques to the best gear and training available. Instead of simply telling you what to do, we provide you with tips and techniques to help you actually get better.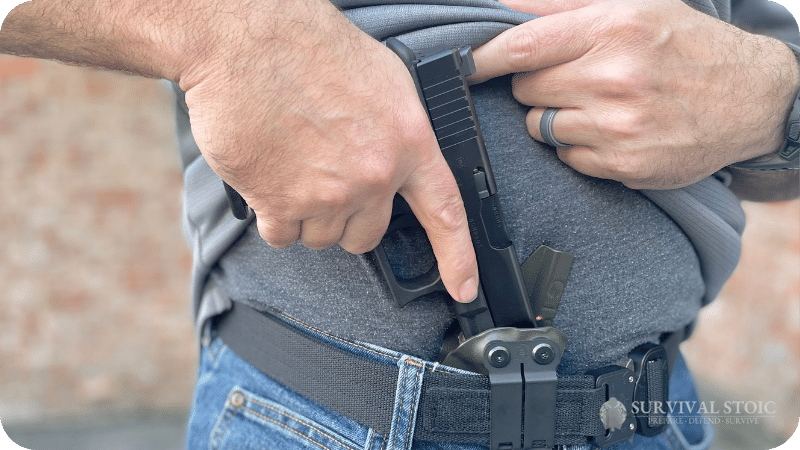 Our team has over 25 years of experience in concealed carry, military experience, competitive shooting, and range safety officer experience. We have taken over 150 hours of training in firearm safety and concealed carry topics.
This guide is a continuous work in progress, so check back often or sign up for our newsletter and get notified of any new updates as they happen. We're constantly looking to improve our content, and the firearm industry is constantly coming out with new products.
Now, let's get to it. Keep reading for our concealed carry tips and techniques you won't find anywhere else.
---
Concealed Carry Guide
Each section below has a link to sub-guides that contain detailed information on a particular topic. The guides are intended to be followed in a particular order, so when you are done with that guide, simply come back here to continue.
Even though it is tempting to jump ahead, there is some important info in each section you probably haven't heard of before. We strive to make each guide teeming with the most accurate, new information available, so check back often for updates.
So, keep an open mind, and focus on how you can improve each day.
---
CHAPTER 1
Concealed Carry Basics
If you're new to concealed carry and considering buying a handgun, start here. And even if you've been carrying for some time, there's always room for improvement.
Review these guides for important mindset tips and other things you may have not considered.
The Benefits of Concealed Carry
Choosing to carry a concealed weapon is a big lifestyle decision. Just like any major decision, it is important to spend some time defining the reasons why.
What is concealed carry exactly? Is it really worth it?
Our team sat down and listed all the benefits we have found from our experience over the years. Some of the reasons are obvious, while others may surprise you.
Start here and find your reasons to carry concealed.
Concealed Carry – How to Get Started?
When considering carrying a concealed weapon, it can be overwhelming to know where to start.
This guide provides all the necessary information for you to make an informed decision.
First, be patient. This is not a time to run off to the closest gun store and buy the first thing they show you.
For instance, you have to consider where you want to carry concealed and what clothes you will be wearing. What are the laws? Is it even legal in your state? Do you need a permit?
How will you train? Is there a gun range nearby? How about training, what do you need to do?
Our team put together all the things they wished they knew when they got started carrying concealed. Find out what they are here:
Concealed Carry Responsibilities
Before you carry a concealed weapon, it is important to understand that it comes with certain responsibilities.
These responsibilities are important to keep in the forefront of your mind. Some of these are obvious, like following the law and gun safety. But some are not so black and white.
Carrying a handgun requires an understanding of your equipment, which can only be achieved through discipline, training, and learning. Obtaining a handgun and a carry permit is not the end of your journey, but rather the beginning.
Carrying a handgun carries with it responsibilities that must be practiced at all times. Even when you are not carrying, these techniques and responsibilities can still help you keep your family safe.
Find out what they are here:
Concealed Carry Mindset
Once you carry concealed, there is a certain mindset you must practice.
You must always be defensive. And really, you must go out of your way to avoid conflict. This requires keeping your ego in check, having self-discipline, and not panicking when a stressful situation arises.
But how do you acquire these skills?
It is easy for someone to say do this or don't do that. But how do you train your mindset so that when you automatically react to a situation, it will not get you in trouble or killed?
See our full guide here to find out:
Situational Awareness
Being aware of your surroundings is important to staying safe. As a child, you were probably taught to look both ways before crossing the street.
When I carry concealed, situational awareness is crucial in avoiding conflict and recognizing when I am in a situation that requires my attention. However, it can be challenging to actually develop situational awareness – or even define what that means, really.
In this guide, we detail our experience along with tips from experts on helping you develop a better "sense" of situational awareness.
See our full guide here to learn what they are:
---
CHAPTER 2
Concealed Carry Gear
Now the fun stuff! Picking out new gear never gets old, and it seems like there is always something new.
From guns and ammo to sights and belts, we have been testing all this stuff for years.
Our aim in creating these guides is to assist you in determining the most suitable equipment for your needs. As everyone's requirements and preferences differ, what may be effective for one person might not be as useful for another. Our team consists of individuals with diverse backgrounds, and we regularly engage in discussions about gear.
This enables us to gain a comprehensive understanding of all aspects of our recommendations and prevents them from being biased.
Check out our guides below to learn our tips and some of the best gear we have found.
How to Choose Your Concealed Carry Gun
When browsing through online gun stores, the sheer number of handgun options can be overwhelming. Even if you have a specific manufacturer and model in mind, there are still numerous selections to choose from, including different calibers, magazine capacities, and compact versus subcompact designs. It is crazy.
To find out what you really need to pay attention to, see our How to Choose a Concealed Carry Handgun guide.
One of the bigger choices that you will face when picking your gun is what sights to use, traditional iron sights versus an optic or "red dot."
Our team uses both options, and we have compiled some tips to help you determine which option is best for you. (coming soon.)
Finally, see our top picks and the concealed carry guns we use in our Best Concealed Carry Gun guide.
Concealed Carry Gun Safety
Before purchasing a concealed carry gun, it is crucial to understand and implement all necessary safety measures.
What are the rules of gun safety? What do you do with your gun when you can't carry it? What do you do with it when you are at home?
To learn how to safely own a concealed carry handgun, see our Concealed Carry Gun Safety Guide.
I find that there are many benefits of having a proper gun safe both at home and when I travel. There are many different types, from large fireproof gun safes to quick-access nightstand safes.
To learn more about what type of gun safe is the best for you, see our Gun Safe Basics Guide.
Finally, see our top picks on the best gun safes in our Best Gun Safes guide.
Concealed Carry Gun Maintenance
The reliability of your concealed carry gun should be your number one priority. After all, making the decision to carry concealed and putting in all this work is all for nothing if your gun is not reliable.
One question I get a lot is: "How should I clean my gun and how often?"
There are different ways to clean a concealed carry gun – from just a wipe down to a full teardown, cleaning, and inspection.
To find out what to do after a training session to when you should clean deeper, see our Concealed Carry Gun Cleaning guide (coming soon).
To find out how often to clean your concealed carry gun, see our How Often to Clean a Gun guide.
But, before you can clean your gun, you need some tools. To find out what cleaners and cleaning kits we use, check out our Best Gun Cleaner guide and our Best Gun Cleaning Kits guide (both coming soon.)
How to Clean a Concealed Carry Gun (coming soon)
Concealed Carry Holsters
Choosing a holster is perhaps more important than the concealed carry gun you choose. An uncomfortable holster makes it hard to carry every day, and eventually, I found that when that happens I tend to not want to carry as often.
Or, even worse, a holster that is not safe can lead to an accidental discharge that you certainly don't want.
We have tried various holsters, and we understand how confusing and frustrating it can be to find the one that works best for you. Since everyone has a different body shape and lifestyle, what works for one person may not be the perfect fit for another. Therefore, it is crucial to find a holster that works for you and is comfortable and safe to use.
To understand where to start, see our guide on Concealed Carry Positions.
Then, review our guide on How to Choose the Best Concealed Carry Holster.
Finally, review our guides on the best concealed carry holsters we have found:
Concealed Carry First Aid
Gun safety and emergency preparedness are crucial, and first aid plays a significant role in both. If you carry a handgun, it's important to have an Individual First Aid Kit (IFAK) with you or nearby at all times.
Similarly, when you train at the range, you should carry a specialized kit in your range bag (which should not just include trauma gear, as I learned the hard way).
A specialized first aid kit for gunshot wounds should contain certain items that are not typically found in a regular first aid kit. To find out what they are, see our guide on the best IFAKs.
Additionally, we recommend checking out My Medic's kits, which offer unique options that include items for minor injuries like cuts and burns, as well as gunshot wounds. For more information, see our guide and review of their products.
Concealed Carry Clothing
Depending on your lifestyle and the clothes you normally wear, you may have to consider different clothing to carry a handgun concealed. In general, tight-fitting clothing makes it harder to conceal and uncomfortable.
If you are planning to use a belt holster, regardless if it is an IWB or OWB holster, you must have a sturdy gun belt.
There are a few different types of belts that are better depending on how you carry them.
Read our guide on the best concealed carry gun belts to find out what they are and our top picks of each type.
Best Concealed Carry Belts (coming soon)
Best Concealed Carry Pants (coming soon)
---
CHAPTER 3
Concealed Carry Training
Now that you have all the basics covered and you have your permit and gear, you are not done. It is just the beginning!
Consistent training is a must so that you can use your concealed-carry handgun effectively and safely.
Shooting is a learned skill that can fade over time if you don't train. Picking up a gun after not training for months is not "like riding a bike."
I have gone through periods of time when other things got more attention, and I didn't train. Once I was able to get back, I quickly found that I was nowhere near as proficient as before. But it did come back quickly because I had a certain methodology for my training.
Concealed Carry Training Basics
I found early on that just taking my carry gun to a range and shooting a box of ammo at a target wasn't very helpful. The range didn't allow me to draw from my holster, my shots were all over the place when I tried to shoot fast, and I felt like I was spinning my wheels.
To find out my tips on how to get started and make progress, read our guide on Concealed Carry training basics (coming soon).
We will have more training content here soon. Subscribe to our newsletter below to be the first to know about updates!
---
Never Stop Learning
As you have learned, carrying a concealed handgun is a big decision and requires a lot of preparation as well as responsibility. We put together these guides to help you in your journey with the hope that everything you need to know is in one place.
In 2022, it was found that outside of the restrictive states of California and New York that 10.2% of the population has their concealed carry permit. This number continues to grow every year. It has proven to be a safe and effective way to protect lives.
Bookmark this page and check back often, as we are always updating and adding new guides. Better yet, subscribe to our newsletter to get updates sent right to your inbox.
If you have any questions or if you would like to see any other topics on our site, feel free to contact us!