When most people make the decision to carry concealed, they are in a hurry to start right away. However, it's essential to follow some crucial steps to ensure that the process is done correctly and safely.
Concealed carry involves more than just buying a gun and taking a class. Rushing through things can lead to several problems, including unnecessary expenses, frustration, and, in some cases, danger. It can even defeat the entire purpose of why you've chosen to carry a concealed weapon in the first place.
Our team got together and discussed all the issues we had when we started our concealed carry journey. We made some mistakes, found the solutions, and are still learning today after many years.
In this guide, we share our experience so that you can make the best decisions and learn from our mistakes.
Keep reading to find our tips and what not to do!
Concealed Carry Tips – How to Get Started
Research the laws in your state
This is the first step you should take. Is it legal in your state or town to carry a concealed handgun?
The easiest place I have found to look up concealed carry laws is on USCCA's gun laws page. However, check your state's website to double-check and make sure (some of these are easier to use than others).
If it is legal in your state, great! But there are some other details to consider.
Most states have specific laws on concealed carry. Some require a permit, and some do not. Others have multiple levels of permits. It could be that you can't carry in certain locations unless you have a certain permit.
Some states require you to have a separate license to own a handgun.
There are also federal laws that come into play, such as you can't carry in federal buildings like post offices.
If you frequently travel to or work in areas outside of your home state, be sure to check the laws of that state as well. They could be totally different. Some states recognize permits from other states, which is called reciprocity. Or, you may need to get a second permit in the other state as well.
Most concealed carry permit classes go over the laws, but it is still your responsibility to understand them and keep up with changes.
Take Your Time
When you first decide to carry a handgun concealed, your first reaction may be to jump in the car and buy whatever the guy at the closest gun store has. Don't do this.
I have seen some people (myself included) do this, and it sets their shooting fundamentals back a few months to a few years. Typical advice for concealed carry is to get a small handgun. Once I got my handgun, I immediately went to the range and just started shooting the heck out of it.
But there is a problem with this.
Practicing and training is a two-way street. When you practice something, over time, you develop habits. If those habits are bad habits, you have actually trained yourself to do something the incorrect way.
Not all shots are equal from a training perspective, and some can even be harmful if you're practicing bad habits.
Smaller "concealed carry handguns" are inherently harder to shoot than full-size handguns for mainly two reasons. They are lighter, so they transmit more recoil to the shooter. They also have smaller grips, so they are harder to control.
To make matters worse, I have seen people buy hot "+P" ammo just because faster must be better. This ammo creates even more felt recoil.
I found myself shooting a small handgun fast and assumed I was using the right technique. After all, how hard can it be? I even watched a few YouTube videos.
After a few months, I realized I was an inaccurate mess. I totally skipped practicing fundamentals and went right to the fun stuff. My poor training of trying to shoot fast right out of the gate with poor fundamentals trained me to try and anticipate recoil by pushing the gun down when I pulled the trigger.
My whole life, I have heard, "Practice makes perfect." I found that it is better to say, "Perfect practice makes perfect." Even though you think you know what you are doing, there is something you can learn from those who have been in your shoes.
So, slow down and take your time. Otherwise, you could be training bad habits that will take a long time to correct. Going slower in a methodical manner will get you to your destination faster.
Consider the Gear You Need
Before you rush out and just start buying stuff, again, take your time and consider everything you need.
The initial cost of a concealed carry handgun is only part of the total expenses. Depending on the caliber you choose, the cost of ammunition can add up as you start training.
Holsters can be a big expense, especially if you buy a few different ones before you find what works best for you. I bought more holsters than I can remember initially, looking for the next best thing. If you do buy your first gun from a local gun store, they will probably have a crappy holster for sale as well. I have never seen a gun store with many decent holsters, so be aware.
I recommend going straight to the source and purchasing a quality holster from a quality company.
The right holster will depend on the concealed carry position you choose and the clothing you typically wear. I found that I needed a gun belt, and most of my pants were too small to carry comfortably inside the waistband.
Safety is also another consideration. In addition to learning how to handle your handgun safely, you will need a safe place to store your handgun when you are at home or when you can't carry it. All handguns come with a lock so that you can secure them safely, but you may want a handgun safe so that you can access it quickly.
Anyone who is carrying a concealed handgun should also have at least an IFAK (individual first aid kit) on them or nearby. Also, consider getting training on how to treat gunshot wounds. See our best IFAK guide for tips on how to choose one.
Finally, for training, consider range fees, ear protection, eye protection, a shot timer, targets, and a range bag to put everything in. Training classes are also important and good ones can be expensive.
As you can see, the total cost of concealed carry is more than just the cost of the handgun. Before you make impulse buys at the local sporting goods store, read through our guides to make sure you are making informed decisions. It will save you money in the long run.
If you are on a budget, planning out your gear is even more important. Instead of focusing on the most expensive options, we strive to include items that provide the most value with our experience and testing.
Find a Range
Once you make the decision to carry concealed, you absolutely must train with your handgun. In a stressful situation, your training will take over.
To do this, you will need to find a range nearby.
There are basically three options here: an indoor range, an outdoor range, or a private range.
Indoor Range
Most larger cities have indoor gun ranges. Indoor ranges are great since, well, they are indoors. I like them because I don't have to worry about weather conditions and can shoot later at night when it is dark.
Many also have guns that you can rent and try without buying them. I have found this is a great way to try out a gun to see if I like its ergonomics and feel before I buy one. In my experience, the bigger ranges have the best inventory of handguns to rent, but at the same time, they are the most expensive places to buy them. So don't feel pressured to buy from the range just because you rented one. I usually rent them to try them out and buy them online for a cheaper price.
The most important thing to look for at an indoor range is proper ventilation. I have been to a few smaller, older indoor ranges where I could see the smoke lingering. Breathing the smoke from gunfire for a long period of time is obviously not healthy.
The biggest disadvantage of an indoor range is they usually don't allow drawing from holsters. I find this limits my training quite a bit, but there are some tricks I have found that I will go through in our training guide.
Indoor ranges usually charge a higher fee than outdoor ranges. Many I have been to offer a yearly membership that helps to reduce the overall cost if I plan to train frequently. They also have limited space, so sometimes I find I may have to wait during peak hours. I have seen some that allow members to reserve a lane ahead of time. If they have training classes, I also have to plan ahead and work around the class schedule as well.
Outdoor Range
Outdoor ranges are usually found in rural areas due to the noise that is generated and the safety concerns of bullets flying downrange.
I have been to some that have a huge amount of space and offer many types of shooting opportunities, from short-range handgun, skeet and trap, to long-range rifle ranges. While they certainly can fill up, and some host special events and matches, I find I usually do not have to wait.
However, most of the time, outdoor ranges do not allow drawing from a holster either. There may be some exceptions you can find. For example, some will allow renting out an entire bay but may still require a safety officer to be present. If you have one nearby, visit and go through the options they offer.
Finally, look at the shooting bays. The best outdoor ranges will have some sort of covered area at each bay, and there will be plenty of gravel in the bay. If there is no cover and the bay is mostly dirt and mud, it may not be the best place to train, depending on the climate.
Private Range
If you live outside of a city where shooting is allowed and have an area on your property that is suitable for a range, this is a great option. You will have to consider your backstop and neighbors, though. You are responsible for every bullet, so make sure it is impossible for anyone to be beyond your target.
If you can shoot on your own property, the price is great… free! But also think about the upkeep and any initial investment you need to make. Even if you don't need any groundwork to make a few berms, you will either need to make or buy target stands. I find that old plastic barrels work well for simulating cover and corners.
Take a Class
Even if you have been shooting for years, I recommend that everyone take an initial in-person handgun class from a qualified instructor. I have found the best place to go is to a larger indoor range that offers multiple classes. Check the credentials of the instructor and how often the classes are offered.
Note that a concealed carry permit class is not a fundamental shooting class. The first class you take should teach the fundamentals of how to shoot a handgun before the permit class.
The advantage of an in-person class is they teach and watch your technique. You will also hear them instruct others, which I find is often helpful.
The main disadvantage of an in-person class is once the few hours are up, I usually don't have much to take with me. Typically, ranges offer multiple levels of classes (such as Defensive Handgun I, II, III), and they want you to keep coming back. Multiple classes are great, and I recommend them, but I have found that I need more.
After completing the in-person class, I have found a lot of value in online training programs. For example, I have found that dry fire is an essential exercise for training my technique, but those in-person training classes at the range never mentioned it (because they want you at their range – not training at home).
See our full training chapter to find out the best way to train so you don't waste a bunch of time and money.
Get Your Permit
Finally, get your concealed carry permit, even if your state does not require it. You will most definitely learn something, and obtaining the permit will show that you have actively received instruction. This will help if you are ever faced with a self-defense situation.
Remember, the permit class is not a fundamentals class but rather a class to teach you the responsibilities and the laws in your state. There is usually a shooting "qualification" at the end of the class, but it assumes you already know your handgun and how to shoot effectively.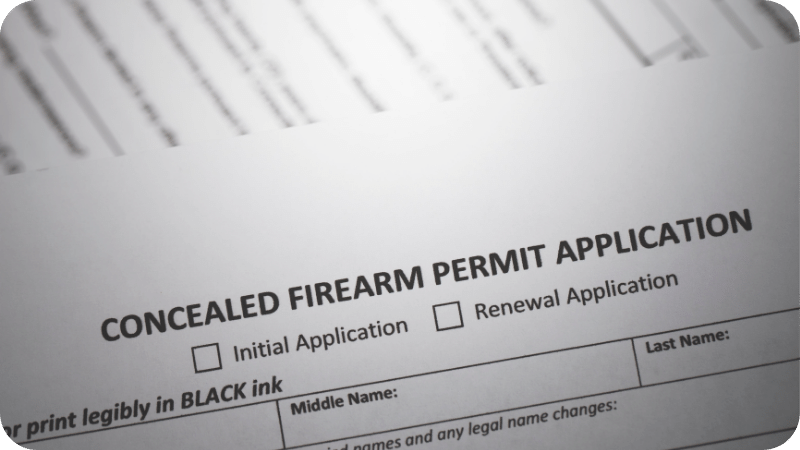 I find that most people think this is the second step to carrying concealed after buying a handgun. At my local range, there is always someone who comes to the permit class who just bought their handgun and has never shot it before. Again, slow down and learn the fundamentals first.
Take notes in class, especially on what is considered "defensive." Also, take notes on where you can't carry a handgun in your area. These two topics are the most important and are often confused.
Keep Learning with our Guides
Now that you understand how to get started, keep reading our guides so you don't miss anything. There is more to concealed carry than just gear and a permit. You have to consider your responsibilities, mindset, and how to train properly.
Next Up: Concealed Carry Responsibilities
Go Back: Concealed Carry Guide