In this hands-on MyMedic review, we field tested two full MyMedic first aid kits and several stand-alone Med packs. We found that My Medic produces some of the best first aid kits on the market.
First aid is a crucial aspect of any emergency preparation, whether it be a minor accident or a catastrophic event. We reviewed these kits hands-on, consulting with real-life experts, including Teri, an ER nurse, and Stan, a retired Navy Corpsman (military medic). Blake on our team is also military-trained and has taught classes on first aid.
I have also had the chance to examine several other first-aid kits, but I was not particularly impressed with most of them. I didn't really have high expectations for MyMedic either. However, after thoroughly using their med kits, I can confidently recommend them as one of the few companies that provide complete first aid kits.
I personally have their kits both in my car and at home for emergencies. We have also secured a discount code for all our readers to receive 15% off their purchase. This code is only valid for a limited time, so don't delay in getting your kit.
With that being said, let's dive into my in-depth MyMedic review, which will help you make an informed decision on which kit to purchase.
---
MyMedic MyFak Mini Pro Review
Save 15% off your order with code "SURVIVALSTOIC15"
The MyMedic MyFak Mini Pro contains over 62 essential items, making it more comprehensive than the typical first-aid kits I usually find. Despite it's name, it is not a small EDC kit. This is a full kit with everything I need for nearly every circumstance.
The kit is very well-organized, with a new folding page design that makes it easy to find what I need quickly. It has extra space inside, which allows me to customize it to my specific needs.
I like how the items in the kit are separated into "Mod" packs. For example, there is one for burns. If I am treating a burn I can go right to that pack, I don't have to search the entire kit for what I need.
This kit is versatile enough to handle minor injuries and severe bleeding trauma. To my kit, I added more trauma-related gear. Since I am often shooting at the range, I added another pair of chest seals, and I added a CAT tourniquet.
Blake says "I prefer a CAT tourniquet over the RAT tourniquet. They are easier to administer and provide more even pressure." Stan said, "I also prefer the CAT and it was what we trained with in the Navy." So, I had to go with the experts and add one to my kit.
The MyFAK Mini Pro is compact enough to fit into my range bag, vehicle get home bag, or even a basic backpack. The Hypalon MOLLE panel is lightweight and durable, and the versatile straps make it easy to mount and store.
I like how I can just pull the clip on the front of the kit and it separates from the MOLLE panel. A shoulder strap also deploys so I can throw it over my shoulder if I am in a rough area or the patient is a distance away.
MyMedic products are generally well-organized and well-stocked, and the MyFak Mini Pro is no exception. It provides a baseline for my first-aid needs with various small but crucial items. However, I strongly recommend seeking training as first aid supplies can only help you so much without the knowledge to use them.
Luckily, MyMedic provides some first-aid training videos with the purchase of this kit.
Recommended for:
The MyMedic MyFak Mini Pro works as a great base med kit that will get you prepared for most emergency medical situations. If you don't have many medical supplies, get this.
Compact, portable first aid kit
Folding page design for organization
Customizable with extra space
Very high-quality materials
Comprehensive first aid items
Includes a RATS tourniquet
---
MyMedic Sidekick Pro Review
Save 15% off your order with code "SURVIVALSTOIC15"
The MyMedic Sidekick Pro is a compact first aid kit that is designed to handle everyday injuries as well as heavy bleeding injuries. Despite its small size, it contains everything I need for basic first aid, and its portability makes it easy for me to carry.
In my personal experience, the Sidekick has been a reliable partner during my trips hiking, camping, and everyday life. I like how it is small enough to put almost anywhere, and the Hypalon MOLLE panel makes it easy to attach to my pack.
The Pro model is stuffed pretty full, but I was still able to add a few items that I want to have on hand. For instance, I added more pain relievers and antihistamines since I sometimes need these when I am out on the trail.
This kit opens like a book, so that along with the mod kits separated out depending on the injury makes it super easy to find what I need quickly. I have found with other kits that are just a bag I have to dump everything out to find everything, which is not so easy in the dark.
I like that the pro option comes with a tourniquet, gauze, bleed stop, a wound closure kit, and a space blanket. Teri said, "These items are the most essential for treating a heavy bleeding injury. If someone has a femoral bleed we use these items in the ER ." However, chest seals are not included, which are sometimes needed for gun shot type wounds to the chest cavity.
While the supplies in this kit are not as complicated, it's still essential to familiarize yourself with them. If you purchase the PRO option (the one I have), you'll also receive a free training video that I highly recommend watching.
Overall this is a great compact kit that has the essentials that I need for most outdoor activities.
Recommended For:
The MyMedic Sidekick Pro is great for hikers, backpackers, campers, and anyone that wants a compact first aid kit that includes items to stop severe bleeding. This kit is essential for survival if you are in a remote area far from help.
Small and lightweight
Well-organized
High-end bag for durability
Over 70 first-aid items
---
MyMedic Burn Med Pack Review
Save 15% off your order with code "SURVIVALSTOIC15"
On top of their complete first aid kits, MyMedic also makes many "med packs." These are designed to treat a specific type of injury. The MyMedic Burn Med Pack is one example that I really like.
This little pack includes everything I need to treat a minor burn wound. You can use it to follow all the burn first aid steps recommended by the American Academy of Dermatology. I like that I wouldn't need to worry about looking up these steps in an emergency, as the kit includes a small paper explaining exactly how to use everything in it.
The kit includes burn gel to provide soothing relief, pain-relieving medication, and several sizes of bandages.
I keep one in the kitchen, and also one with my bushcraft camping gear where burns are most likely around a campfire.
While I could buy all these items separately, I like that this pack keeps everything together and it is easily identifiable.
When it comes to treating burns effectively, quality and specialized supplies are invaluable. After all, when dealing with burn injuries, I don't want to compromise on the tools I have. Burn injuries are not the same as a skinned knee, and can be very painful. When I am way out in the woods, I want this pack with me.
Recommended for:
Even if you purchase one of MyMedic's larger first aid kits, I highly recommend keeping the My Medic Burn Med Pack underneath your kitchen sink. It's relatively inexpensive, so there is little reason not to have it. If you camp a lot, it is a must have.
Specialized for burn injuries
Very compact and small
Exceptionally convenient
Everything I need to treat burns
---
MyMedic Hiker Med Pack Review
Save 15% off your order with code "SURVIVALSTOIC15"
Unlike most of their other med packs, the MyMedic Hiker Med Pack is designed for a specific situation, not a particular injury. As the name suggests, it's specifically for hikers, treating some of the most common injuries hikers may face when in the wilderness.
This pack includes several differently-sized bandages, hydration packets, a space blanket, many kinds of medication, and a blister kit. It's basically a pack that includes smaller packs for treating injuries that hikers may face, such as sun exposure, dehydration, and blisters.
This is not a first aid kit, but rather an add-on to a first aid kit. When I am hiking I like to take this pack plus my Sidekick Pro Kit. I have needed to use the blister pack a few times, and was glad I had it.
Just like the other Med packs, this one is great for the convenience. I can just grab it and throw it in my pack, and don't have to worry about gathering up individual items.
Recommended for:
If you like hike or backpack, get the MyMedic Hiker Med Pack. It is a great companion to a first aid kit and includes specific items that are nice to have when you spend a lot of time outdoors.
Treats a variety of minor injuries
Includes several kinds of medication
Very lightweight
Waterproof bag
---
What is the Difference Between the Regular MyMedic First Aid Kits and the Pro Versions?
If you're considering what MyMedic first aid kit to purchase, you'll likely hung up on whether to get the Pro or Regular kit. It may be hard to choose why you really need to spend extra on the Pro kit.
Typically, the standard kits include all the supplies you need to address common and relatively minor injuries, like bumps and bruises. You can expect to find things like gauze, ointments, and bandages. These are things that you should absolutely have on hand for your clumsy 6-year-old.
However, the pro kits include more serious, lifesaving supplies. You'll find tourniquets, chest seals, hemostatic gauze, and glucose gel. Simply put, I recommend getting the pro kits. When it comes to an IFAK, your primary goal should be to save someone's life – not treat blisters. Also see our Best IFAK guide for more info.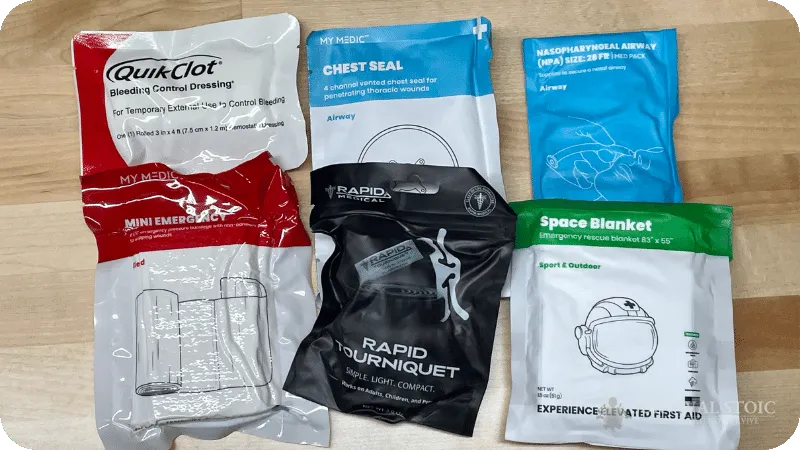 Most first aid kits come in both standard and pro. However, some of the company's med packs only come in one or the other. For instance, the Trauma med pack is only available in pro, as it is made for serious trauma.
Of course, you should also ensure that you know how to use the more serious first-aid kit items. MyMedic provides training courses, including their M.A.R.C.H First Aid Video Training, which I recommend. It covers treating more serious injuries, including hemorrhaging, and is taught by Billy Haley, a Special Forces Medic.
MyMedic First Aid Kit Comparison
With all that in mind, here is a comparison table of the most popular MyMedic kits.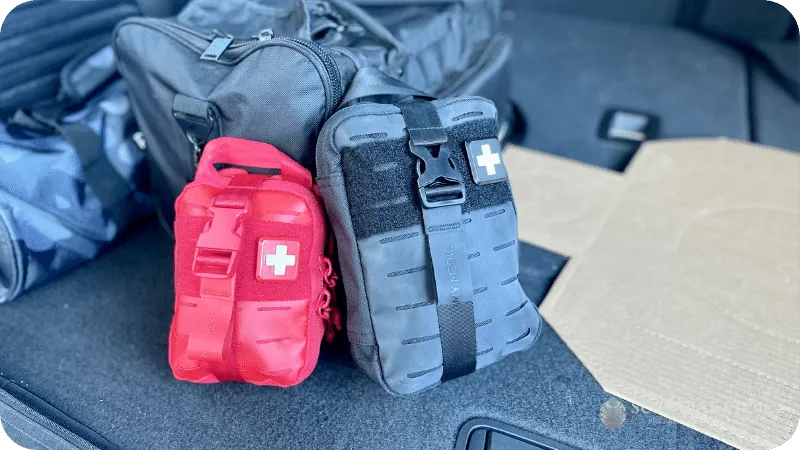 | | | | |
| --- | --- | --- | --- |
| Kit | Type | Contents | Number of Items |
| MyFak | Standard | Comprehensive kit to cover a small group or family | 140 |
| MyFak Mini | Standard | Compact kit with essential supplies for one to two people | 62 |
| Sidekick | Standard | Portable kit for small bumps and bruises | 70 |
| MyFak Large | Standard | Enough basic gear for five to eight people | 200 |
| MyFak | Pro | Everything in the standard plus trauma supplies for one person | 140+ |
| MyFak Mini | Pro | Everything in the standard plus basic trauma supplies | 62+ |
| Sidekick | Pro | Very basic first aid and trauma supplies | 70+ |
| MyFak Large | Pro | Everything in the standard plus enough trauma supplies for two people | 200+ |
| The Everyday Carry | Pro | Solely items for life-threatening injuries | 8 |
| TFAK | Pro | Mirco kit for trauma only | 35 |
| Hiker Med Pack | Standard | For basic injuries that commonly occur while hiking | 39 |
| Burn Med Pack | Standard | All-in-one kit to treat burn injuries | 15 |
| Trauma Pro | Pro | For severe and complese and high-trauma hemorrhaging injuries | 22 |
---
MyMedic Review – Our Pros and Cons
Overall, here are the Pros and Cons that I have experienced when using MyMedic kits.
The quality and convenience of the kits and packs really stand out to me over other companies. But, with so many options you do need to take some time to decide what is the best for your lifestyle.
Variety of Medical Kits
Convenience
Quality Products
Organized into individual modules
Exceptionally customizable
Company provides educational resources
Kits are very durable
Kits are Somewhat Expensive
Some kits are Bulky
Requires some medical knowledge to build your kit
---
MyMedic Compared to Other First Aid Kit Companies
You've probably looked at several other first aid companies – or you may be considering other first aid companies right now. Of course, no first-aid company is best for everyone. Here's a quick comparison chart to help you decide which option works best for you:
| | | | | | |
| --- | --- | --- | --- | --- | --- |
| | MyMedic | Dark Angel Medical | First Aid Only | Red Cross | Mountain Man Medical |
| Kit variety | Wide | Wide | Wide | Wide | Wide |
| Kit quality | High | High | Medium | Medium | High |
| Affordability | Medium | Medium | High | High | Medium |
| Life-saving Supplies | Yes | Yes | No | No | Yes |
| Lifetime Warranty | Yes | Yes | No | No | Yes |
---
MyMedic Discount Code
What MyMedic first aid kit you should purchase depends largely on your purposes. If you want something that can cover most situations, get a MyFak Mini Pro or a MyFak Pro (depending on the size of your family). The Mini is good for one person, while the Regular is better for a family.
If you just want to handle trauma and life-threatening situations, get the TFAK. It doesn't have the "boo boo" supplies. I highly recommend adding the burn med pack to your kitchen or camping gear for easy access – no matter what other kits you purchase.
To save 15% of your order at checkout by using our discount code at MyMedic at checkout.
Discount code: "SURVIVALSTOIC15"
While you're preparing for emergencies, check out our Bug Out Bag Guide. It includes a comprehensive list of things you need to have at home and in a bug-out bag. A good first aid kit is just a small step in being fully prepared.