We tested and reviewed over 25 handguns and found the Sig Sauer P365 X-Macro to be the best 9mm pistol.
This handgun is slim and easily concealable, while still having a huge capacity of 17+1. Sig Sauer truly pulled off some sort of magic to fit so many rounds inside such a small magazine.
Plus, it's also comfortable, working for those with both large and small hands. You can find tons of different accessories, like holsters and sights, on the market, too.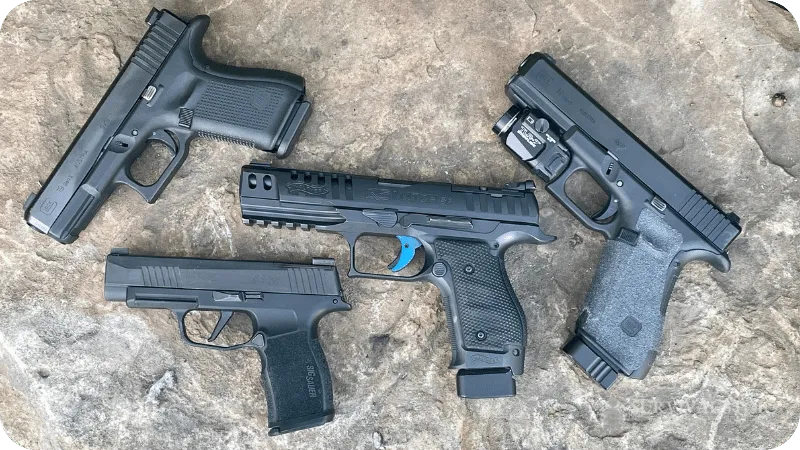 Not only do I regularly conceal carry, but I also worked with a team of veterans and competitive shooters to round out this list. Together, we have decades of conceal carry and range experience.
Therefore, I feel pretty confident about my recommendations.
While I recommend the Sig Sauer P365 X-Macro for most, there are situations where you might want a different 9mm pistol. I've included firearms at many different price points and for several different purposes below.
Keep reading to find our team's picks along with some interesting tips in our buying guide.
---
A Quick Comparison of Our Favorite 9mm Pistols
---
Best 9mm Pistols
Sig Sauer P365 X-Macro – Best Overall 9mm Pistol
The Sig Sauer P365 X-Macro is a compact 9mm handgun with the capacity of a full size. While it makes a great concealed carry gun, it's also an outstanding 9mm pistol for practically all functions.
I've been able to carry the X-Macro over the last couple of years and have tested it extensively. It's still one of my go-to handguns. (It's not a surprise that this is also one of the bestselling handguns on the market.)
When Sig Sauer introduced the P365 X-Macro, they set out to revolutionize how many rounds you can fit in a compact package and, boy, did they deliver. With a 17+1 capacity in a small frame, the X-Macro is a testament to innovation. I don't know what kind of black magic they're using, but other companies need to take note.
Besides the amazing capacity, I also like the ported optic-ready slide. You can easily add whatever sight you want, personalizing the gun to your needs. It also has a balanced 3.7" barrel and grip module, making it comfortable to shoot. It's also very concealable, which is important if you plan to carry it.
After spending more than a year with this pistol, I can confidently say that it is one of the most comfortable options on the market.
This 9mm pistol also includes interchangeable backstraps. You can use the small, medium, or large backstraps to customize the grip to your hand. I don't use any of them, but it is nice to have that option.
That said, all the features in the world don't matter if the gun cannot perform. Luckily, the P365 X-Macro performs wondrously on the range. I'm impressed by the reliability and low recoil of this pistol. I've put hundreds of rounds through this gun, and I can confidently recommend it.
Be sure to check out our guide on the Best Holsters for the Sig P365 as well.
Recommended for:
The Sig Sauer P365 X-Macro is easily the best 9mm pistol available. When in doubt, just buy this one.
Video of the Sig Sauer P365 X-Macro
---
PSA Dagger Compact – Best Budget 9mm Pistol
Not everyone has $700 to throw at a 9mm pistol. But that's okay!
The PSA Dagger Compact is an affordable option that delivers an impressive value. Sure, the gun is cheap, but you aren't getting a cheap gun. It's basically a Glock 19 copy – but at half the price.
Both the PSA Dagger and Glock 19 are semi-auto and striker-fired. They both have a polymer frame. They even look similar. The difference? The PSA Dagger has an MSRP of $299. The Glock 19's MSRP is around $500.
This affordability is just impossible to beat.
While this gun is inexpensive, it doesn't feel cheap. The ergonomic grip is nice, and the shape is easy to conceal. Even if you don't plan to conceal carry, it's comfortable and feels secure. My hands don't get sore or rubbed raw after a long shooting session, either.
PSA is a newer brand, but this gun is surprisingly reliable. I have very few experiences with this gun failing, which is echoed across other experts I spoke with. The flat-faced trigger adds to the smooth shooting experience and leaves nothing to complain about.
I especially like the "extreme carry cuts" as PSA calls them. You will notice that the ends of the slide have been cut at an angle. This helps not only in holstering and drawing, but also for comfort. The angle on the back of the slide eliminates that uncomfortable edge when you use some holsters that don't have a full sweat guard.
Plus, any Glock accessories fit on this gun. Therefore, you can easily outfit it with aftermarket parts to provide some customization. You absolutely don't have to do this; it's a great gun the way it is. But it's a nice option, especially if you're planning to keep this gun for a bit.
Recommended For:
The PSA Dagger Compact is easily the cheapest gun that I would recommend. It's a great option for those on a very strict budget.
---
Walther Q5 Match Steel Frame – Best Premium Option
In my opinion, the Walther Q5 Match Steel Frame is extremely undervalued. This gun immediately stands out with its precision-machined steel frame. The moment I held it, the wrap-around grip panel and extended beavertail felt incredibly comfortable in my hand. Jason has shot this pistol at major matches and for hours of dry fire training and noted that he has never experienced any fatigue or soreness from the grip.
I love the full-length Picatinny rail. This feature opens a world of possibilities, allowing you to mount accessories like red dot sights, lasers, and tactical lights. I greatly prefer guns that are optics-ready. The ability to add just about anything provides you with endless customization options – whether you're adjusting the sights or adding a light.
The weight distribution of the steel frame is a game-changer when it comes to recoil management. Even during rapid-fire sequences, this gun moves much less than others. It feels like it is a lower caliber than it really is. The lightweight slide with its strategically placed ports further contributes to recoil reduction, making follow-up shots a breeze.
The 5-inch barrel with polygonal rifling provides added accuracy and is a nice touch. Honestly, this gun is much more accurate than most of the others I have shot (which, of course, it very important for competitions).
The trigger on this gun is amazing. When I first tried it, I was amazed at not how good it was, but how bad every other trigger on my other handguns are. It is the basis I use for comparing all other triggers to.
Based on Jason's experience, this gun is also very reliable. He has over 10,000 rounds through this gun and never had an issue with a malfunction or misfire. I also like the standard fiber optic sights. There is no need to change them, and you can take this pistol to a match right out of the box.
Recommended for:
The Walther Q5 Match Steel Frame is perfect for competitive shooters who participate in IDPA or USPSA matches. Its features, such as the reduced recoil, crisp trigger, and optics-ready design, cater to the needs of those striving for accuracy and speed in competition.
---
Sig Sauer P365 XL – Best Concealed Carry 9mm Pistol
When it comes to concealment, there is no better 9mm pistol than the Sig Sauer P365 XL. (In fact, this handgun is #1 on our best concealed carry guns guide.) It strikes a great balance between concealability and usability and is easily my favorite gun to carry.
One of the standout features of the P365 XL is how it fits in my hand. It's evident that Sig Sauer invested a lot of effort into the ergonomics, ensuring that this pistol feels fantastic while you hold it.
I love the size of the grip, and many other gun enthusiasts I've talked to feel the same way. The grip works with both large and small hands, though those who want a longer grip may want to choose the XMacro instead.
This pistol's smaller size makes it very easy to conceal, even beneath lighter clothing. It's not just about the size, but also about how well it contours to your body, reducing the risk of printing.
When it comes to performance, the P365 XL doesn't disappoint. I always put a few rounds through it when I am at our range. At this point, I probably have thousands through it and never had a malfunction.
I also love the flat trigger profile. Personally, I simply gravitate towards these triggers. They have a very different feel from the usual standard curved trigger. However, this isn't a make-or-break feature. It mostly depends on personal preference.
Be sure to check out our guide on the Best Holsters for the Sig P365 as well.
Recommended for:
The Sig Sauer P365 XL is for anyone looking for a 9mm handgun to conceal carry. It is the best.
Video of the Sig Sauer P365XL
---
Glock 19 Gen 5 – Best Ambidextrous 9mm Pistol
The Glock 19 Gen 5 is popular for a reason. Glock makes some extremely reliable, dependable firearms. There are few manufacturers that you can rely on as much as Glock.
Plus, they're very inexpensive compared to some other pistols out there. The controls are also completely ambidextrous, so I'd particularly recommend this gun for left-handed shooters.
One of the first things I noticed about the Gen 5 was the absence of those finger grooves that were present on earlier models. I'll be honest; I wasn't sure how this change would affect my grip. However, in practice, I didn't find that it changed it all that much. The new grip is surprisingly stable and comfortable. Plus, it seems to work with just about any handshape.
Glock claims that the Gen 5 has a more accurate barrel. While I can appreciate Glock's continued improvement, I don't actually think it's that much more accurate. It's not a bad barrel, in the least, it just isn't much of an improvement, either.
That said, the Glock 19 is still extremely accurate and reliable.
The trigger on the Gen 5 is a definite step up from the Gen 4. It feels crisper, and the reset is noticeably shorter. While it's not quite on par with some aftermarket triggers, it's a substantial improvement and helps me be more accurate with this handgun.
Speaking of aftermarket triggers, one of the best things about Glock is that there are tons of aftermarket parts available. You can replace just about anything on the Glock 19 with an aftermarket upgrade, allowing you to easily customize this firearm to your liking.
I don't care for the standard sight on the gen 5 pistols. I changed all of mine to the Ameriglo Pro-Idot night sights.
Also check out our guide on the best holsters for the Glock 19 to find tips on how to carry this pistol concealed.
Recommended For:
The Glock 19 Gen 5 is old reliable. It is what most people compare to other 9mm handguns. You almost have to have one just as a baseline comparison for yourself to your other handguns.
Video of the Glock 19 Gen5
---
Sig Sauer P320-AXG LEGION
While the Sig Sauer P320-AXG LEGION is primarily designed for competitive shooting, it is also one of the best 9mm pistols on the market – if you're willing to pay a premium for it. It's a newer model that features tons of upgrades on the typical P320.
For instance, this firearm has a metal frame that enhances durability and aesthetics. It also has a two-port slide-integration expansion chamber that significantly reduces recoil, so much so that I can really notice when I shoot. Plus, I loved the extended magwell and custom grip, which proved to be comfortable.
Of course, I also loved that this gun is optics-ready. (Really, when you're buying a 9mm pistol, you should aim to choose something optics-ready.) It accommodates popular red dot optics like the SIG SAUER ROMEO1Pro, ROMEO2, Deltapoint Pro, and Trijicon RMR. Mounting it is seamless and easy – unlike other 9mm pistols I've tested.
The LEGION is also exceptionally reliable. I've seen very few failures from this firearm. It rivals the Glock in its reliability, especially over time. It doesn't necessarily reach the level of some dedicated competition pistols, but it plays the line between competition shooting and everyday practicality very well.
While this LEGION variant comes at a premium compared to other P320 models, I firmly believe it's worth the investment. The three included 21-round steel magazines provide excellent value, and the overall quality and performance make it clear why the P320-AXG LEGION has garnered so much praise.
Recommended for:
The Sig Sauer P320-AXG Legion is for anyone looking for a high end 9mm pistol without a huge price tag. It competes with Staccato and is much cheaper.
---
Smith & Wesson M&P Shield 2.0
I conceal carry a lot. Therefore, I'm always looking for a firearm that balances comfort with firepower. The micro-compact Smith & Wesson M&P Shield 2.0 is one of the few guns that really delivers. It's an upgrade from the older Shield and is a solid improvement of the shield platform. It has a familiar look, feel, and function. However, it is lighter and very thin.
One notable improvement I found on the Shield 2.0 is its expanded magazine capacity. It takes the magazine from single-digit rounds to double digits, all without any substantial increase in size. This additional firepower can be a game-changer in self-defense situations, providing peace of mind without sacrificing comfort.
I also adore the trigger. Some people have hailed it as possibly the best trigger on any sub-compact carry gun. I don't know if I'd go that far, but it is an absolutely stellar trigger no matter how you look at it. The trigger pull is crisp with minimal creep, and it breaks cleanly. The short, crisp reset is not only audible but also tactile, allowing for rapid follow-up shots with confidence.
I like the enhanced texture of the grip, which provides some better recoil management. I have talked to some people that don't like the grip, but I think it's a nice addition. Since this is a smaller gun, the recoil is a little more snappy than larger handguns I have shot.
This gun comes in several different types. However, I recommend the optics-ready option. It's only slightly more expensive, and there is honestly no reason to not purchase it. It adds a layer of versatility and customization to the gun.
The Shield also makes a great concealed carry gun and works well with the appendix holsters we recommend.
Recommended for:
The Smith & Wesson M&P Shield 2.0 is an excellent choice for those who want to conceal carry thanks to its lightweight design. It's a cheaper optic-ready gun, too, making it a good choice for shooters who want to use optics on a budget.
---
Heckler & Koch VP9L OR with Night Sights
The Heckler & Koch VP9L OR with Night Sights is an exceptional fullsize firearm for those that want something a bit bigger. If you're a fan of the VP9 series, this pistol is the long-slide, optics-ready version that you absolutely need to get. It's like the usual VP9 with a bit of extra customization.
As you might expect, this firearm is extremely ergonomic. It has a nice grip with interchangeable backstraps and side panels so you can make it fit your hands exactly. There are over 27 different ways you can customize the grip alone, and that isn't counting any aftermarket parts, either. The slide is high-carbon steel and nitrocarburized for maximum longevity.
This gun was made for competition shooters, so it is extremely accurate. That's most of the point, after all. The extended 5-inch barrel with an o-ring bushing enhances lockup consistency and accuracy. It's a great option whether you plan to shoot competitively or not.
Of course, this firearm is optics-ready, which we highly recommend. It will accommodate a red-dot sight, as well as tons of other sights. The added customization is worth the added price. That said, the included night sights are very nice. They provide extra visibility in low-light conditions to ensure it's versatile for both daytime and nighttime.
I also like the included lightening cuts on the slide. Not only do these make the gun look quite nice, but they also reduce the slide weight ever so slightly, increasing cycling speed. Plus, this gun holds 20 rounds, which is much more than most of the competition.
Recommended for:
The Heckler & Koch VP9L OR with Night Sights is best suited for experienced shooters who are already proficient in firearm handling and are looking to excel in competitive shooting sports. Or, for anyone looking for a great 9mm handgun with a huge magazine capacity.
---
CZ Shadow 2
The CZ Shadow 2 is a descendent of the legendary CZ 75. It combines this classic design with some modern innovation to bring this platform up to speed. It's a popular competition shooting gun, but I also recommend it for anyone that just wants a good 9mm handgun.
The biggest improvement is in the grip texture. It's a bit more secure and comfortable, even when firing rapidly. The aggressively serrated slide makes it much easier to grab onto – a huge boon when you're competitively shooting.
The steel frame is also exceptionally solid and reduces the recoil significantly. When firing, more of the recoil will be directed into your hands and wrists, allowing you to follow-up faster and improve your accuracy.
The CZ Shadow 2 doesn't just look good; it fires like a dream. The trigger is crisp, with minimal creep, and it resets with precision.
I can't go to a major match without seeing a few shooters with one of these. Once I tried one I realized why this is such a popular choice.
This is a larger gun, so if you are looking for something to conceal carry look elsewhere. But, if you are looking for a smooth shooting 9mm with minimal recoil, this is a great choice.
Recommended for:
I recommend the CZ Shadow 2 for competitive shooters, experienced marksmen, and enthusiasts who participate in shooting competitions such as IPSC and USPSA. It is not intended for concealed carry or self-defense but excels in delivering superior accuracy with minimal recoil.
---
Glock 17 Gen 5
Glock has always been at the front of handgun innovation, and the Glock 17 Gen 5 is no different. It's earned its reputation as a trusted sidearm for both law enforcement officers and members of the military. It has fantastic reliability and performance, allowing it to rank far higher than other 9mm pistols out there.
While I didn't rank this as the best 9mm pistol, I have to admit that it is easily one of the most reliable.
The biggest difference between the Gen 5 and previous Glock 17s is the lack of finger grooves. Honestly, most people didn't like these grooves, so I am not surprised that they removed them. This subtle change offers enhanced versatility and allows users to customize their grip using different back straps. It's a small adjustment that can make a big difference in comfort and control.
The Glock 17 is the full-size sibling of the popular G19, offering more rounds and a larger frame. The slide is longer as well as the grip.
This increased size makes the G17 easier to shoot than the G19. I really like the combo of the G19 and G17 for concealed carry and home defense. They both operate similarly, but the extra control that the G17 has makes it great for home defense.
The Glock 17 also has an increased capacity magazine that will hold 17 rounds. It's a firearm that feels substantial in my hands without being unwieldy.
Jason has also shot this gun in competitions and considers it a great budget option for those wanting to shoot a match. It's easy to operate and understand, and there are a ton of aftermarket parts available if you want to upgrade it.
The new Gen 5 also has a Glock Marksman Barrel (GMB). According to the company, this barrel will improve accuracy. In the end, it really doesn't do much to help the average shooter.
Just like the Glock 19 Gen 5, I don't like the stock sights. Luckily, there are plenty of upgrades available on the market like the Ameriglo Pro-Idot night sights.
Recommended for:
The Glock 17 Gen 5 is recommended for a broad spectrum of gun owners, from seasoned professionals to first-time handgun enthusiasts. Its versatility, reliability, and user-friendly design make it an ideal choice for self-defense, concealed carry, law enforcement, and even competitive shooting.
---
Staccato XC
If money isn't an option, get the Staccato XC. This 2011 blends the gap between a duty gun and competition gun, providing tons of premium features and reliability. You can't really get much better than this gun – but you're going to pay for it. But is it worth it?
It features a compensated barrel and balanced trigger to provide remarkably flat shooting. This gun has very little recoil, so you can expect an increase in accuracy and speed. Those who have never shot a Staccato XC are almost always surprised by just how little recoil a gun can have.
However, not many consider the hefty price tag worth it, myself included.
Like you'd expect from a high-end gun, the Staccato XC is optic-ready. With the right optic mounting plate, you can add tons of different sights, including full-sized red dots. This added customization is a great addition (and, honestly, expected at this price range).
The big reason this gun ended up on my list is because it's able to do just about anything, and it seems to be popular. You can use it for home defense or competition shooting. It's a full-sized, double-stack handgun that's able to accomplish anything you need it to.
The ergonomic grip is an added plus, and the trigger feels amazing. It's crisp and light with a short reset. In my opinion, the trigger on a gun is exceptionally important, and the Staccato XC delivers.
I will admit, this is a very nice handgun, but most people I find that say how great it is don't actually have one. I have shot one before, but don't have one either. It is just too expensive and doesn't warrant the price. Any of these other guns will serve you well without paying almost 8 times the price.
Also, keep in mind that an expensive gun won't make you shoot better. Buy a cheaper gun and spend the rest on ammo and training. There is no point in having a safe queen.
Recommended for:
I can't really recommend the Staccato XC to anyone unless you have an unlimited budget and like to waste money. The price of this handgun does not justify for me.
---
Choosing the Best 9mm Pistol for You
There are tons of high-quality 9mm handguns out there that you can choose from. There isn't a one-size-fits-all answer for what gun you should get. Instead, it largely depends on what your intentions with the gun are.
In this section, we'll go through exactly what firearm works best for what situations, and the primary features you should be considering.
Purpose and Intended Use
Choosing the best 9mm pistol for you largely depends on how you intend to use the gun. A concealed carry handgun will be extremely different from a competition gun. Figure out exactly how you want to use the gun, and then follow these guidelines:
Concealed Carry
Concealed carry handguns should be lightweight and comfortable enough to carry all day. The best concealed carry firearm is one that you will actually carry, some comfort is paramount.
Compact or subcompact pistols are often preferred for concealed carry, as they are easier to conceal under clothing while offering sufficient stopping power. You should also pay attention to the grip size and shape. You want a grip that is usable while also preventing printing (seeing the outline of the firearm under your clothes) as little as possible.
Consider features like night sights and flashlight compatibility, as well. Preferably, you want to be able to protect yourself during all hours of the day.
Of course, holster selection is also critical. Make sure the gun you purchase has holsters available for it. See our guide to the best concealed carry holsters for a ton of tips on how to choose one.
Also check out out full concealed carry guide for everything you need to know on concealed carry.
Target Shooting
Target shooting is very different from concealed carry. If you're just looking for a gun to occasionally shoot on the range, you can prioritize shooting performance over all else.
You probably want a full-sized barrel with a larger grip for increased accuracy and comfort. If you don't have to worry about concealing it, choosing a larger gun is typically the option I recommend. I find that they are more fun to shoot than a small gun.
Competition
Competitive shooting, such as IDPA or USPSA, requires specialized handguns optimized for accuracy and speed. Depending on the class you want to shoot in, you will probably want a handgun with an extended magazine, improved triggers (or the ability for you to add an aftermarket trigger), and an optics-ready slide for a sight of your choice.
Different competitions have different guidelines that dictate what guns and add-ons you can use. Be sure to research this ahead of time so that you can select the right gun.
Home Defense
Home defense may have a similar purpose as concealed carry, but the type of gun you want is completely different. Because you don't have to conceal it, you can choose a larger gun with more stopping power and less recoil. We highly recommend selecting a handgun with a rail to mount a flashlight. Most home defense situations happen at night, so being able to see what you're shooting is pretty important.
You may also want to choose a gun with a compatible extended magazine to limit reloading (possibly in the dark).
Types of 9mm Handguns
When you're evaluating what handgun to get, you should start by looking at the type of 9mm handgun it is. There are two primary types of 9mm handguns: revolvers and semi-automatic.
Revolvers
I have found that revolvers are simple and reliable. They used to be exceptionally popular, but they have largely been dethroned by semi-automatic handguns today.
These guns come in both very small versions for concealed carry and much larger options for home defense or target shooting.
Revolvers typically have lower ammunition capacity (usually 5 or 6 rounds) compared to semi-automatic pistols. Reloading can be slower, and recoil management may be more challenging with small-frame revolvers.
Many people love the aesthetics of a revolver, though. They have a classical appeal.
Semi-Automatic
Semi-automatic handguns are much more popular today than revolvers. However, the choice isn't exactly straightforward. There are actually several different categories of semi-automatic handguns.
Striker-Fired vs. Hammer-Fired
Striker-fired handguns have a striker mechanism instead of an external hammer. You do not have to pull a hammer back to shoot; you only have to pull the trigger. They're known for very consistent trigger pulls and are one of the more popular options.
Hammer-fired pistols have an exposed hammer that typically needs to be pulled for the handgun to shoot. They often have different trigger mechanisms, such as single-action (SA) or double-action (DA). SA offers lighter trigger pulls, while DA provides a longer, heavier pull.
Single-Stack vs. Double-Stack
Single-stack pistols have a narrower magazine, which means the grip has a smaller diameter. They're more comfortable for those with small hands, and they often work well for concealed carry, too.
Double-stack handguns have a wider magazine, increasing their capacity. However, some users may find the thicker grip more uncomfortable. Plus, they may print more when carried concealed.
Ergonomics and Fit
How a 9mm handgun "feels" may seem like a pretty straightforward feature. However, the grip size, weight, recoil, and several other factors all play a role into whether or not a gun feels good in your hands. Let's look at each feature separately.
Hand Size and Grip
How big your hands are really matters. You need to select a gun that fits well in your hands, particularly. On top of overall hand size, you need to consider the very minute features of your hands, too.
For instance, I have relatively small palms but longer fingers. This allows me to handle larger grips, despite my hands actually not being that big.
Compact handguns typically have the smallest grip. However, you're giving up capacity and will likely deal with a lot more recoil.
On the other end of the spectrum, full-sized pistols tend to have rather large grips, increasing their capacity and decreasing the recoil. However, they may be less comfortable for those with smaller hands.
Some manufacturers offer interchangeable backstraps or grip panels, allowing you to customize the grip size to better fit your hand.
Weight and Balance
The weight of the handgun is something else to consider. Lighter guns may be easier to conceal carry (or just carry in general, really), but the lack of weight makes them recoil more.
On the other hand, heavier guns are heavy. You may fatigue faster when shooting them. However, they tend to recoil less due to the added weight.
In my experience, people often assume that they'd rather have a lighter gun. However, when they actually shoot, many shoot better with a heavier gun. Don't write off a gun right away just because it weighs more. If you aren't concealing the gun, more weight is probably exactly what you want.
Recoil Management
How well you manage the recoil of a gun plays a huge role in your accuracy. On some level, this is dependent on your skill. However, the gun also plays a huge role.
I've shot many guns over my life, and I'm still sometimes surprised by just how well some guns handle recoil.
Today, many guns are equipped with recoil-reducing mechanisms. Features like ergonomic grips, recoil-absorbing backstraps, and muzzle ports can all reduce recoil. In the end, the weight of the handgun and the ammo have the most impact.
Trigger Feel
Your trigger is your interface between you and the gun. In my opinion, this makes it one of the most important parts of the firearm.
There are several features of how a trigger "feels," such as the weight, travel, and reset. Here are some quick definitions:
Weight: How much force you have to apply to pull the trigger. Too much weight can make it difficult to pull the trigger when you need to. Too little weight may cause you to accidentally pull the trigger. The average (and "correct") trigger weight is between five and seven pounds.
Travel: This is the distance the trigger travels before it fires. Preferably, you don't want this too long, but you don't want it too short, either.
Reset: You want to feel a very clear reset so that you know when you can shoot the gun again. Without a clear reset, you may pull the trigger too early.
In some handguns, the trigger is adjustable. Therefore, you can fine-tune these characteristics to your liking. You should aim to choose a gun that works with you – not against you. For instance, if you tend to pull the trigger softly, get a gun with a lower trigger weight.
You do not want a squishy trigger, as this prevent you from really knowing when the gun is going to fire. Beyond that, the trigger is mostly a matter of personal preference.
Sights and Sight Picture
All handguns come with default sights. Unless you purchase a different sight, you'll be stuck using whatever the gun has on it. Some 9mm pistols have very good sights, while others have very bad sights. You may be surprised by the number of premium firearms with poor sights.
Some firearm companies assume that customers are going to add a red dot or other sight to their handgun. Therefore, they may not feel the need to do a great job on their sight. I think this is a poor decision. If I'm paying for a gun with a sight on it, the sight better be good.
Preferably, the sight should be easy to see and align. Night sights are great. While they help you shoot in low-light conditions, I've also found that they may make sight acquisition that much easier, too.
That said, night sights are sadly hard to find on 9mm firearms.
Sights are somewhat of a preference, but there are also objectively poor sights. Reviews like ours will help you stay away from these.
Holster Compatibility
Unless you're solely using your gun at the range, you'll want to have a holster for it. Even most competitions require holsters.
Many popular guns have holsters available for them in plenty. For Glocks and Sig Sauers, for instance, there are hundreds of available holsters, so you won't have trouble finding one you like.
However, for more obscure guns, this may be an issue. You'll have limited options – if you have any options at all. New guns have the same problem, as it takes a bit for the holster industry to "catch up" to new gun announcements. When I purchased the Sig Sauer X-Macro, I had this same problem. It was simply too new for holsters to be made for it.
Budget Considerations
We would all like to simply purchase whatever gun we want without regards to price. However, that isn't the reality for most of us!
Budget is an essential part of choosing the best 9mm gun for you. The prices of 9mm pistols vary widely. An entry-level pistol may cost as little as $300. However, some premium models can cost thousands. I included handguns in every price range above so that everyone can find something in their budget.
The PSA Dagger Compact is a great budget option that is much cheaper than other handguns. However, it still works surprisingly well for the price. I'd trust a PSA Dagger just as much as a more expensive firearm. Glocks are often popular budget options, too.
Luckily, 9mm ammunition tends to be cheaper than other calibers. Therefore, once you make your gun purchase, the price of ammo will be lower than average. You can push this price even lower by purchasing ammo in bulk. We have found the best ammo prices at Palmetto State Armory, Lucky Gunner, and Bulk Munitions.
Most people only consider the upfront cost when purchasing a gun. However, you should also consider the long-term maintenance. Luckily, this isn't terribly expensive for most firearms. You will need to purchase a gun cleaning kit and similar supplies, but you won't need to replace these all that often.
Buying online can save you money.
Online retailers today make it super easy to buy online. The process is easy, so our guide on how to buy a gun online for our tips.
If you're on a tight budget, you may want to consider purchasing a used firearm. Many online retailers now sell used firearms, allowing you to find the gun you want for cheaper. Local gun shops may also sell used guns, but many have a smaller variety than online stores. We have found Guns.com to be the best place to purchase used handguns.
Of course, when buying used, it's important to purchase from a quality source. It's recommended to not purchase from Facebook Marketplace or eBay, as you don't really know if these guns are in working condition and safe.
You'll also need to account for things like holsters, magazine pouches, and additional accessories. For instance, you may want an IWB holster if you plan to conceal carry. In many cases, I would also recommend purchasing a small handgun gun safe, especially for a home defense handgun. You want to be able to access it quickly.
Sights and Optics
Most gun owners outfit their 9mm handgun with a sight or optic of some sort. Red dots are exceptionally popular, and many people find that these help them aim a bit better. If you just want to use the standard sight, consider models that come with night sights, as these tend to be higher quality than other options.
I highly recommend choosing an optics-ready gun, even if you don't want to use an optic right away. Most of the time, purchasing the optics-ready version of the gun isn't much more expensive. You don't want to get two years down the road and have to purchase a new gun just because you want to add a red dot.
Safety Mechanisms
There are tons of different safeties available for a handgun. Many firearms don't have a safety at all today, which lowers the time from drawing the gun to putting shots down range. (Though, if the gun owner is well practiced, as safety shouldn't slow them down all that much – if at all.)
Furthermore, guns without safeties are just as safe as those with safeties. Safety mechanisms were first invented at the turn of the 20th century when many people still carried revolvers. Back then, revolvers could absolutely fire when dropped. Therefore, companies began developing blockers to prevent negligent misfires.
Eventually, these turned into the manual safety we know today.
These days, a gun should absolutely not fire when dropped – even without an external safety. In that way, they have a safety built-in; it's just passive. The trigger is the safety.
Furthermore, safeties can and have failed. Therefore, even if you decide to get a gun with a safety, you should always treat the gun as if the safety is off. The four rules of gun safety have to be followed consistently, even if your gun has a safety.
Whether you choose to get a safety or not depends mostly on your preferences. If you decide to get a 9mm with a safety, just be sure that you practice disengaging the safety when you're shooting. It should be part of your regular practice routine.
Today, there are many kinds of safeties:
Manual Safety: A manual safety is a physical switch or lever that the shooter must engage or disengage to fire the gun. Most 1911-style pistol and frame-mounted safeties fall into this category.
Grip Safety: These safeties are located at the rear of the firearm's grip. They must be fully depressed by the shooter's hand for the trigger to be pulled. Some compact handguns have these, but they are rare.
Trigger Safety: Trigger safeties are becoming more and more popular. They are built into the trigger itself, requiring you to have your finger correctly placed on the trigger when firing.
Decocker: A decocking lever or button allows the shooter to safely lower the hammer on a single-action or double-action/single-action (DA/SA) pistol. You'll see this safety on handguns like the Beretta 92.
Half-Cock Safety: This type of safety has largely fallen out of use, but you will still see it on older revolvers. Simply put, it allows the hammer to be pulled back halfway so that the hammer hit the cartridge if the gun is dropped.
Internal Safety: Most 9mm pistols have tons of internal safeties these days, which work passively. These can include drop safeties, disconnectors, and other internal components that work together to ensure safe operation. They prevent discharges unless the trigger is intentionally pulled.
Rails for Accessories
I highly recommend purchasing a handgun with a rail if at all possible. Rails allow you to attach extra accessories like flashlights and tactical grips. Without a rail, you'll only be able to shoot half of the day.
If you plan on using your gun for any kind of self-defense, then a flashlight is absolutely necessary. otherwise, your gun is unusable in the dark, making it useless after the sun goes down. Given that most home invasions happen at night, a flashlight is pretty helpful.
Magazine Capacity
Magazine capacity varies exceptionally wide from one gun to another. Some models only hold 10 rounds, while some may hold over 20. Bigger guns usually hold more ammo, but some gun companies (aka Sig Sauer) somehow fit tons of rounds into a smaller magazine.
Of course, a larger capacity is practically always better. You'll need to reload less often, saving you time. Reloading your magazines is almost always the worst part of going to the range!
The only time you might want a smaller magazine is if your local regulations require it. Some states like California have limits on magazine capacity.
Aftermarket Accessories
I also recommend looking at the availability of aftermarket accessories, especially if you want to customize your gun. Many popular gun brands like Glocks, Smith & Wesson, and Sig Sauer have tons of aftermarket accessories that allow you to change the trigger, iron sights, and more.
A Thunderstruck Revolver? Not so much.
If you don't plan on customizing your gun, aftermarket accessories may not seem like a huge deal. However, having the option to change the trigger or upgrade your sights is always a plus.
Reliability
No one wants a gun that won't fire when you need it to. Or worse – fires when you don't need it to. Sadly, reliability is also a hard feature to put into perspective. The best measurements of reliability are the brand's reputation, the gun's materials, and reviews like ours.
I wouldn't recommend that you take your new pistol out to your patio and drop it 300 times to see if it goes off. However, we can look for reports of misfires. Typically, if a gun is prone to going off when dropped, the news gets around.
Some brands are simply known for making reliable firearms. Glock is one of these brands, for instance. Other established brands also create very reliable guns, like Sig Sauer. Typically, if a gun manufacturer has been around for awhile, they will make reliable guns. After all, if they didn't, they probably wouldn't still be around.
That said, even more reliable gun companies can still have an "off" gun. The Sig Sauer P320 comes to mind, for instance.
I personally recommend waiting a few months after a new firearm comes out before purchasing it. Then, keep your eyes on the news. If a gun misfires, it doesn't take long for lawsuits to come out of the woodwork.
(Of course, not all lawsuits are genuine, but the conclusion of these lawsuits should give you an idea of the gun's safety).
All the guns I discussed above are known for being reliable. I wouldn't include them if they weren't. Therefore, if you want to skip checking lawsuits and news reports, just choose one of the guns above.
Keep in mind that just because a gun is reliable doesn't mean that it won't start to have issues if you don't clean it regularly. Follow our guide on how often to clean a gun to find out how often you should clean yours.
Conclusion
While there are tons of 9mm pistols out there, I can confidently say that the Sig Sauer P365 X-Macro is the best. It's a very slim pistol, allowing it to be easily concealed, while still having a 17+1 capacity. (Honestly, I don't know how Sig Sauer shoves to many rounds into such a small handgun. It's magic.)
It's also incredibly accurate and reliable. The trigger is nice and crisp, and the optics-ready version is pretty affordable. It's a good starting pistol for just about everyone.
Purchasing a firearm is only the first step, though. Check out our other Self Defense guides and reviews on help through it all. If you have any questions, feel free to email us!
Up Next: Gun Safety Guide
Go Back: Concealed Carry Guide