A disaster has knocked out the power, forcing you to hunker down. What are the best survival recipes that are easy to make without power and taste great? Check out our recipes below.
A significant event has occurred, and we can't go shopping or grab burgers at the nearest drive-through. We have a stock of Survival Foods in our pantry. Are we going to eat out of cans and boxes? I don't know about you, but there is so much cold Spam I can stand, so let's prepare some recipes.
I spent over three weeks researching and testing survival recipes. I created most of these with the help of my grandmother's recipe collection. I took traditional recipes from my family for generations and substituted ingredients in my survival pantry. Some were great, and some were terrible. The recipes below are the best of the best.
What is a Good Survival Recipe?
My goals for a good survival recipe are simple. These recipes are going to be prepared after an event has occurred. I found many survival recipes for food you would make before an event occurs. None of them looked practical to me; most were portable and intended to be eaten at room temperature. Those will spoil quickly in the hot summer months if you don't have a cool area to store them. If I need something portable to evacuate, I already have those in storage from my list.
The recipe must include ingredients that are non-perishable that I have stored in my survival pantry. Sometimes, I can substitute evaporated milk for fresh milk, for example. The recipe must be easy to make without a bunch of complicated steps.
Most importantly, I need to be able to cook without power. If I need a food processor, an oven, and a refrigerator to make something, I won't consider it. Having the best emergency stove ready I found works the best, or you can setup a campfire or even a charcoal grill.
Top 11 Survival Recipes
---
Beans and Rice
I make beans and rice all the time. My friends in Brazil introduced me to their way of cooking it on one of my trips there. Below is my adaptation to make it a great survival recipe. It is a complete meal in one pot. I used canned beans here since they are already cooked. You can use dry beans. Just follow the cooking instructions on the package. Typically they have to be soaked overnight and then cooked for 1-2 hours, so keep in mind the energy requirement.
1 can of Black Beans
1 can of Rio Tel
1 cup of white rice
1 cup of canned meat chopped (Spam, canned Ham, or whatever you have)
2 cups of water
1 pkg of Sazon
1 Chicken Boullion cube dissolved in ½ cup water
1 tsp of dried Oregano or Italian Seasoning
1 tsp Garlic Powder
1 tsp of Olive Oil or vegetable oil
Salt and Pepper to taste
First, put the rice and water in a pot that you have a cover for. Bring the rice and water to a boil over medium-high heat. Cover and reduce the heat and cook for 15 minutes. Pull the pot off the heat and let it sit while completing the following steps. Do not remove the lid.
In a frying pan, warm the oil over medium heat. Add the meat and cook until slightly brown. Add the beans, Rio Tel, broth, and seasonings. Simmer for 10 minutes.
Remove the pan from the heat, add the rice, and stir. Enjoy!
---
Jerky
I have a bunch of meat in the freezer. What will I do with it once the power goes out and it starts to thaw? Also, during an extended survival period, what will I do with the venison or other meat when I hunt? Jerky is a great way to make it last longer without a freezer.
I like to make Jerky on my Weber kettle charcoal grill. You can also use wood if needed, and the kettle grill is excellent for this since you can control the heat by the amount of air the fire gets by moving the upper and lower vents. Shut the vents to lower the heat and open them to increase it—also, no power is needed.
The key to making jerky is to cook it at low temperatures, so the meat dries and doesn't cook. Indirect heat is the best way. In the kettle, you can place coals on one side of the grill and the meat on the other (cooking ribs is also great this way!)
Also, for the best taste, marinate the meat. For this, we look to our survival food pantry, where we have the right ingredients.
4 pounds of Beef, Pork, Venison, or whatever you have sliced in about 1/8 inch thick strips
1 Tablespoon Garlic Powder
1 Tablespoon Onion Powder
1 cup Soy Sauce
1 cup Worchester Sauce
2 teaspoons Tobasco Sauce
1 Tablespoon Black Pepper
Mix all of the ingredients in a bowl. If you don't have a lot of meat, adjust the ingredients. Pour the mixture into a large Ziplock bag and marinate the meat for 4 hours. Try to keep the meat as cool as possible.
Start your fire in the grill, and set up for indirect cooking with the coals/wood on one side. You don't need a ton of coals here. Ten or so is fine.
Place the meat on the grill opposite the coals, shaking off any excess marinade. I like to put a sheet of Aluminum Foil between the meat and the coals to keep the meat from cooking too fast (we want a dry heat).
You want a low temperature of about 150 degrees. It is nice to have a grill thermometer here, preferably one that does not need power. Adjust the vents and add coals/wood to the fire as needed. Cook the jerky for about 6 hours.
---
Chicken and Dumplings
Chicken and Dumplings are comfort food. I remember my grandmother making them quite often. I took her recipe and adjusted it based on our survival pantry. While not as good as the original, it is still mighty tasty.
2 cans chicken
2 cans chicken broth (or can substitute bouillon cubes)
1 can of peas and carrots, drained
1 tsp garlic powder
1 tsp Italian seasoning
1 tsp onion powder
2 cups Bisquick
1/3 cup dehydrated milk + 1/3 cup water
Salt and Pepper to taste
In a bowl, combine the Bisquick, dehydrated milk, and water to make the dumpling dough.
In a pot, combine the broth, seasonings, and chicken and bring to a boil.
While the broth is warming, flatten the dough like a pizza crust. Thickness depends on your preference for the dumplings. Keep in mind thicker dumplings will take longer to cook.
Once the broth is boiling, pull off chunks of dough and place them into the broth. Again, the size depends on your preference. I went with about 1" x 1" x ¼" squares.
Once you have placed the dumplings in the broth, give it all a stir, cover, reduce the heat and simmer for 10 minutes.
Check to make sure the dumplings are done. Add the peas and carrots and season to taste with Salt and Pepper. To thicken the broth, slowly stir in some flour.
---
No Bake Peanut Butter Oatmeal Cookies
No Bake cookies are great and fit in perfectly here since we don't have the power to bake. The ingredients are simple, and they are easy to make.
1 Cup Rolled Oats
½ Cup Peanut Butter
¼ Cup Maple Syrup
In a pan, combine the maple syrup and peanut butter while heating slowly to combine them. Add the oats and stir until they are combined. Remove from the heat, and once cool enough, make small 1" balls with your hands. It helps if your hands are slightly wet. Let these tasty balls cool, and enjoy!
---
Overnight Oatmeal
Oatmeal is excellent for breakfast. I have it every morning. This variation conserves precious energy since you don't have to heat anything. Of course, if you like a warm breakfast, throw this on the fire for a few minutes before you eat it.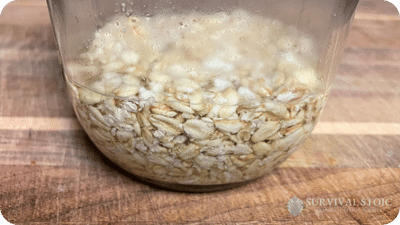 1 Cup of Rolled Oats
1 ½ Cup water
1 tsp of Honey
1/8 tsp of salt
Combine the oats and water in a bowl or jar and stir it before you go to sleep. In the morning, add the honey and salt. You could also add some raisins or nuts if you have them.
---
Tuna Cakes
Eating tuna out of the can is not very tasty to some people. This recipe allows you to stock cans of tuna in your survival pantry without eating it plain. My grandmother used to make salmon patties, and this is a variation of that recipe.
1 can of Tuna or Salmon
2 Tablespoons cornmeal
1 Tablespoons of Vinegar
1/8 tsp salt
½ tsp Italian seasoning
5 Saltine Crackers, crushed
3 Tablespoons of vegetable oil
Put the Tuna, cornmeal, vinegar, and seasonings in a bowl and mix until combined.
Crush the crackers in a ziplock bag or on a cutting board until you have a medium texture. You don't want powder here, but it shouldn't have large pieces.
Warm the oil in a skillet over medium-high heat. Form the tuna mixture into patties, then coat with the cracker crumbs. Fry the patties until they are brown on each side.
I enjoy mine with a few drops of tabasco sauce on top!
---
Hoe Cakes
Hoe Cakes are traditional Cornbread Pancakes. Some people eat them with maple syrup, like pancakes. We usually eat them with some type of meat on top of other fixings. This is a great way to make some bread without using an oven. Since we probably won't have fresh milk or eggs on hand in a survival situation, I substitute evaporated milk and flaxseed meal for these. These two ingredients are fantastic to have in your survival pantry. Add about ½ cup of sugar to this recipe if you want sweet hoe cakes.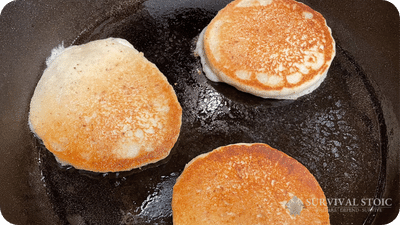 1 cup flour
1 cup cornmeal
1 tsp salt
3 ½ tsp baking powder
1/3 cup vegetable oil
½ cup evaporated milk + ½ cup water
1 Tablespoons Flaxseed meal + 3 Tablespoons water
1 Tablespoon of vegetable oil for frying
In a bowl, mix the dry ingredients first.
In a separate bowl, combine the evaporated milk and water. In a third bowl, combine the Flaxseed meal and water.
Form a well in the center of the dry ingredients and add the wet ingredients (including the 1/3 cup of vegetable oil). Mix until combined.
Heat the 1 Tablespoon of oil in a skillet over medium-high heat. Pour about ¼ cup of the mixture into the skillet to form pancakes. Once the edges are dry, and the top begins to bubble, flip them. Flipping these takes some practice if you have not done it before. I used to make a mess!
Have these as a side or top with meat and a sauce or gravy.
---
Brunswick Survival Stew
This is a classic southern stew that you can substitute whatever you have for the meat and vegetables. There are also many ways to cook this, on a stove, open fire, or in a bean hole.
This is one of the best ways to cook wild game. I have adapted this to what we have in our survival pantry, and for the meat, we are using a wild Rabbit and Squirrel. I included these since they are easy to find in most areas. Of course, my favorite way to hunt rabbits is with beagles (I raised them for years), but unless you have a lot of land and a pack of rabbit dogs, it may be better to pick a few off with a .22 rifle early in the morning or late in the evening when they are feeding. Any other small game in your area could work. You can also substitute vegetables from your garden or use canned meat. If you use canned meat, the initial steps of cooking the meat can be eliminated since the canned meat is already cooked.
4 Tablespoons vegetable oil
1 wild Rabbit, dressed, skinned, and quartered
1 wild Squirrel, dressed, skinned, and quartered
1 can of cabbage, chopped and drained
1 can carrots, chopped and drained
1 can Ham, chopped
3 cans diced tomatoes
2 tsp onion powder
2 tsp chili flakes
1 TBs Worcestershire sauce
1 tsp paprika
1 can corn – drained
1 can okra – drained
1 can lima beans – drained
1 cup potato flakes
Heat the oil in a large Dutch Oven or pot over medium-high heat. Sprinkle the Rabbit and Squirrel with salt and pepper and add them to the pot. Brown on all sides, and transfer to a plate. You don't want to fully cook the meat in this step. Just sear it.
Add the cabbage and carrots to the pan and cook for a few minutes until tender, stirring frequently. Return the meat to the pot and add the tomatoes, spices, and Worcestershire sauce. Add water to cover everything by about 1 inch and bring to a boil. Reduce the heat, cover, and cook for 2-3 hours until the meat is very tender (skip the 2-3 hours if just using canned meat).
Skim the fat from the top of the stew. Remove the meat from the pot, and pull it from the bones once it has cooled enough to handle. Shred the meat and returned it to the pot. Add the ham, corn, okra, and lima beans. Simmer over low heat for 1 hour, stirring occasionally.
Stir in the potato flakes to thicken the stew, and add salt and pepper to taste.
---
Lentil Soup
Lentil soup is a traditional Asian and vegetarian meal. I included it here for some variety. Lentils are high in protein, so this is a good option when you don't have any meat.
2 Tablespoons Vegetable or Olive oil
1 can of cabbage, chopped and drained
1 can diced tomatoes
1 tsp garlic powder
1 tsp onion powder
1tsp Italian seasoning
1 can carrots, diced
2 cups lentils
8 cups water
1 Tablespoons soy sauce
2 tsp salt
1TBs vinegar
Add the oil to a pot over medium heat and cook the cabbage and carrots for a few minutes until soft, stirring frequently. Add the remaining ingredients, stir them, and simmer over medium heat until the lentils are soft. The time it takes to cook depends on the lentils. Most are usually in the range of 30 minutes to 1 hour. Add Salt and Pepper to taste.
---
Fried Rabbit with Gravy
Here is another way to enjoy rabbit. Frying it in a skillet gives it a great flavor, and the gravy keeps it moist. You can also use this method to make gravy from almost any meat.
For the Rabbit:
1 Rabbit dressed, skinned, and cut into pieces
½ cup flour
1 tsp salt
¼ tsp black pepper
¼ cup vegetable oil
In a bag, mix the flour, salt, and pepper. Coat the rabbit pieces by tossing them in the bag.
Heat the oil in a skillet over medium-high heat. Brown the rabbit pieces on all sides. Cover and reduce the heat and cook until the rabbit is fork tender, turning it a few times. Transfer the rabbit to a plate.
For the Gravy:
3 Tablespoons flour
1 cup chicken broth
½ cup evaporated milk + ½ cup water combined
½ teaspoon salt
¼ teaspoon pepper
¼ teaspoon Italian seasoning
After the rabbit is cooked, mix the flour into the drippings. Before the flour starts to brown, add the broth, milk + water, and seasonings. Cook over medium heat, often stirring until it thickens.
Add more salt and pepper if needed, pour the gravy over the rabbit and enjoy!
---
Survival Tacos
Everyone likes Tacos, right? These are easy to make, and we have the supplies in our survival pantry to make the tortillas. If you do not have some of these spices, feel free to get creative or exclude some of them. I have a big container of chili powder that has lasted for years.
For the meat:
1 can of Spam
1 Tablespoon of vegetable or olive oil
¼ tsp of chili powder
¼ tsp of garlic powder
¼ tsp of ground cumin
¼ tsp of paprika
¼ tsp of salt
¼ tsp of black pepper
Slice the spam into strips and combine in a bowl with the seasonings.
Heat the oil in a skillet over medium heat. Cook the spam until lightly browned on all sides, and then add the leftover spices from the bowl. Cook for a couple of minutes.
For the Tortillas:
2 cups flour
3 Tablespoons vegetable oil
¾ tsp salt
1/2 cup water
Combine the flour and salt in a bowl. Add the oil and mix with your hands until you have small balls of dry dough. Add the water and mix with your hands until it is well combined. Add more water as needed if the dough seems dry. You want a consistency that you can handle and roll out.
Start to form the dough into tortillas making small disks. Allow the dough to rest for 30 minutes to 1 hour.
Heat a skillet over medium heat. Coat a surface with a bit of flour and roll out the dough to form tortillas. This will be a little bit of trial and error. Too thin, and they will fall apart. Too thick, and they will be tough. Use your judgment on how thick a tortilla usually is.
Cook the tortillas in a skillet for about 30 seconds. Be careful not to burn them, and flip them once they are slightly brown. Brown the other side. Feel free to flip them back and forth until they are brown.
Place the meat in the Tortillas and enjoy. You can also add some rice or mashed beans to the tacos. If you like salsa, you can make a simple version with tabasco sauce, Worcestershire sauce, and canned tomatoes. Tacos are fun because you can be creative!
---
Survival Recipe Tips
Don't drain the water from your cans of vegetables if your water supply is limited. Just use the liquid in the recipe the same as water.
Improvise! If there is something you don't have, get creative and use the ideas here to make something else. Most people have spices in their cabinets that they don't use very often. These are your best friend for making bland food taste a lot better. If there is a spice listed that you don't have, try something similar, just don't use too much. A spice blend like Ms. Dash is excellent for almost everything.
Some of these recipes say low heat, medium heat, etc. Depending on your cooking method, this may be simple or not. Use your judgment here. The times listed are estimates and are, of course, dependent on your heat source. It is best to practice some of these before you have limited resources and fuel to practice.
We are planning a future guide on cooking methods. For now, research these and always have a backup to your primary method. Also review our how to boil water without electricity guide.
Indoor wood-burning fireplace or stove
Propane camp stove
Propane or charcoal grill
Campfire with Cast Iron Pans and Dutch Oven
Rocket Stove
Cast Iron Dutch Oven bean hole
Seneca said, "We are more often frightened than hurt; we suffer more in imagination than in reality." This applies greatly to a situation when we realize we can't call and order a pizza. How you react to a survival situation like an extended power outage is 100% up to you. Do you complain and get stressed out? Don't forget humans did not have electricity until about 100 years ago. It may not be practical for you to bug out to another location, so being prepared to hunker down relieves the stress of the situation.
I hope you enjoyed these recipes and they gave you some ideas. This is much better than eating hard-tack and protein bars all day. Take another look at our survival food list and put together your plan to SURVIVE. The next time the power goes out, you will be excited to try some of these out!
Next, review our guide on how to start prepping to be fully prepared for any emergency.