I have been an active Battlbox subscriber for nearly one year. After trying it for so many months, I can confidently say it is easily one of the best outdoor and survival subscription boxes.
Becoming a member of a subscription box service can be a difficult decision since you don't really know what gear you'll receive. They may tell you it's great, but is it really?
I also tried other subscription box services focusing on outdoor and survival gear to compare it against.
My team and I have over 40 years of experience in the outdoors, camping, hunting, and testing survival gear. So, we understand how useful the gear actually is and how it compares.
But is it worth it? Keep reading to find out.
---
My BattlBox Review (Battle Box)
My aim in this review is to provide you with all the information you need to determine whether or not subscribing to Battlbox is suitable for you. I'll cover the gear, customer service, and whether it's truly worth investing in.
What is in a Battlbox?
Battlbox is a subscription service that specializes in providing outdoor and survival gear. I have noticed that they primarily focus on items that are useful for outdoor activities, camping, and survival situations.
Their boxes often contain items such as fire starters, samples of convenient camp food, and hygiene products like wipes that are ideal for camping.
There are also knives – a lot of knives.
Sometimes there will be items related to shooting and hunting, emergency prep, and items for my vehicle like tow straps, dry bags, or tie-down straps.
Many times, I find that the items are a great addition to my bug-out bag items, camping gear, or my vehicle get-home bag. There are also concealed carry and EDC items I have found useful.
Each month, Battlbox puts out a video on the items that come in the box. These are usually entertaining and sometimes a little long, but @currin1776 does a great job with them. He describes each item and how to use them. If you are curious, you can see what was in previous boxes here:
I can say that the majority of the items are high quality. Sometimes items are not top-shelf premium, and I would not expect them to be based on the price of the box.
Here is one of the monthly videos showing what is in the box:
---
How does Battlbox work?
I really like how Battlbox has a tiered system. I can increase or decrease the number of items that I get each month. There are four tiers:
Basic – $34.99. Usually 3 or 4 items like fire starters, hydration packs, and paracord.
Advanced – $64.99. Includes the basic items and adds one item like knives, power banks, bushcraft pots, and hiking gear. Often, the added item is more expensive than the basic items.
Pro – $119.99. Includes basic and advanced items and adds items like binoculars, backpacks, camping gear, and larger knives.
Pro Plus – $169.99. This tier includes all of the items in the other tiers plus a cutting tool, usually a knife. It is basically like adding a "knife of the month" to the other tiers.
For the pricing above (note that is accurate as of the publish date of this review), tax and shipping will be added to it. This depends on what state you live in. I find that about 20% is added to mine, but Tennessee has a state sales tax. If your state does not, it could be considerably lower.
Depending on when you sign up, your first box will either be the last box that was shipped or the next box. I found that customer service asked me what I wanted since I signed up close to the cutoff date (middle of the month). Of course, I got the past box and the current box.
Is the Battlbox Website User-Friendly?
I find their website and account management page very user-friendly. What I like the most is that I don't have to call anyone to modify or cancel my subscription. I have encountered several services in the past that make the cancellation or modification process quite challenging, as they do not want to lose their subscribers.
At Battlbox, I was able to easily manage my subscription tier level, cancellation, and reinstatement on their website. They even offer a "skip a month" option.
I am usually billed around the middle of the month for the box that ships at the beginning of the next month. Battlbox does not reveal what is in the box until it ships, so keep in mind you can't skip a box after you have seen what is in it.
BattlVault
Another perk that I like is the Battlvault. This is an area on the website where they list discounted items. While these items change all the time, I just now looked at my account, and I can buy my favorite water purifier, the Grayl Geopress, for 37% cheaper than I can find anywhere else.
BattlBucks
And yet another perk is Battlbucks. This is a points reward system where I get points for every dollar I spend. I can then redeem these points as a discount when purchasing individual items from their store. Every month that I get a box, I earn points to use later.
Battlbox Customer Service
When I initially signed up, Battlbox was offering a few different discounts. I entered the code for the discount I wanted (free Pro Plus item) at checkout. When my box came, the extra item was not included. I contacted customer service, and they immediately sent out my free item.
This is the only issue I have experienced, and they took care of it quickly.
Battlbox Facebook Community
When I joined, I was given access to their private Facebook community. I have found it to be a great place to get previews of the next box and hear members-only news from Battlbox. Members will also share how they use the gear and often list and sell items they don't want. I like the fact that I can negotiate a price individually and pick up more gear at an even better price.
---
My Favorite Battlbox Items
Here are my favorite items that I have received so far.
CRKT M16-04SS Knife – This Stainless Steel folding pocket knife has often become one that I carry as part of my EDC. It is a little larger than most knives that I carry, but I don't really notice.
Fox Edge Wooden Handle Knife – I probably would have never bought this if I had seen it online. But when I held it, I immediately put it in my pocket. I love the way it looks and feels. I carry it more now than most of my other knives.
Dedfish German Kiritsuke Duo Knife– This is an awesome camp cooking knife. The wood case securely protects the knife in my pack and unfolds to form a cutting board.
Roaring Fire Ember Pouch – This little pouch is simple but great for so many things. I have mine packed with an emergency fire-starting kit.
Klymit Versa Blanket – I have used this blanket on a few camping trips, and it is amazing. It is very warm and has kept me warm on several cooler nights while camping in my Haven Tent Hammock. It can be a bit too warm at times, but it is perfect for chilly weather. It packs down into a small bag, making it easy to carry in my pack. I will be buying another one.
Rhino USA Kinetic Recovery Rope – I keep this in my truck, it has replaced the traditional tow strap. It expands more than a traditional tow strap and is much safer and easier to use. Plus, it has a nice bag to store it in.
HybridLight Lantern and Flashlight – These both have built-in solar panels, so they recharge automatically during the day. But, I can also use them to charge my phone, making them great for emergency preparedness.
---
Is Battlbox Worth It?
I tracked what I spent, including tax and shipping, for 9 months. When I got each box, I looked up what I could buy each item individually for. I tried to stay with Amazon when I could, but sometimes I had to find the item at other places. For items only made for Battlbox, of course, I had to go directly to them for the individual price.
I found that, on average, each box is usually about 20-45% cheaper than buying each item individually.
Battlbox calls each box a "Mission" increments the number every month. In the table below, I have listed the missions/boxes I received and the actual costs.
| Mission | Level | My Box Cost | Single Item Cost | Savings |
| --- | --- | --- | --- | --- |
| 97 | Pro Plus | $199 | $249 | 20% |
| 98 | Pro Plus | $199 | $340 | 41% |
| 99 | Pro Plus | $199 | $354 | 44% |
| 100 | Pro Plus | $199 | $423 | 53% |
| 101 | Pro | $144 | $220 | 34% |
| 102 | Pro | $144 | $223 | 35% |
| 103 | Pro | $144 | $185 | 22% |
| 104 | Pro | $144 | $245 | 41% |
| 105 | Pro | $144 | $232 | 38% |
Another advantage I have found is some of the items are great new products that I never knew existed. Battlebox has a team that is dedicated to finding new and innovative products. This keeps each box fresh so that I am not receiving the same thing over and over.
I also like to receive things that are somewhat of a surprise. I try to not watch the video describing the items until I get the box so that it can be a sort of gear surprise and discovery.
The only downside is that I may never use some of the items I have received. Overall, I have found all the items useful, but I may already have something I like better. In this case, I usually give the item to a family member or friend.
If you want to prepare for emergencies like I do, some of the items will sit until I need them. That is the whole point of preparation. Without getting them in a subscription box, I may never have known they existed.
So, I do feel like it is worth it for me. The products are often items I would have never found otherwise, and it is fun to get a box each month.
I have noticed that they often have great deals for new subscribers. Everything from extra gear to a free past box. Before you subscribe, be sure to check for any new deals here:
---
Alternatives to Battlbox
To find alternatives to Battlbox, we used this criteria:
Must be outdoor-related and not dedicated to just one niche (hunting or fishing, for example.)
Must contain gear and not games or projects.
Must be a reasonable cost.
Must have good reviews in general.
Must be a US-based company with a dedicated website (not just on Amazon).
We found two that met all of these criteria and gave them a try for a few months. Yes, we subscribed and canceled to get the full experience.
---
Crate Club Review
Crate Club is very similar to Battlbox, except it focuses a little more on tactical and shooting gear. They are owned by the same company as Battlbox and share many of the same employees. So, some of the products I received in the boxes are similar.
Crate Club follows the same tiered structure with multiple levels (prices are current as of this review being published).
Lieutenant – $49.99, Usually 4 or 5 items like mag pouches, fire-starters, first-aid, and knives
Captain – $99.99, includes 5 or 6 items similar to above and adds items like shooting glasses, survival shovels, and headlamps
Major – $199.99, includes 5 or 6 higher priced items like spotting scopes, multitools, knives, and flashlights
General – $399.99, This is a quarterly box, while the others are monthly. I did not subscribe to this one, but it contains many of the items found in the monthly boxes but adds a few higher-priced items like gun cases and jump-start power banks.
If you would like to see specific items that were in past boxes, you can find them all here:
My Favorite Crate Club Item
My favorite crate club item that I received is the Work Sharp knife sharpening system. I generally like to sharpen knives and have everything from basic stones to complex setups. I like this one because it has a nice base and includes a leather strop as well.
Crate Club Website and Customer Service
I found it easier to change my subscription on the Battlbox site than on the Crate Club website. Although I was able to modify my subscription to Crate Club, I faced difficulties in canceling it. The cancel button provided on the website took me to a screen that offered a free item or an option to skip a month instead of canceling my subscription.
I emailed customer service, and they quickly responded and canceled my subscription, no questions asked. It was on a Sunday too, so it feels like they are on their game. A button push would have been easier, though.
Is Crate Club worth it?
I tracked the items I received each month with Crate Club and compared them to what I could buy each item individually, just like I did with Battlbox. I found an average savings of about 30% per box.
The items I received are good, quality items, and most of them are useful.
Our team are avid shooters, and we carry concealed every day, so this box fits us perfectly.
However, I found that when I had both Battlbox and Crate Club at the same time, I got some of the same items in each. For example, I received the same backpack in both boxes one month.
Personally for me, I like Battlbox better. I think Crate Club's focus is a little too niche, and therefore, the items were less varied. Plus, there are fewer cool, new items for them to include in their box each month.
Most of the time, I find shooting products are expensive and very specific. For example, they could include a holster, but not everyone would have the gun that goes with that holster.
They do have some great promotions going occasionally, so if you are more into shooting and hunting than emergency preparedness, Crate Club could be the best for you.
---
Nomadik Review
Nomadik is a lower-cost subscription box with outdoor gear dedicated to a theme each month. When I was a subscriber, they had both a monthly and quarterly box. I was a monthly subscriber.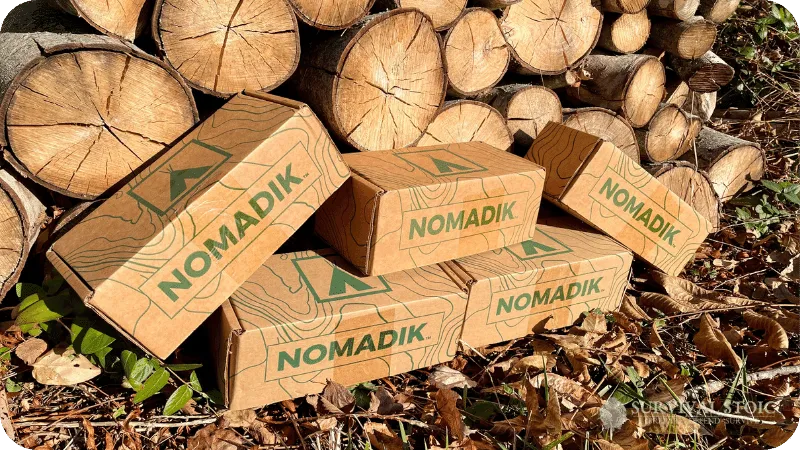 Now they are moving to just a quarterly box which I think is a good idea. For the first box, you can see the items that you will get and check the prices. It is currently a really good deal and a savings of around 100%.
I found some useful gear in the monthly boxes most of the time. There were usually 3 or 4 smaller items like snack bars or drink mixes, and then one larger item like a hat or med pack.
Each box has an interesting theme. One month was a hiking box that included the Hiking Med kit from My Medic (which was included in our full My Medic review.)
Another month was a camping theme that had a set of wooden utensils that I still use (see them being used in our Nutrient Survival Meal Review.)
Their website is easy to use, and I could easily skip or cancel my subscription. No need to call or face any pressure.
Their quarterly boxes are themed as well but include larger items like backpacks and camping blankets.
My Favorite Nomadik Item
Overall, my favorite item has been the Wazoo Stash Cap. I really like the fit and material of this hat. It also has a few hidden pockets, making it a great place to keep an extra key or cash.
The inside is orange and reflective and can be used as a signal. I like to keep this with my bug-out bag as a survival hat. I have used it out in the woods quite a bit, and it is getting pretty dirty!
Nomadik Website and Customer Service
I found Nomadik's website easy to use, and I could change, skip, or cancel my subscription all right on the website. I never had any issues, so I did not have to contact customer service. Their boxes came like clockwork.
Is Nomadik Worth It?
Just like the other boxes, I tracked the items I received each month and compared the cost of the box versus the cost of each item individually. Overall, I found a savings of about 20% to 40%.
All of the items I received were high-quality, name-brand items.
The great thing about this box is the lower cost, and I got to try some items that I can only buy in larger package quantities. It is a sort of outdoor sample box with one larger item each month.
Personally, I found some boxes to be great for me and others not so much.
For subscribers, they do have some great deals from time to time. Recently I noticed I could buy past boxes for 50% off. For the price, this is a great deal.
Sometimes they also run specials for new subscribers. You can check for current discounts here:
---
What is the Best Outdoor and Survival Subscription Box?
Overall, we found Battlbox to be the best outdoor and survival subscription box. I am still an active subscriber and enjoy trying the new items that they find and put in the box every month.
Crate Club is also a good subscription box if you are more into shooting and hunting than camping.
Nomadik is a great choice if you enjoy the outdoors and don't do much shooting or hunting. Hiking, outdoor cooking, and camping are their main focuses.
See the latest new subscriber discounts at Battlbox
See the latest new subscriber discounts at Crate Club
See the latest new subscriber discounts at Nomadik
Now that you have your subscription box check out our other Survival Guides and Gear Reviews. We also have a complete Concealed Carry Guide with tons of info from mindset to holsters.