In our thorough Nutrient Survival review, our team tried out various meals from the company in both our kitchens and while camping. Although the company has received many positive reviews online, we found that some of their meals were underwhelming, particularly considering the price.
What sets Nutrient Survival's meals apart is their nutritional completeness, which is something I haven't been able to find in other freeze dried foods.
Nutrient Survival's freeze dried meals serve two purposes. They are a great emergency food and they work well for camping and backpacking as well. Since they are lightweight and nutritious, I can store or carry more calories than other types of food.
However, after trying their meals, I have to admit that some are not as good as some of the other freeze dried meals I've tasted.
In addition to myself, Blake, a former military member on our team, also tested the meals. He compared them to the MREs he had experienced in the Army. We even asked a group of children to try them out, because if a picky child likes it, then it's likely that anyone will!
And let's face it, if you're looking for emergency food, you want your children to eat it, too.
I'll start out by reviewing their meals, particularly their taste. Then, I'll move on to a review of the company overall, including the different kits they sell.
---
Nutrient Survival Review
Nutrient Survival offers many different meals. You can purchase these separately or as part of a larger kit. They're all basically the same except for their taste, so that's what I'll focus on below.
As I said above, there were several children involved in the taste testing, and I've included their score for each meal below.
Powdered Vitamin Egg Blend
Taste: 5/5
Kid's Score: 5/5
Ease of Preparation: 2/5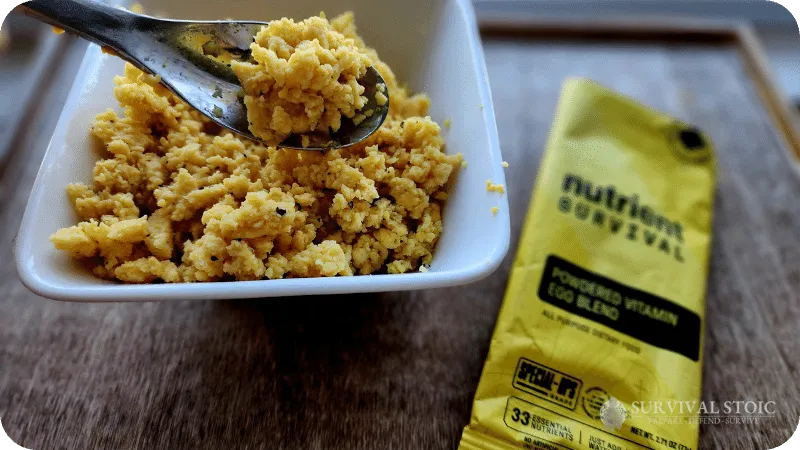 Out of everything I tried, the powdered eggs were the best. Everyone ate them, including all of the children. While I could tell a small difference in the shape, it was pretty much indistinguishable from fresh eggs. According to Blake, they tasted the same as the powdered eggs used in the military.
They were pretty easy to make. This was one of the meals I tried in my kitchen. I simply poured the correct amount of water into the pot and added the powder. The eggs scrambled easily, but it was afterward that I ran into some problems! They stuck to the pot horribly, and I spent the next hour scrubbing. 
My husband has since banned me from using any of his pots….
Chocolate Grain Crunch
Taste: 3/5
Kid's Score: 2/5
Ease of Preparation: 5/5
I thought the chocolate grain crunch would be one of the better meals. It was very easy to make. I just added milk (or water, though I'd imagine that wouldn't be nearly as good). It is basically cereal, so no cooking is needed. Therefore, it is one of the easier options to make. 
That said, it isn't sweet at all. It tastes like cocoa powder – very bitter. I left it to sit for a minute in the milk, and some of this bitter taste gets soaked up, making it taste a bit better. However, it still isn't great, though it isn't approaching inedible, either. Adding some sugar to it made it taste 100 times better, although if you don't have any sugar you are out of luck.
Hearty Apple Cinnamon Oatmeal
Taste: 4/5
Kid's Score: 4/5
Ease of Preparation: 4/5
This meal is one of the few adults and children agreed upon. It tastes just like you'd imagine – instant apple oatmeal. It's pretty good, especially if you consider the shelf life and that it's survival food. 
It's pretty easy to make. I just heated up some water and added it to the oatmeal, just like I would any other instant oatmeal. The only downside was that it left an unappetizing film in my mouth, which I imagine is from one of the nutritional additives.
Homestyle Scramble
Taste: 5/5
Kid's Score: 4/5
Ease of Preparation: 4/5
The Homestyle Scramble was one of the better meals we tasted. It's made with powdered egg and several added veggies, making it more interesting. It's a fancy version of their powdered eggs, which we tried above. 
I make it similarly to the other hot meals. I boiled water over the fire first. Then, I added the pack to a smaller container and added the boiling water. I left it sitting for a few minutes with a lid on top, and then it was ready! Super quick and an easy way to have a hot meal at camp.
Hearty Lasagna
Taste: 4/5
Kid's Score: 5/5
Ease of Preparation: 4/5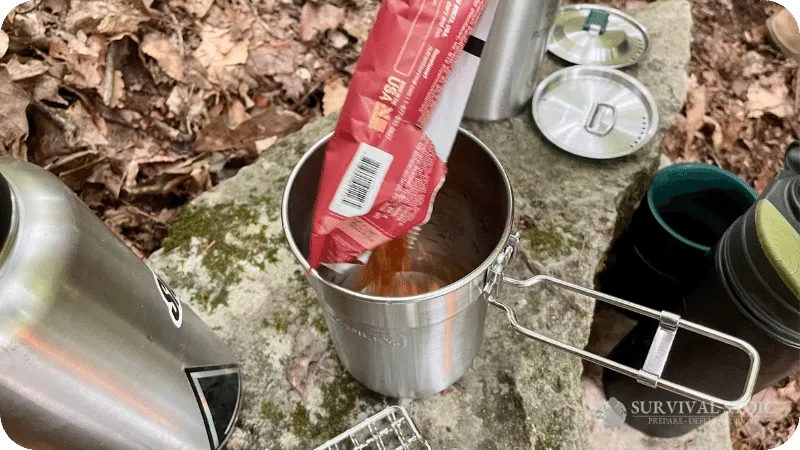 The Hearty Lasagna meal was well-liked by everyone. It didn't taste like the lasagna my grandmother made, and it's a bit one-layered, but it's pretty tasty. I wouldn't mind eating this for several days, and the children ate it just fine. 
We at this on a camping trip and it was enjoyable by the fire. I just heated water in the pot over the fire and poured some into my stainless cup. I added the contents of the package and let it sit for a bit.
Southwestern Medley
Taste: 3/5
Kid's Score: 2/5
Ease of Preparation: 4/5
The Southwestern Medley held a lot of promise. It was one of the first things I tried, but I found it disappointing. It is edible, but it doesn't taste like much. Plus, I had an issue with all of the rice cooking well. I thought this was my error, so I made it again and still had the same issue. I ran into a piece of hard, freeze-dried rice in practically every bite. 
Furthermore, the texture of the beans isn't the best. They're quite grainy.
If it's all I had, I'd still eat this in a survival situation, but I'd be pretty disappointed if someone handed me this on a camping trip. I recommend using a little more water than is called for and make sure it is boiling. Also mix it well.
Triple Cheese Mac
Taste: 2/5
Kid's Score: 1/5
Ease of Preparation: 4/5
The Triple Cheese Mac is another meal I was looking forward to – only to be exceptionally disappointed when I tried it. This meal isn't cheesy. It tastes vaguely creamy, but there isn't much flavor. I think it needs less water than the package calls for, which gives it a more cheesy texture. 
I thought this would be one of the meals I could reliably get the children to eat, but none liked it that much. It needs some salt, but even then, it isn't tasty.
I'd eat this if I was starving, but the point of emergency food is to not be starving. I probably won't be purchasing this again, especially for a camping trip.
Creamy Chocolate Shake
Taste: 0/5
Kid's Score: 0/5
Ease of Preparation: 2/5
I've seen tons of positive reviews for this shake, and I really thought that the kids would love it! But it really isn't edible. I tried it, both hot and cold – with ice and without. I used water and milk. We blended it with an immersion blender to ensure all the powder was properly incorporated. I tried adding a banana to it. 
Despite all of this, it still tasted almost exclusively like chalky chemicals. I imagine this is due to all the nutritional additives. However, the added vitamins won't help if you can't finish it.
It also smells a bit weird – so much so that some of the children wouldn't even try it. I'd throw this in the trash and pick something else.
Creamy Vanilla Shake
Taste: 0/5
Kid's Score: 0/5
Ease of Preparation: 2/5
Again, I thought this would be one of the better options – a nice little additive to get some extra nutrition. However, like the chocolate shake, it tasted like pool water and left a film in my mouth. None of our taste testers liked it. No one wanted to take more than a sip. It really doesn't taste like something you should be eating.
Furthermore, because these shakes call for ice, they aren't something you can eat while camping. We tried this on a camping trip and used cold water from a nearby stream that I purified in my Grayl. So the water was as cold as I could get, but that still didn't help.
Obviously, when the power is out in an emergency I probably won't have ice. This shake isn't exactly versatile, which is fine, given how horrid they taste.
Vitamin Coffee Classic Roast
Taste: 4/5
Kid's Score: N/A
Ease of Preparation: 5/5
This is perhaps one of the most important items here, at least for me anyway. I must have my coffee in the morning, and when the power is out it is not a good day!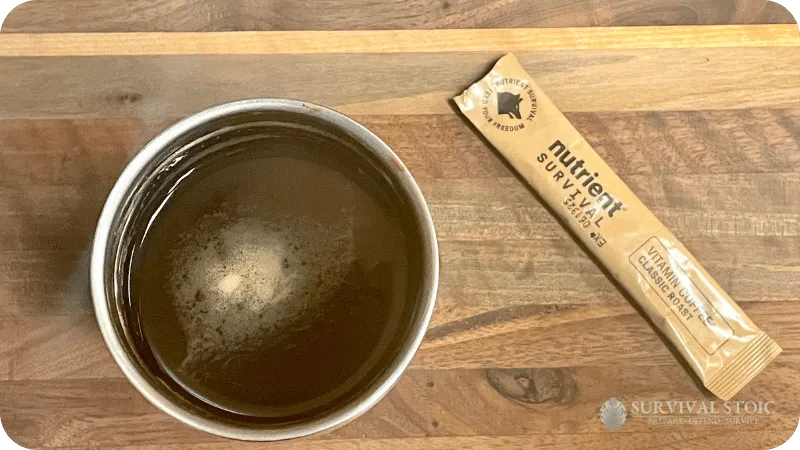 I like my coffee strong and black, so keep this in mind. I warmed about 10 ounces of water and added the drink mix. At first it tasted a little strong, even for me. But after a few sips it wasn't bad. Now, it is certainly not as good as fresh brewed, but it wasn't bad at all. I finished it and was satisfied.
Now, if you like cream and sugar in your coffee, you will need it for this for sure.
How Nutritious is Nutrient Survival?
One of the biggest benefits of Nutrient Survival meals is that they include added nutrition. Their food is advertised as "complete" and to a higher standard than MREs and similar emergency food. Practically all their foods include added vitamins, so you could technically live on this food for some time.
When you're considering buying emergency food, this is an essential consideration.
That said, you'd have to eat about four of their meals a day to get 100% of the vitamins you need – not three meals like you might think. Furthermore, one of their meals is only around 200 to 400 calories. Their food kits are not based on you eating 2,000 calories a day.
They're assuming you're eating closer to 1,400. According to a Harvard study, you'd have to only weigh 93 pounds for 1,400 calories a day to sustain you. In a survival situation, you're probably performing harder physical tasks (chopping wood, walking long distances, etc.), so you'd want far more than the bare minimum.
So, their kits do not have nearly as many calories as you need to survive for an extended period. You'd want almost twice as much food as some of their kits indicate. Keep this in mind as you are ordering a kit, since you will likely need more than you think.
How Easy is Nutrient Survival to Prepare?
Preparing Nutrient Survival's dishes is a breeze. Some of their meals only require the addition of unheated water or milk, such as their cereal and powdered eggs. However, most entrees do require heated water, though the majority require only half a cup or less.
Heating water requires a significant amount of energy and a source of heat to cook it. If you're planning to camp and have access to a fire, heating water might not be an issue. However, if you're experiencing the effects of a hurricane or tornado, heating water could be more challenging.
It's important to not only purchase emergency food but also to prepare a method to boil water. See our full guides on how to boil water without power and the best emergency stove for tips.
How Long Will Nutrient Survival's Food Last?
If you do not open them, their meals can last for 25 years in a sealed container. That's about average for all emergency food I've used, so there isn't anything surprising here.
Of course, how you store the food also matters. You need to keep the food in a cool place without much moisture for the best results.
Nutrient Survival Kits: Which One Should You Purchase?
Nutrient Survival offers several different kits, which are made to last for a certain period of time. There is a very obvious divide between kits for at-home preparedness and kits that are made for camping or backpacking. What you plan on using the food for matters.
Here's a table with a breakdown of some of their most popular options, as well as our recommendations. We've included the total calories included, and the number of calories per day you can eat to align with the company's advertising.
That said, most kits do not assume you're eating 2,000 calories a day (which is what we recommend storing). Therefore, our recommendation is typically not to go off of the company's advertising.
Nutrient Survival Compared to Other Brands
As you might have caught on by now, some of Nutrient Survival meals are not my favorite. It isn't the tastiest emergency food I've tried, and it isn't the most cost-effective per-calorie, either. Here's a table of how it stacks up to other brands.
Is Nutrient Survival Worth the Cost?
In my opinion, Nutrient Survival is not the best option out there for some situations. The main benefits of their food is the meals are very lightweight, compact and nutritionally complete. This makes the meals easier to take camping or in a bug out situation. When you are hiking a lot or in a stressful situation the nutrition helps recovery. If you eat four servings a day, you'll get all the vitamins and minerals you need (on paper, at least).
That said, they're a little on the more expensive side, and some of their meals don't taste amazing. I like that I can select my own meals when purchasing off of their website, so I can leave out the milkshakes!
Other options on the market are cheaper and tastier, but they take up more room and may not be as nutritionally complete. If you're worried about nutrition, you can always throw in some multivitamins in with your food stock.
I recommend at least trying some of the meals before purchasing a huge multi-day pack and storing them for an emergency, especially if you have kids.
Nutrient Survival Pros and Cons
Nutritionally complete
Long shelf life
Variety of available meals
Powdered milk and eggs available
Easy to prepare
Lightweight
Compact
Kits only include ~1,400 calories per day
Some meals not the tastiest
Cannot be made directly in the pouches
On the expensive side
---
Now What?
I highly recommend purchasing emergency food. Everyone should have at least three days' worth of food for every person in their household, at the very least. I'd recommend having at least three months' worth of food if possible. Some food is always better than no food, so purchase what you can afford!
You can also start storing survival food from the grocery store that happen to store well over a long time. Pick up a few every trip, and you'll be on your way to a survival pantry in no time.
If you are camping or backpacking, freeze dried meals like Nutrient Survival's are easy to carry and prepare. They weigh less per calorie than any other meal option there is.
For more must-have emergency items, look at our bug-out bag guide. Most of the bug out bag essentials are also necessary to have at home for an emergency – even if you don't plan on leaving.